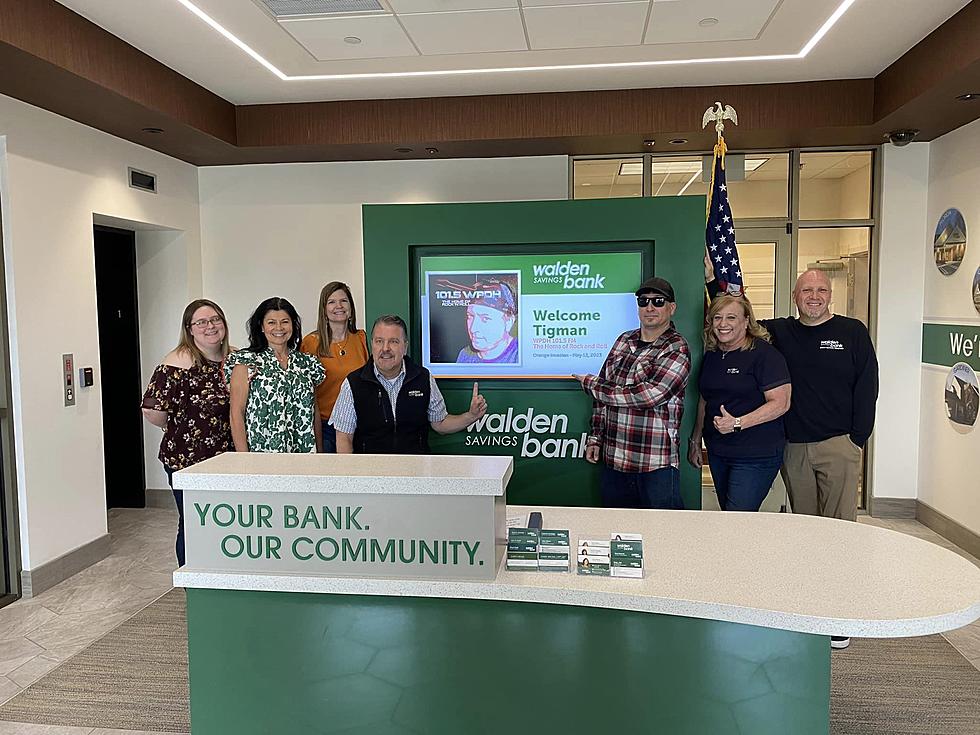 WPDH Invades Walden Savings Bank!
Walden Savings Bank Facebook
Orange Invasion stop turns into most fun bank event ever in Montgomery, NY.
I've done a lot of bank events with the radio station over the years, but this time takes the cake! A recent Orange Invasion stop in Montgomery, NY was the most fun we've ever had at a bank remote broadcast.
Also See: 5 Great Hudson Valley Mother's Day Brunch Spots
When we got to Walden Savings Bank, I was greeted by a huge flat screen tv with a picture of my face on it in the entrance way of the beautiful building (never been greeted in such a special way before). The bank offers free coffee and water, and is so spacious, with state of the art amenities. I've truly never seen a nicer bank in the Hudson Valley area, I was blown away.
The staff was so friendly and gracious. Such an amazing group of people. It was great meeting Walden Savings Bank President and CEO Derrik Wynkoop, who has had a career in radio himself having hosted a Financial radio show locally, some years back. Also got to meet and chat with bank Senior Vice President John Carola and Executive Assistant Abigail Doyle, and the rest of the crew.
The bank mascot Wally St Banks, an Owl, even stopped by.
In addition to the great staff at Walden Savings Bank, I gotta thank all the amazing WPDH listeners who stopped by and who were genuinely excited to be there. We had Ant Smash from the WPDH roadcrew spinning the wheel of prizes, along with a Cornhole game setup as listeners entered to win the WPDH Orange Invasion V-I-PDH Package.
What's the WPDH Orange Invasion V-I-PDH Package?
When you stop at a WPDH Orange Invasion location, you can enter to win the V-I-PDH package for tickets to see Hollywood Vampires, Robert Plant and Alison Krauss, Steve Miller Band and Rod Stewart and Cheap Trick all at Bethel Woods this summer. Package includes pavilion seating, parking and a catered tailgate party from Handsome Devil BBQ for each show!
We talked to so many Orange County residents that told me they've been listening to WPDH since the beginning, way back in 1976. One other listener told me of how WPDH has been part of his life, his entire life, and thanked us for coming out to Orange County. The Orange Invasion promotion all month of May has been exciting, a big success so far. We've got plenty more invasions ahead, so be sure to stop by when you hear that we are going to be out and about. Get all the WPDH Orange Invasion info here.
The 10 Best Bakeries In and Around Orange County, NY
According to the friendly Yelp reviewers of the Hudson Valley, we have been able to pinpoint the best bakeries in Orange County, New York.