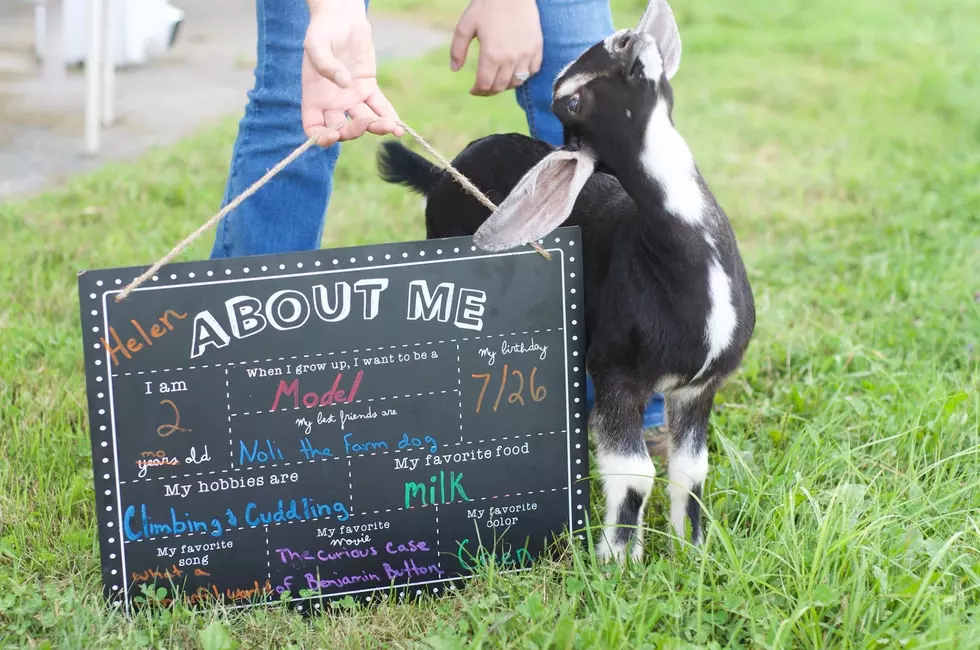 Helen The Goat is Looking for a Home
Wayward Ranch Animal Sanctuary
You couldn't miss it on social media last week. It was the first day back to school for many students and teachers around the Hudson Valley.
We saw a ton of adorable signs describing your kid's first day back to school like who their teacher is this year and what they dream about being when they grow up.
An animal rescue in Ulster County jumped on the trend for one of their adoptable animals.
The Wayward Ranch Animal Sanctuary in Kerhonkson created a back to school sign for their kid. Helen the goat is looking for a forever home.
Unfortunately, due to the trauma of being rejected by her mother, Helen is blind. But that doesn't slow her down. According to their Facebook post, Helen is full of personality and does well around other animals such as pigs, dogs and other goats.
Helen has big goals too. The 2-month-old goat aspires to be a model.
The Wayward Ranch Animal Sanctuary is a 501c3 nonprofit animal rescue that "help animals of all shapes and sizes from mice all the way up to horses."
We spoke to the executive director and founding board member Eleni Calomiris and she told us that the Wayward Ranch is all about "rooting for the underdog." Calomiris adds that "the majority of the animals we rescue either have behavioral or medical special needs that may lead to them being overlooked by other rescues and shelters."
If you're interested in fostering or adopting Helen or any other animals visit WaywardRanch.org.
Read more:
BONUS VIDEO