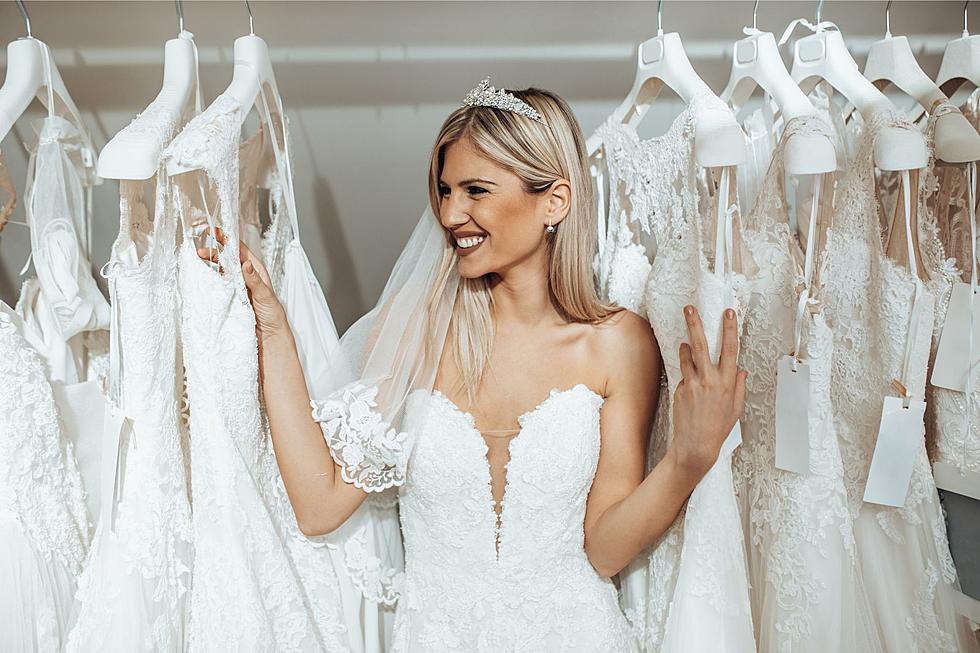 Major Bridal Store Closing New York Stores
Canva
400+ employees could be out of a job soon as 14 New York locations could close by the end of 2023.
Over the last few months, numerous chain retail stores announced that their financial issues would cause them to lay off hundreds and close many locations. We've had Party City and Bed Bath & Beyond both announce store closures and layoffs and now it looks like we can add one of the biggest names in wedding dresses to that list.
David's Bridal
David's Bridal LLC recently filed for bankruptcy protection in the U.S. Bankruptcy Court in Trenton, N.J. with the filing saying that if the company can't find a buyer willing to continue to operate the bridal stores they would be forced to begin a "wind-down of its operations" according to Fox. This marks the second time in five years that the privately owned David's Bridal has filed for bankruptcy, the main difference this time is that if a buyer isn't found quickly they would shut down all of the country's largest bridal stores.
9,000+ Layoffs at Davids Bridal
The bankruptcy filing also revealed that the company is planning to lay off 9,236 employees in three stages between April and August. According to the Department of Labor, as of April, the company had about 10,000 employees with 2,000 full-time and 8,000 part-time. Layoffs have already begun within the company according to a statement from company CEO James Marcum, "We made the difficult decision to reduce our corporate workforce last week in line with market realities and our go-forward approach. This reduction did not impact store employees."
David's Bridal Employees in New York
The New York State Department of Labor Office of Dislocated Workers Progam shared online that as of April 17th, 2023, David's Bridal plans to lay off 475 employees in New York at 14 store locations across the state. The layoff will happen in three phases:
Corporate Employees:
Phase 1: April 14, 2023, April 11, 2023
Phase 2: On a date between May 13, 2023, and May 27, 2023
Phase 3: On a date between June 12, 2023, and August 11, 2023
Distribution Center Employees:
On a date between June 12, 2023, and June 26, 2023
Field & Store Employees:
On a date between June 12, 2023, and August 11, 2023
David's Bridal Locations in New York
Recent surveys say that 1 out of every 4 brides gets their wedding dresses at David Bridal locations across the county with many New Yorkers shopping at these locations:
Hudson Valley Region
Wallkill Plaza, 400 Route 211 East Ste 7, Middletown, NY
Central Plaza, 2572 Central Park Avenue, Yonkers, NY
New York City Region
Plaza 48, 3460 48th Street, Queens, New York, NY
264 W. 40th St.,12th Floor, New York, NY
45 W. 25th Street, New York, NY
Southern Tier Region
Shops at Chamber, 3345 Chambers Rd, Horseheads, NY
Long Island Region
108 Alexander Avenue, Lake Grove, NY
Sunrise Promenade, 5290 Sunrise Highway, Massapequa Park, NY
1250 Corporate Drive, Westbury, NY
Finger Lakes Region
South Town Plaza, 3333 West Henrietta Road, Rochester, NY
Central Region
Erie Boulevard East, East Syracuse, NY
Capital Region
1440 Central Avenue, Albany, NY
Western Region
Buffalo, 1204 Niagara Falls Blvd, Tonawanda, NY
McKinley Plaza South, 3670 McKinley Pkwy, Space 5A, Blasdell, NY
17 of the Hudson Valley's Most Stunning Wedding Venues
17 gorgeous Hudson Valley wedding venues.
12 of the Hudson Valleys Most Gorgeous Fall Wedding Venues
12 of the best Hudson Valley fall wedding venues.
6 Things You Must Consider Before You Have a Hudson Valley Barn Wedding
Six things to consider before you book a barn wedding.