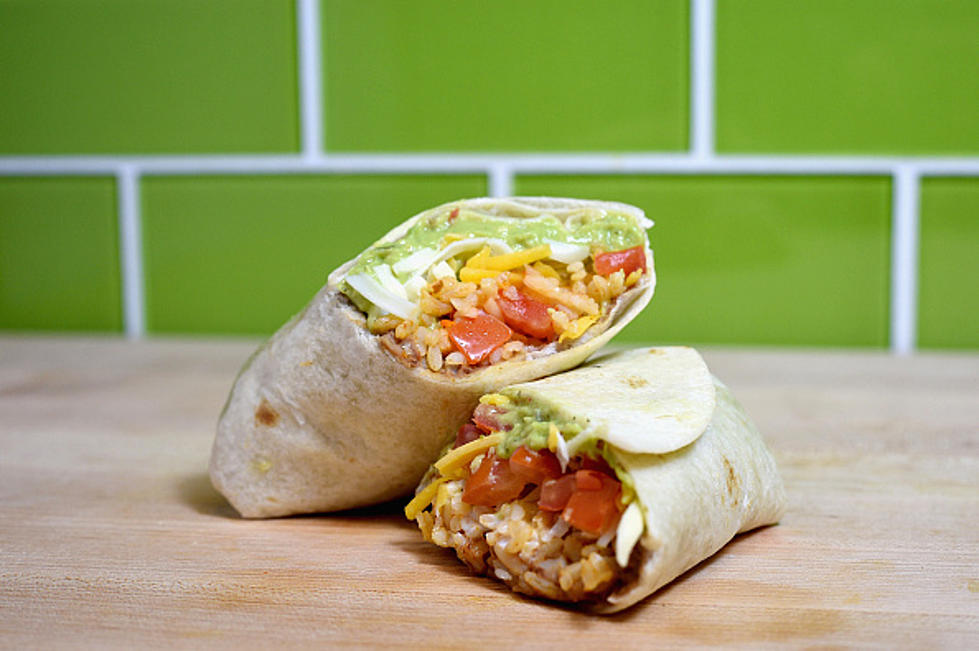 Best Places To Get Burritos In The Hudson Valley
Photo by Joshua Blanchard/Getty Images
We've got 5 of the best burrito spots in the Hudson Valley.
According to National Day Calendar, it is on the first Thursday in April and it celebrates the tasty and versatile Mexican dish wrapped in a tortilla. A burrito is a flour tortilla filled with meat, such as beef, chicken, or pork, and often mixed with rice, beans, vegetables, cheese, and condiments such as salsa, pico de gallo, guacamole, and sour cream. One may observe National Burrito Day by getting together with friends and going out for burritos at a favorite local Mexican restaurant or making some at home and using #NationalBurritoDay to share on social media.  I personally have had what may be the best burrito I've ever had at a place called Taco Gol in Poughkeepsie, NY.
We asked the Hudson Valley where in the area is their go-to place for the best burritos, and have compiled a top 5 list.
Top 5 Places to Get the Best Burritos in the Hudson Valley
5. Taco Bell
Yes, believe it or not, the popular Taco Bell fast-food chain with numerous locations throughout the Hudson Valley made the list of top burrito spots in the Hudson Valley. I've been known to grab a Beefy 5-Layer Burrito or a Crunchwrap Supreme from time to time myself.
4. Bubbakoo's Burritos
With four Hudson Valley locations: 2265 South Rd Poughkeepsie, 113 Temple Hill Rd New Windsor, 554 NY-17M Monroe, and 14 Thiells Mt Ivy Rd Pomona, Bubbakoo's has become a popular chain restaurant in the Hudson Valley. There are currently 50 Bubbakoo's locations across 9 states and more than 100 locations signed. Hudson Valley fans of Bubbakoo's recommend the Hibachi Steak and Shrimp Burrito.
3. Cilantro Mexican Restaurant
986 Main St, Fishkill, NY 12524
Cilantro Mexican Restaurant in Fishkill is said to have great burritos. "A must try, best I've had in the northeast from basic burritos and chimichangas to specialty meals" said one Hudson Valley fan.
2. Juan Murphy's
796 Main St. Poughkeepsie, NY 12603
Juan Murphy's Poughkeepsie, which also has a second location at 184 Main St in Cold Spring, fuses the warmth and friendliness of a traditional Irish Pub with diverse Mexican flavors and delicious American fare. We're told the Brisket Burrito is a must have!
1. Mexicali Blue
1571 U.S. 9 Wappingers Falls, NY 12590
87 Main St. New Paltz, NY 12561
When the Hudson Valley was asked where their favorite go-to place was for the best burritos, the most popular answer was Mexicali Blue. One person even replied, "Mexicali Blue. Everyone knows that!" The popular Mexican spot has two locations: Wappingers Falls and New Paltz, and Mexicali Blue was given the distinct honor of having one of the Best Burritos in the Country by Food Network for their Short-Rib Burrito!
Well, there ya have it. So many options out there in the Hudson Valley, and we only scratched the surface with this top 5 list. Go out and enjoy National Burrito Day on Thursday, wherever you end up. In the meantime, check out the 10 top-rated Mexican restaurants in Poughkeepsie.
10 Top Rated Mexican Restaurants in Poughkeepsie, New York
Here are 10 highly rated places to get Mexican cuisine in Poughkeepsie, New York.