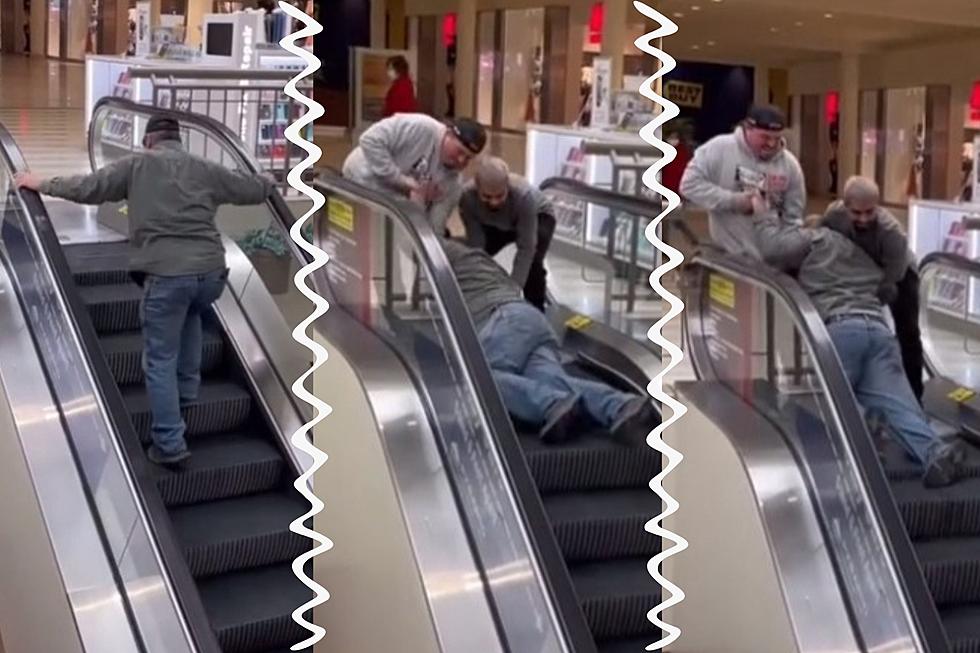 Hudson Valley Man Challenges Galleria Escalator and Loses
TikTok/slim_kdd
A shopper at the Poughkeepsie Galleria stupidly tried to beat an escalator at its own game and lost.
A video posted to TikTok by @slim_kdd shows an older man who found himself in an unwinnable situation. The video shows a man who decided to walk up an escalator that was going down. You may have seen kids trying this at the mall, amusing themselves by walking up the stairs but not actually moving.
For some reason, the older man in the video thought that he could "outrun" the escalator and make it all the way to the top. It's pretty clear from the beginning of the video that this was a battle he was just not going to win.
The man spends the first few moments of the video doggedly walking up the escalator without making any progress at all. Confident in his ability to make it to the top, the man tries holding on to one railing with both hands. This only appears to make him go slower, so he then puts one hand on each rail in an attempt to power himself up to the top.
Two bystanders notice the struggling man and spring into action to help. Unfortunately, they only made things worse.  As the man stretches out his hand for help, the two shoppers pull him up just as he loses his footing. The man falls onto the escalator while the men continue to hold on, causing his frontside to get pummeled by the moving stairs.
It's unclear why the two bystanders didn't hit the emergency switch which can be seen just to the right of the man wearing the dark baseball cap. Instead, the two helpers continued to hold onto the man as the stairs moved under his belly. Luckily, the man's jeans or shirt didn't get caught between the stairs otherwise, this could have had a tragic ending.
It's safe to say that this man was not very smart for trying to take on the moving escalator. Why he didn't just take the escalator down and go up the other side is anyone's guess. Unfortunately, this stupid attempt at a shortcut is now going to result in some major aches and pains.
These 40 Flashback Images of the Galleria Will Make You Totally Nostalgic
The Poughkeepsie Galleria has gone through some major changes in the past 34 years. Scroll down for a trip down memory lane. How many of these stores do you remember shopping at?
Famous declassified government secrets
Stacker
looks at the top 30 declassified government secrets, from Operation Paperclip to previously unknown Cold War facts. There's no conspiracy in these slides—these government secrets are all true to history.