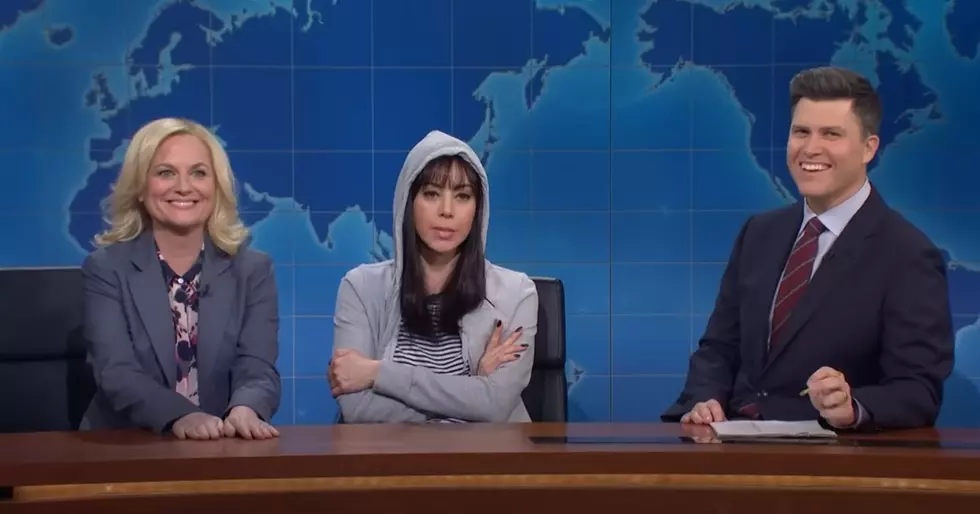 'Standout' SNL Episode Wants New York State Town To Change Name
SNL/Youtube
A "standout' episode of Saturday Night Live roasted a town in the Hudson Valley for its name.
This past weekend I was down in Florida celebrating my Dad's one-year transplant anniversary.
My parents love watching Saturday Night Live. My dad has fond memories of watching the show in the 1970s with his college friends in Plattsburgh, New York.
Personally, I used to watch SNL each week for many years. For no particular reason, I stopped. But this Saturday, Aubrey Plaza was hosting, so I was excited to watch with my parents.
I'm a big fan of Plaza for her roles in hit TV shows "Parks and Recreation" and "The White Lotus." These two shows are completely different, but if you haven't seen either, I highly recommend both.
I enjoyed Plaza's episode, which the Guardian calls a "standout episode." There were a number of hilarious sketches plus a bunch of cameos including President Joe Biden, Amy Poehler and Sharon Stone.
While enjoying the episode I was quite surprised when the Hudson Valley was mentioned.
Hudson Valley Town Mentioned In SNL Weekend Update
For all the news that the Hudson Valley is sharing make sure to follow Hudson Valley Post on Facebook, download the Hudson Valley Post Mobile App and sign up for the Hudson Valley Post Newsletter.
White Plains, New York Mentioned in SNL Weekend Update
The complete joke is below:
The US Department of the Interior has changed the name of Squaw Valley, California because it is considered a derogatory term for Native American women. Okay, I don't understand how that name gets changed and yet, no one cares there's an entire town in New York. That mocks my people.;
You can view the complete Weekend Update below:
LOOK: The Most Famous Actor Born Every Year
21 Places You Might Run into a Celebrity in The Hudson Valley
Hollywood on The Hudson is real! It seems like there's a new celebrity sighting in the Hudson Valley. Here are a few of the hot spots that you may run into a celeb while walking around town.
Nearly 50 Children Have Recently Gone Missing From New York State
Close to 50 children from New York State and the Hudson Valley have recently gone missing. You can help a New York family get reunited with a missing loved one.
These 6 New York Counties Have The Most Drug Overdose Deaths
New York State officials are worried because overdose death rates increased by 85 percent. Below are the top 6 counties in terms of opioid overdose deaths per 100,000.
These Counties Have The Most Food Stamp Recipients Per Capita In New York
SNAP usage has increased across the state since the start of the pandemic