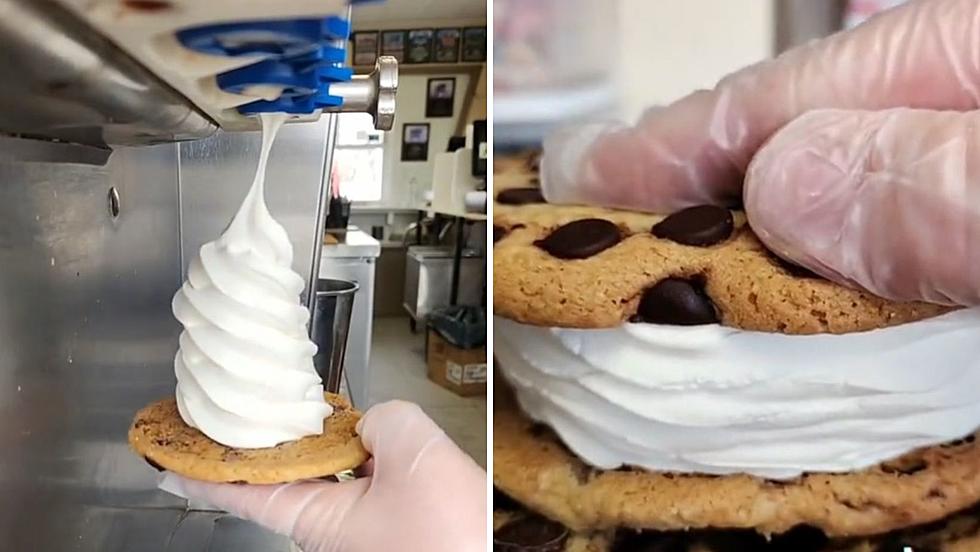 Millions Watch Hopewell Dairy Bar Make Monster Ice Cream Sandwich
Joe's Dairy Bar & Grill, TikTok
We're heading into ice cream season in the Hudson Valley with many local shops opening up for 2023.
One Hudson Valley Dairy Bar should prepare for big crowds after millions viewed their latest delicious social media post.
Hopewell Junction Dairy Bar No Stranger to TikTok
Nowadays, if you're trying to go viral the best place to do it is on TikTok. The folks over at Joe's Dairy Bar & Grill in Hopewell Junction know that and have been TikTok'ing for years.
I'm pretty sure the Joe's Dairy Bar staff went viral in 2019 with their whipped cream trick that then became a trend all over social media. Since then, they've added videos that have folks from all over the world drooling over their ice cream creations.
Joe's Dairy Bar Goes 'Monster' Viral
This time around, it was a video of a rather large ice cream cookie concoction that caught the eyes of millions. Last week, the staff at the uber-popular Joe's Dairy Bar & Grill posted a video of their Moster Cookie Ice Cream sandwich. It's a simple video that breaks down how the sandwich is made. However, the rather large cookie and extreme amount of soft-served ice cream really got TikTok's attention.
One TikTok'er named Phoenix wrote "I thought it was too much ice cream……I was wrong." I think many watching on TikTok thought the same, myself included, until one of the most satisfying sandwich moments glazed over my screen. Watch the full Joe's Dairy Bar Monster Cookie Ice Cream Sandwich video below:
Another viewer wrote "I would have no self control…I'd sample each one just to make sure the customers aren't getting a bad sandwich." The video currently has 99,000 likes, 309 comments, and 1.9 million views.
Needless to say, the Monster Cookie Ice Cream Sandwich at Joe's Dairy Bar in Hopewell Junction will be a popular menu item this year.
Ice Cream season is upon us in the Hudson Valley. Check out one or all of these 33 popular Hudson Valley ice cream shops this year:
33 of The Most Popular Ice Cream Shops in the Hudson Valley
Ice Cream shops across the Hudson Valley are preparing for opening day and the warm weather rush. Did we mention your favorite spot? Let us know who we need to add to the list.
6 of the Hudson Valley's Biggest Ice Cream Cones
Six places where the size of the cone matters!
8 Top Rated Local Ice Cream Shops in Dutchess County