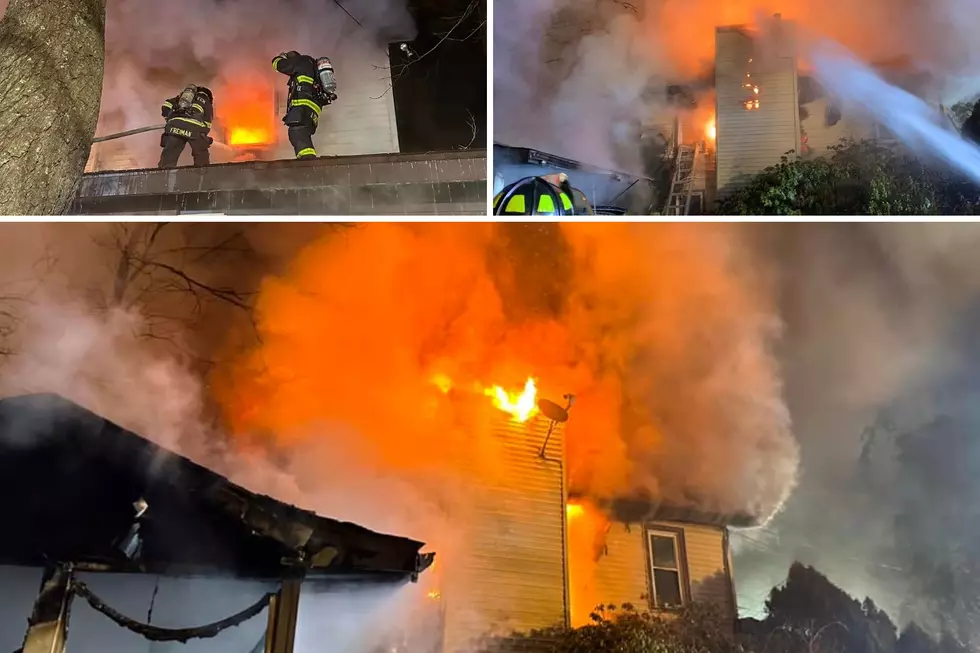 House Fire in Dutchess County a Total Loss
Tivoli Fire Company/Facebook
The fire claimed the house of one of the founding members of this Dutchess County village's EMS squad.
Firefighters from five different fire companies, along with numerous first responders did everything they could to stop a fire from fully engulfing a house in Tivoli. According to News 10, fire crews from the Tivoli Fire Company responded to a call early Monday morning that a chicken coop was on fire.
Fire in Tivoli, NY Destroys Home
Fire crews arrived on the scene at around 4 a.m. Monday to find that the back of the building was already fully engulfed in flames and as firefighters began battling the blaze, they noticed that someone who lived at the residence was trapped on the porch roof. Firefighters were able to rescue the trapped person quickly and once they got them to safety they were able to continue to fight the fire.
Unfortunately, firefighters weren't able to stop the fire from spreading, and after battling for almost seven hours, the house was destroyed.
After the fire was extinguished, the Tivoli fire company announced that the home lost in the blaze belonged to a founding member of Tivoli's EMS squad.
Founding Member of the Tivoli's EMS Squad Loses Home to Fire
The Tivoli Fire Company announced on social media that the total loss home belonged to Virginia LaBarbera.
The post stated,
"Virginia LaBarbera is a life member of the Tivoli Fire Company and has experienced a devastating year losing her sister and brother and now losing her home she worked her whole life to build."
The fire company shared a GoFundMe page to help LaBarbera rebuild and said, "if you would like to support her in other ways, please feel free to message us privately."
Thankfully there were no injuries reported after the fire. The Tivoli Fire Company was assisted by Red Hook Fire Company, Rhinebeck Fire Department, Milan Volunteer Fire Department, Clermont Fire Company, Germantown Hose Company No. 1., Dutchess County Emergency Management, the Dutchess County Sheriff's Office, Vosburgh Excavating, the Dutchess County Fire Investigation Team, Dutchess County 911 dispatchers, and NDP EMS.
Nearly 50 Children Have Recently Gone Missing From New York State
Close to 50 children from New York State and the Hudson Valley have recently gone missing. You can help a New York family get reunited with a missing loved one.
9 Places to Go Snow Tubing in New York
If you're too uncoordinated to ski, try snow tubing. There are plenty of hills in New York for winter fund.