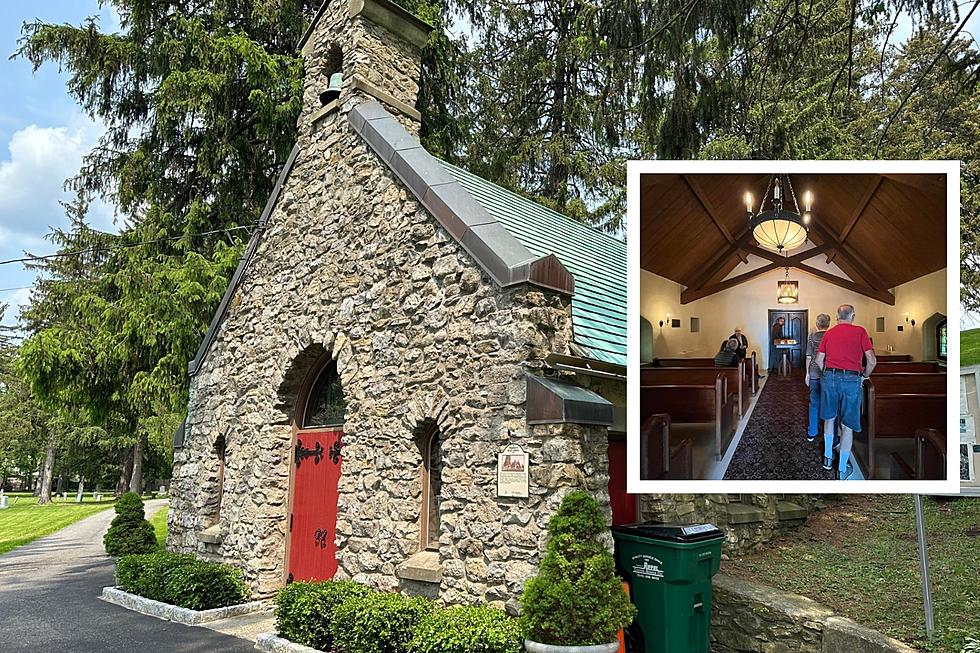 'Half-Buried' Chapel from 1924 Unearthed at Wappingers Cemetery
A. Boris/Facebook/Joseph D. Cavaccini
One of the Hudson Valley's hidden gems was recently given a facelift and many of us are now getting our first-ever peek inside.
You've probably passed by this unassuming chapel and been unaware of exactly what it was. Located in the Wappingers Falls Cemetery on Route 9D, the unnamed chapel sits at the front gate and, much like everything else in the cemetery, is buried underground.
Erected in 1924, the chapel is actually much younger than the cemetery itself. The Wappingers Rural Cemetery dates back almost a century before the chapel was built. founded in 1849, the graveyard is an example of the mid-nineteenth century "Rural Cemetery Movement."  At the time, most burial grounds were located in cities, but they quickly became overcrowded, with graves stacked on top of each other. In the 1800s, cemeteries began to pop up outside the city center, in parklike areas where people could come and enjoy the day while remembering loved ones.
On Saturday, the newly-restored chapel at the Wappingers Rural Cemetery was unveiled and a ribbon-cutting ceremony was held by the cemetery's board of directors. Dutchess County legislator Joseph D. Cavaccini, who was in attendance, gave residents a rare peek inside the chapel by posting photos of the event on his Facebook page.
Cavaccini gave a special nod to the late James Conley "whose multiple bequests to organizations in our community have allowed us to preserve history such as this beautiful structure."
The chapel is actually built into the cemetery itself, with the back end of the structure mostly buried underground. Short, stained glass windows let light into the small chapel which is mostly illuminated by large chandeliers and wall sconces. The newly-refurbished chapel boasts a beautiful wood ceiling that makes the interior appear much bigger than it actually is.
The Wappingers Rural Cemetery is now available for events such as memorial services, funerals and even weddings.
Eerie Cemetery For Children Just a Short Drive From Poughkeepsie, New York
Cemeteries Across The Hudson Valley
What's the saying, "Nothing can be said to be certain, except death and taxes"? Thankfully, there's no shortage of cemeteries across the Hudson Valley.