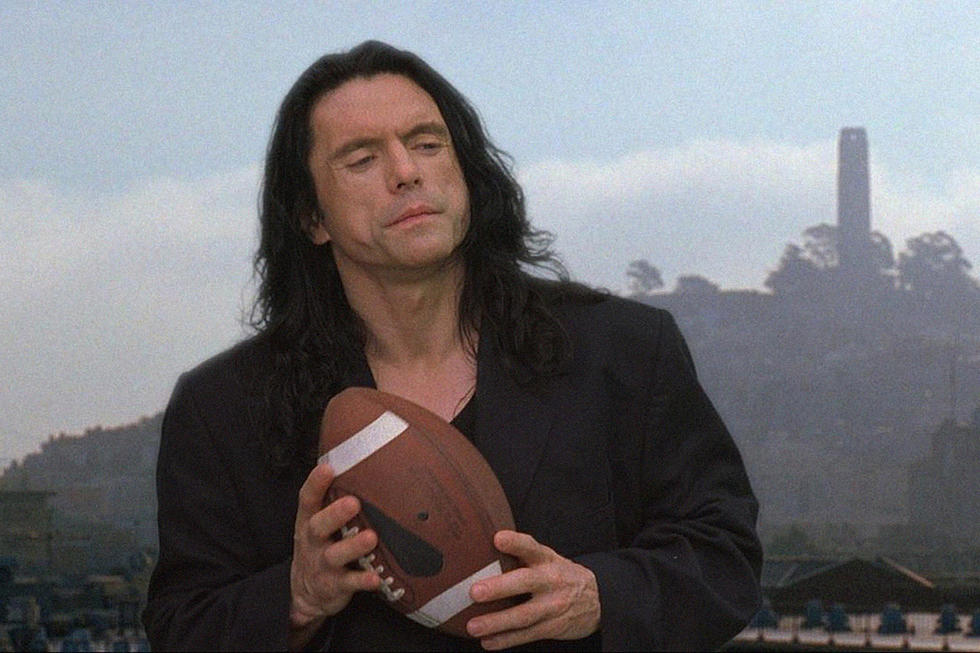 Grab Your Plastic Spoons, Tommy Wiseau's 'The Room' Is Getting a One-Day Wide Release
Wiseau Films
Over the past several weeks I've learned some very unfortunate news about friends of mine: many of them have never seen The Room. The cult film, infamously deemed the worst movie of all time, is an experience that I believe must be had by all, a right-of-passage for pop culture fans, if you will, to understanding how something so terrible can be such riotous and joyful entertainment. But unfortunately over the years the only way to see the Tommy Wiseau film, which is the subject of James Franco's The Disaster Artist, was either at midnight showings in major cities, or on YouTube (though maybe not for long). Luckily, that's about to change.
The Room, which belt-loving mystery man Wiseau wrote, directed, starred in, produced, and financed himself, opened in only two theaters in Los Angeles in 2003. But as revealed by The Hollywood Reporter, Wiseau's disaster-piece will finally get a wide release 15 years later. On January 10, Fathom will release The Room in 600 theaters for one day only. Finally, the entire country will be able to witness the disappearing breast cancer plot, the tuxedo football tossing, and the cringy sex scenes that make The Room such a glorious spectacle. For those who know the film only from its meme status, The Room stars Wiseau as a guy named Johnny who's girlfriend, Lisa (Juliette Danielle) has an affair with his best friend Mark (Greg Sestaro). That's really all you gotta know.
The one-day wide release is apt timing for awards season, as it will surely boost attention on Franco's sure-to-be Oscar nominated The Disaster Artist performance. The behind-the-scenes look at the making of the movie is based on Sestaro's (played by Dave Franco) memoir, and it's every bit as hilarious, and surprisingly heartfelt, as a Room fan could ask for. I saw The Disaster Artist with a friend who hadn't seen The Room first – and for what it's worth, he still enjoyed it – but I'd strongly advise seeing the Wiseau movie first so you can fully appreciate Franco's insanely brilliant performance, and the pitch-perfect re-creation of the original movie's scenes.
Tickets are already on sale for the special release; on the website a map shows tiny pixelated photos of Wiseau's face stretched across the country. Stock up on plastic spoons and bring your virginal The Room friends so they can finally learn why Lisa has been tearing Johnny apart.
Gallery – The Best Movie Posters of 2017: