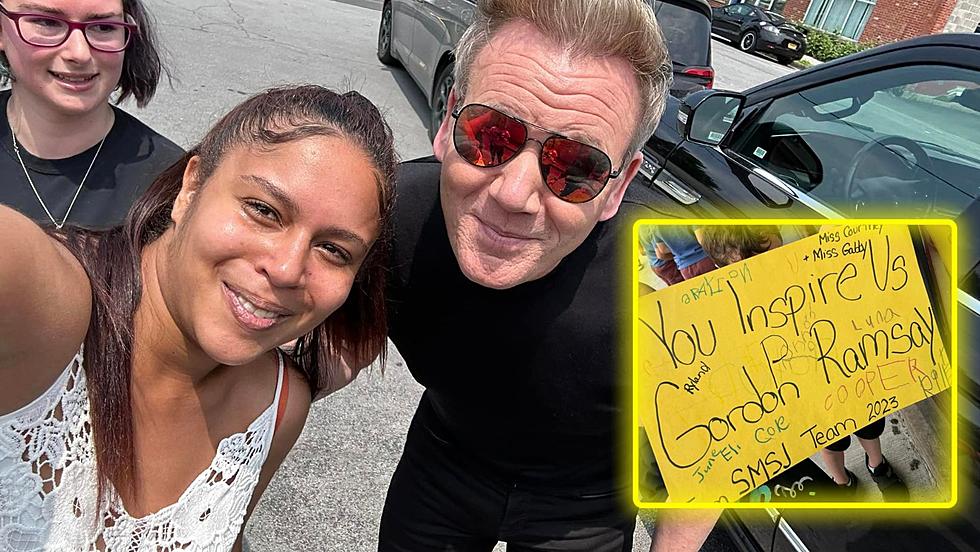 Gordon Ramsay Pauses Filming to Meet Saugerties, NY Students and Teacher
Gabby Vincent, Facebook
It looks like we have some confirmation as to what and who has been filming in Ulster County.
For the last few days, the talk of the town has been all the cameras around  Partition Street in Saugerties. We received several text messages through our station app explaining that celebrity chef Gordon Ramsay and his show Kitchen Nightmares were filming at a local restaurant.
'Nightmare' Speculation in Saugerties, NY
Rumblings made their way across the Hudson Valley that Gordon Ramsay was filming Kitchen Nightmares at Love Bites Cafe. We reached out to the cafe to confirm if the FOX show was filming at their establishment but have yet to hear back.
Love Bites has, however, been dropping hints that big changes are coming to the cafe and that they will be closed for dinner until July.
For those that don't know, Kitchen Nightmares is a reality show that brings Ramsay to failing restaurants across the US. Then, he and his team work with the staff and owners to bring new life to the businesses. According to Deadline, Kitchen Nightmares was on a 10-year hiatus and is returning in 2023. Could a Saugerties restaurant be the focus of the premier episode?
Gordon Ramsay Pauses Filming to Meet Saugerties Fans
When word got out that the celebrity chef was filming in the area, fans rushed to Partition Street. And for a while, we were starting to think that Ramsay wasn't even in town since there hadn't been a single spotting.
That is until Gabby Vincent and her Pre-K students showed up. The teacher shared her Gordon Ramsay experience on Facebook writing:
Today was a very important day for me and my Pre K kids as I teach at SMSJ in Saugerties ! We got to meet Gordon Ramsay himself , give a handshake and even got a picture with him ! It was such a great experience to meet such a wonderful Chef and have a memory to hold onto it was truly amazing! The kids loved it and so glad my daughter got to meet him also ! Thank you to the producers who helped get his attention the wait was so worth a once in a lifetime experience!

Gordon Ramsay

!!!!
Gabby also shared videos of Gordon Ramsay greeting her class and chatting with them for a bit. You can check those out on her
Facebook page HERE.
Have you had a run-in with the celebrity chef while he's been in town? We'd love to hear your Gordon Ramsay stories! Text it to us through the station's mobile app.
21 Places You Might Run into a Celebrity in The Hudson Valley
Hollywood on The Hudson is real! It seems like there's a new celebrity sighting in the Hudson Valley. Here are a few of the hot spots that you may run into a celeb while walking around town.
Celebrity Diners That Have Visited Ole Savannah, Kingston NY
Can you name ALL of the famous people who have visited one of Kingston's favorite restaurants on the Rondout? Owner David Amato has shared some of his favorite photos from over the years of Ole Savannah's celebrity visitors.
Rub Elbows With the Stars at 8 Celebrity Owned Businesses in New York
A number of celebrities call Upstate New York home. A small few not only own homes but businesses too. You may even run into them when you stop by for a sweet treat, overnight stay or soft skin.