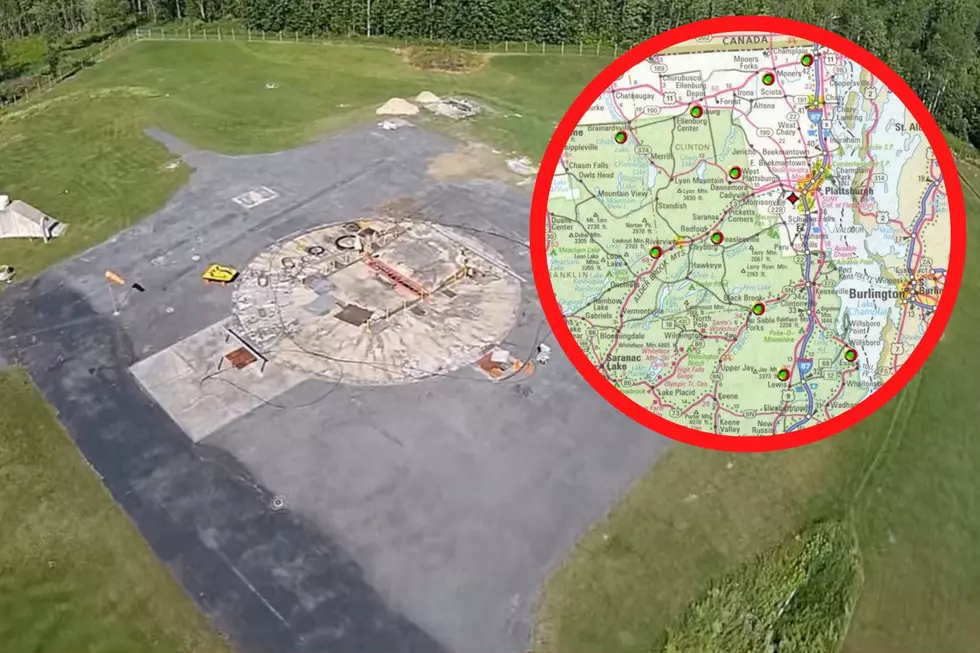 The 10 Abandoned Missile Silos in Upstate New York
556sms.com/killerjeanne via YouTube
New York is steeped in history. So much so that a random back road drive could take you past countless cultural touchstones hidden in plain sight... and that includes ballistic missile silos.
While we may be more accustomed to seeing massive security measures in New York City, the Cold War brought a heavy military presence to upstate New York, including 10 ballistic missile silos. They're still there today.
Cold War History in Upstate New York
The 556th Strategic Missile Squadron was first activated in 1959 in Plattsburgh, NY. Their 12 sites (10 in New York, two in Vermont) were in use from 1959-1961 and 1962-1965.
Said to have been used as a "major nuclear deterrent during the Cuban Missile Crisis", some of these silos are now privately owned (glamping in a bunker, anyone?). Here's where the ten New York silos are located.
Missile Silo Locations in New York
The northern-most site in New York is in Champlain, NY (below). Formerly designated as "Air Force Operational Site #1", the site is now in private hands with the owner reportedly hard at work to make it a "livable historical home". Site 1 is joined by silos in Mooers, NY, Ellenburg Depot, NY, and Brainardsville, NY along New York's northern border.
The 556th Strategic Missile Squadron in New York
There are also silos in Dannemora, NY, Redford, NY, and Riverview, NY, with the three southern-most sites in Au Sable Forks, NY, Willsboro, NY, and Lewis, NY (about 130 miles north of Albany, NY).  Check out a video tour of Silo 1 in Champlain below.
Unique Properties in the Hudson Valley, NY
While there may not be another silo currently on the market, there is a record-breaking property for sale right here in the Hudson Valley. Check out the most expensive house ever to be put on the Dutchess County, NY market below, and keep scrolling to check out the mansion in Newburgh, NY that comes complete with its own batting cage.
The Most Expensive House for Sale in Dutchess County History
At $45,000,000, Ledgerock is the most expensive residential property for sale in Dutchess county. Ever.
Most Expensive House in Newburgh Has a Batting Cage
The most expensive house currently for sale in Newburgh, NY in Orange County has a pool, river views, a movie theater, and batting cages.