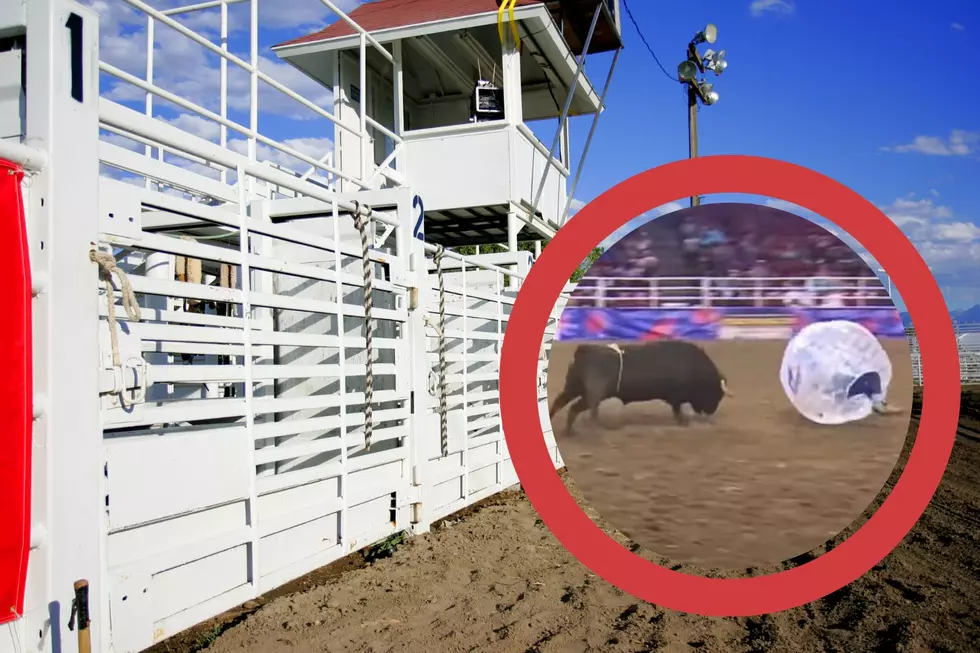 Rodeos Coming to the Hudson Valley Plus Bubble Bull Video
Canva / JerseyGroovyFilms via YouTube
Some people might not think of the Hudson Valley as a place to see a rodeo but if they really thought that they would be wrong. Lately, the Hudson Valley has become a place where you can catch a rodeo annually without having to travel too far.
From the Orange County Fairgrounds Arena to the hills of Dutchess County and beyond, rodeo in the Hudson Valley has become a destination for many people and families looking for fun. One rodeo has been entertaining people for decades and has another season planned for 2023.
Where to go to See a Rodeo in New York
Painted Pony Championship Rodeo at 703 Howe Road in Lake Luzerne, New York is getting ready for another season of excitement. Since 2001 the Painted Pony has been under its current management who have redone the Longhorn Salon, rodeo grounds, and covered the grandstands since taking over the rodeo.
Enjoy Texas-style BBQ and rodeo action when the season starts June 30th, 2023 with rodeo excitement Wednesdays through Saturday until Labor Day. Season tickets are on sale now.
Painted Pony Championship Rodeo Plans 2023 Season for New York
The Hudson Valley Rodeo is expected to return this year. Held at Silo Ridge in Amenia this is the newest addition to the Hudson Valley Rodeo schedule. The event includes a day of Rodeo and an evening country concert. Last year they presented Brett Young the year before it was Chris Janson. The Hudson Valley Rodeo is a charity event held each year by the Amenia-Wassaic Community Organization with help from the Silo Ridge Foundation.
Hudson Valley Rodeo in Amenia, New York
And just announced today OME will once again present the Orange County Stampede: Bull Riding Rodeo on July 2, 2023, on the Summer Stage at the Barn in Middletown, New York (Orange County Fair Speedway). This has become an annual event for families to enjoy. It is one of the Orange County Fairground's most popular events for family entertainment. Tickets for this event go on sale Friday at 10 AM through OME Events.
See Also: Dirt Track Racing Schedule for 2023 in Hudson Valley, NY
OME Events Brings Back Orange County Stampede: Bull Riding Rodeo to NY
One event that has been gaining excitement at rodeos is Bubble Bull Soccer. I have not heard of this event being added to any of our local rodeos but it is very popular with spectators. I recently saw a post about it in a social media group and I am hoping we will get a chance to witness this craziness at some point in person at one of our local rodeos.
Bubble Bull Soccer Should be Added to One of the Hudson Valley Rodeos
Murphy The Orange County Horse Who Loved Guinness
Murphy the Old Horse Who Loved Guinness
Most of us were introduced to Murphy last November when Manhattan Beer Distributors donated him a supply of Guinness to help him thrive. Thanks to them and all the great folks who cared for Murphy over the years he had a great life. Equine Rescue Resources was Murphy's last home and we found these photos on their Facebook page.
Places to play Pool in the Hudson Valley
Billiard Places in the Hudson Valley
If you like to play billiards and you are ready to get serious you should check out one of the many pool halls located in and around the Hudson Valley. Some have food and drink. Some offer tournaments and they all offer hours of billiard fun. Where you want to join a league or just game around with some friends all of these billiard halls are looking forward to your visit.
Orange County Fair Arena in Middletown New York
Inside Arena Concert Venue at Orange County Fairgrounds
Most of us are used to seeing concerts at the Orange County Fair Grounds outside on the track but did you know they have a great indoor space as well? I was just there for Scotty McCreery's Same Truck Tour so I thought I would snap a few pictures so you can check the place out.