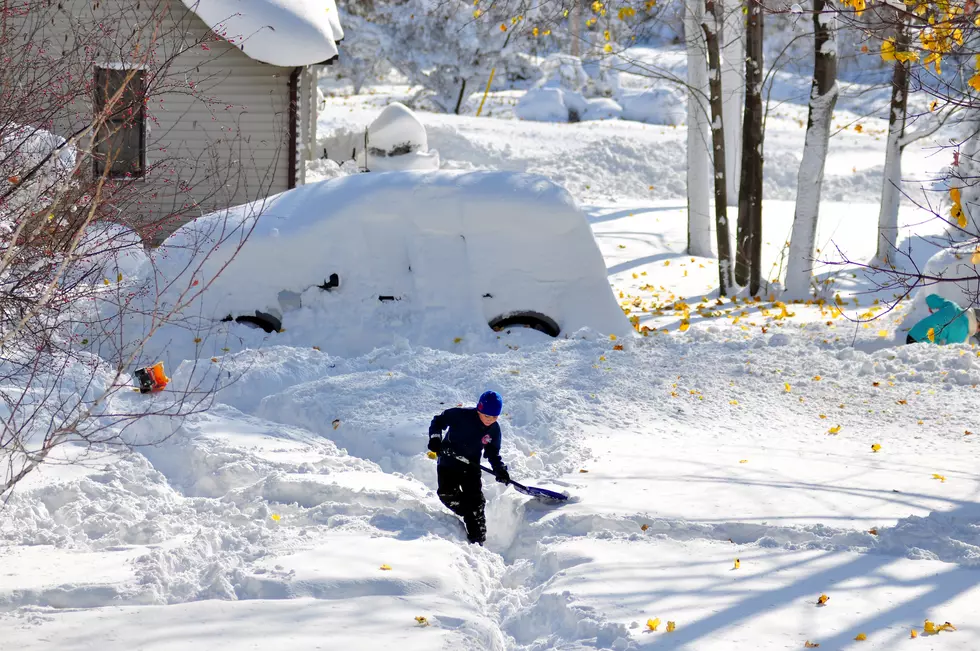 Nearly Foot Of Snow Forecast For Upstate New York, Hudson Valley
Getty Images
It appears the region's first big snowstorm is just hours away.
Sunday morning, Hudson Valley Weather provided an update about a forecast that's predicting the Hudson Valley's first major snowstorm.
Up To 10 Inches Of Snow Forecast For Upstate New York
Hudson Valley Weather predicts 3 to 10 inches will fall on the region Monday evening into Tuesday evening.
"Snow may fall heavily overnight Monday with snowfall rates approaching or exceeding 1" per hour under areas of banding. Travel overnight into Tuesday morning will be treacherous and should be avoided if possible. We will see some downslope shadowing across the river valley and points east where lower totals can be expected," Hudson Valley Weather wrote on Facebook.
Winter Storm Watch Issued For Upstate New York, Hudson Valley
For all the news that the Hudson Valley is sharing make sure to follow Hudson Valley Post on Facebook, download the Hudson Valley Post Mobile App and sign up for the Hudson Valley Post Newsletter.
The photo below shows where Hudson Valley Weather thinks the most snow will fall.
Hudson Valley Weather states:
Do you reside within the yellow circled area?
Yes- 3"-6" with the lowest amounts south and where downslope effects are felt.
Do you reside within the blue circled area?
Yes- 4"-8" with locally higher amounts possible, especially if….. ⬇️
You reside within the red circle?
This area is likely to see the highest amounts where 5"-10" of snow is possible, highest amounts across the higher terrain.
Timeline For Snow In Hudson Valley
Snow is expected to start falling from the southwest to the northeast between 5 p.m. and 7 p.m. on Monday. Snow is expected to fall until Tuesday evening. Hudson Valley Weather believes the snow will stop from southwest to northeast on Tuesday between 4 p.m. and 6 p.m. on Tuesday.
"We still have 24+ hours between us and the precipitation, this storm will have a tricky transfer of energy to a secondary low pressure. The timing of that transfer, how close the secondary low forms to the coast and where it tracks once it does, will all have impacts on the forecast," Hudson Valley Weather said.
5 Snowiest Days In New York State History
Here are the Top 5 snowiest days in New York State history.
15 Iconic Retail Stores That Don't Exist Anymore (But We Totally Miss Shopping At)
KEEP READING: See the richest person in every state
Did You Know? Over 100 Fun Facts About the Hudson Valley
Did you know that Lucille Ball made her stage debut in the Hudson Valley? How about Philadelphia Cream Cheese wasn't invented in Philadelphia, but in Orange County? Or that a mansion in Dutchess County inspired the expression "keeping up with the Joneses?" Find out about those and over 100 other fun facts about the Hudson Valley.