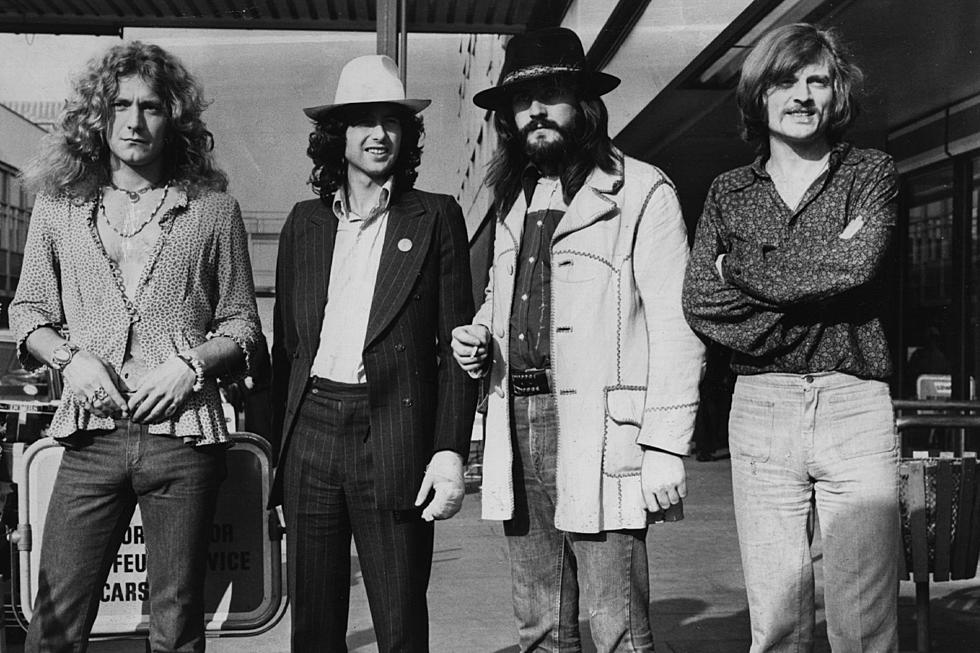 The Day Led Zeppelin Broke Up
Evening Standard, Getty Images
Led Zeppelin made the difficult decision to break up on Dec. 4, 1980, approximately two months after the tragic death of drummer John Bonham.
The group had been preparing to commence a tour in the fall of 1980 when Bonham passed away. After a day of heavy drinking, he had gone to bed and died via asphyxiation from his own vomit. The death was ruled accidental.
Meanwhile, the group was faced with the decision of what to do without such a key piece to their lineup. The pending tour was immediately canceled, but that didn't stop the rumors from swirling about several famous drummers that could potentially come on board to take over for the late musician. However, the surviving members decided that it was not right to tamper with their legacy by bringing someone else in to play drums.
How Did Led Zeppelin Announce Their Break Up?
In a statement, the band simply and elegantly explained their decision:
"We wish it to be known, that the loss of our dear friend and the deep respect we have for his family, together with the deep sense of undivided harmony felt by ourselves and our manager, have led us to decide that we could not continue as we were."
In the years since, Robert Plant, Jimmy Page and John Paul Jones have occasionally worked and recorded together, but reunions of all three have been few and far between.
They took the stage together to perform at Live Aid in 1985, welcoming Phil Collins and the Power Station's Tony Thompson on drums. They reunited again in 1988 at the Atlantic Records 40th Anniversary concert with Bonham's son, Jason, taking his turn behind the kit.
The band's most recent reunion came in 2007 at an Ahmet Ertegun tribute show held at London's 02 Arena. The performance was dubbed a huge success, but once again Led Zeppelin resisted the temptation for a highly lucrative reunion show. However, fans who weren't able to attend on that special night can now enjoy the Celebration Day live album and DVD, which was filmed at the event.
Classic Rock Artists Who (Allegedly) Ripped Somebody Off
These thefts have been described as a form of tribute or as an accident of creation. Whatever you call it, this form of borrowing is far from infrequent.
Gallery Credit: Nick DeRiso
You Think You Know Led Zeppelin?