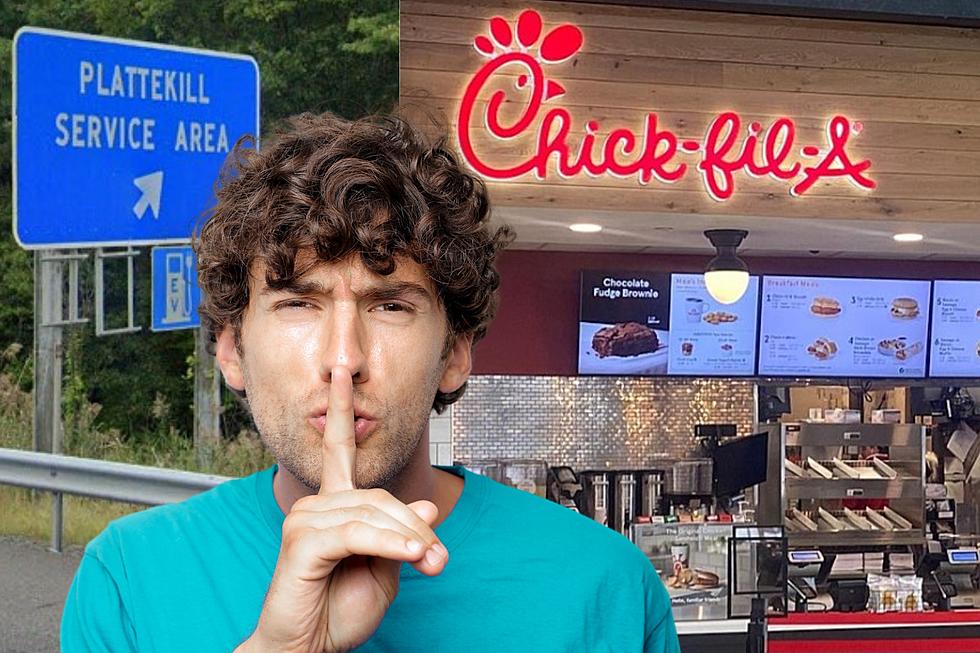 First Mid-Hudson Chick-Fil-A Opens: Visit Without Driving on I-87?
Google Maps/Megan Carter/Canva
The Hudson Valley's first Chick-Fil-A rest stop is now open on I-87 and some are taking advantage of a secret way to enter without having to travel on the Thruway.
A new 20,000-square-foot service area officially opened for business in Wallkill on Wednesday, marking the first time locals won't have to travel to a neighboring state or county to visit Chick-Fil-A. The Plattekill rest stop is just one of 27 service areas that are being completely remodeled as a part of a $450 million improvement project.
New service areas in Clifton Springs, Iroquois, Indian Castle, Chittenango and Junius Ponds have already opened, making Plattekill the fifth to be unveiled to the public.
What restaurants are now available at the Plattekill Rest Area?
The new rest stop now offers brand new restaurants including Burger King, Chick-fil-A, a drive-thru Starbucks, Applegreen Market Store and Taste NY featuring food and alcohol created in New York State. Panera Bread and Auntie Anne's are still under construction and, according to the Thruway Authority, will open soon.
What other amenities are at the Plattekill Rest Area?
In addition to new restaurants, the refurbished rest area also features a farm market space, dog walking area, private nursing area and more. Although the service area is already open, many of the other amenities are still under construction including a climate-controlled pet area, digital tourism kiosk, playground and soon-to-be-unveiled row of high-speed electric car chargers.
How to get to the Plattekill Rest Area
The Plattekill Service Area is located on I-87 northbound between Exit 17 and Exit 18. however, some locals are getting there through a series of little-known back roads. There is a small parking lot behind the rest area that, the last time we were there, was open to the public so locals can visit the rest stop. In order to find it, you'll need to get to the intersection of Mill Street and Heinsman Lane near Leptondale Elementary School in Wallkill.
Take Heinsaman Lane south until the road ends in a parking area. You'll find a crosswalk that takes you to the back of the Plattelkill Service Area where you can just walk around the building and enter. Some claim that the lot is occasionally locked, but footage taken on Thursday and posted to YouTube show that there is no gate and visitors were parking in the lot and at the end of the road.
As for the legality of parking on Heinsman Lane, it is a public road so parking on the shoulder is perfectly fine unless there is a no parking sign. However, the parking area is private property. We haven't seen signs that designate it as "employees only", but some say they've heard you may risk a ticket for parking here. Be sure to keep your eyes open for any new signs that may have been put up since the writing of this article and follow all posted rules and regulations.
What New York State Thruway Rest Stops Looked Like in the 1950s
According to the Thruway Authority, the very first rest stops were erected in the mid-1950s offering travelers cafeteria-style food, coffee, and snacks. Today, these rest stops are going through their second major remodel which will bring new restaurants and amenities for Thruway travelers. According to these old images from the Thruway Authority, our local rest stops have come a long way in seventy years.
A Peek Inside The New Thruway Rest Stops In New York State [PHOTOS]
Keep scrolling to see pictures of the newly revamped New York State Thruway service areas.