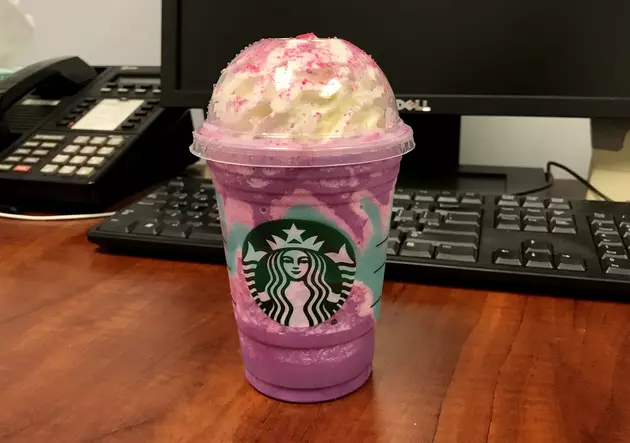 Should You Try the Unicorn Frappuccino Before It's Gone Forever?
A. Boris
We got our hands on the elusive Unicorn Frappuccino from Starbucks and gave it a full taste test.
The drink, which Starbucks claims will only be available for a "few days," consists of milk, Starbucks' Frappuccino syrup, mango syrup, a blue "drizzle," as well as pink powder and sour blue powder.
The result is a multi-layered drink that changes flavor (and color) as you drink it.
We sent our producer to purchase three of the drinks for our taste test, and by the eye-roll he received deduce this intricate drink is a pain in the unicorn horn to make. And it's no surprise. The drink is layered in such a way that it's designed to unleash different flavors depending on where your straw is positioned.
We picked up mango, strawberry, sweet-tart and some more unexpected flavors. Here's what happened when we got our first try at the Unicorn Frappuccino.
Should you try one?  First you should know that a Grande version of this drink will contain 50% of your saturated fat for the day, as well as a whopping 59 grams of sugar. Of course, after one look at this neon colored drink you should probably realize it's not a health shake.
We'll leave final the decision up to you, but I will say that I've never had a drink so uniquely constructed before. If you don't get it for the taste, it may be worth a try just to experience how the different layers of flavors make their way through the straw.
But you should probably make up your mind quickly because this unicorn won't be around for much longer.