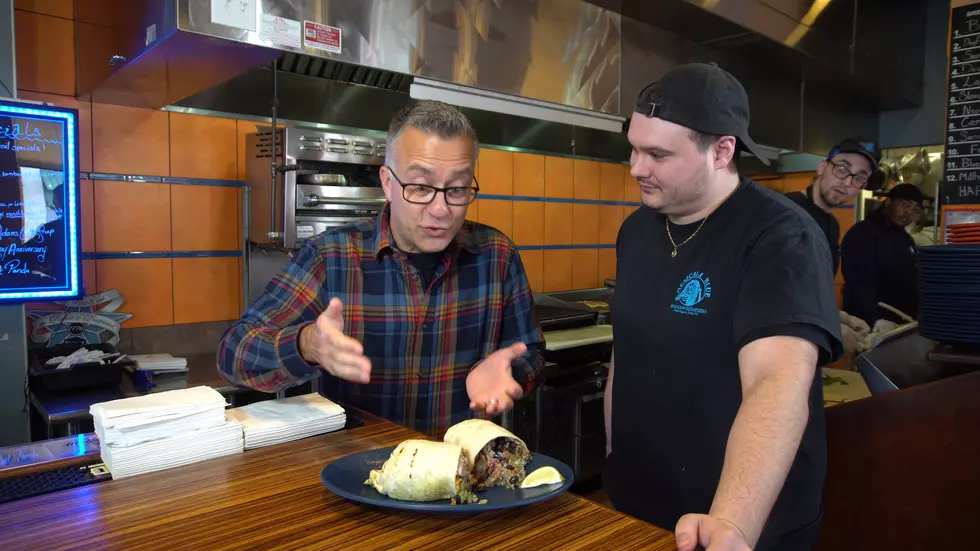 Mexicali Blue Reveals Secret Behind Nation's Best Burrito to Boris
WPDH
Mexicali Blue in Wappingers Falls has been getting a lot of attention over their award-winning burrito. But what makes it so different?
That was the question I was hoping to answer when I had the honor of visiting with Chef Tom Nicolosi, behind the grill at his now-famous Mexican restaurant.
By now you've all heard how Nicolisi's short rib burrito was named one of the best burritos in the nation by the Food Network. Since making the list, foodies and curious culinary pilgrims have been flocking to Wappingers Falls to taste the acclaimed burrito for themselves. So I thought I'd join their ranks and get a peek behind the scenes to find out what makes this burrito so special.
The highlight of the dish is the short rib. Lovingly prepared, this tender meat is marinated in seasonings and Negra Modelo beer overnight before being slowly cooked in an oven for almost eight hours. The result is a juicy, tender meat that is packed with flavor. The short rib is rolled up with rice, black beans, house-made coleslaw, fresh guacamole, pico de gallo, onion marmalade, a sweet chili sauce and fresh cilantro to create a taste sensation like no other.
According to Nicolosi, what makes this burrito stand out is the attention to detail. Each ingredient is freshly sourced or made in house. Details like handmade guacamole and a crisp, fresh slaw could be easily substituted for cheaper, quicker ingredients. But that's just not the Mexicali Blue way. You won't find a microwave or can opener anywhere near this burrito. Everything made at this award-winning eatery is fresh, and Nicolosi wouldn't have it any other way.
Even if customers aren't aware of Mexicali Blue's dedication to fresh ingredients, they certainly understand after biting into one of their menu items. As a regular customer I've had just about everything on the menu, and I can honestly say that the "wow" you get never goes away, even after the hundredth burrito. In fact, I started taking my son to Mexicali Blue when he was just two years old because of the freshness and quality of the ingredients. To this day, my very picky eater insists on dining at Mexicali Blue at least once a week, and he will finish his plate every single time.
So, if you're wondering what the big secret behind Mexicali Blue's nationally recognized burrito is, it's quite simple: There is no secret. It's just fresh, quality ingredients prepared the right way -- a short rib with no shortcuts. Not an easy task, but well worth the enormous effort that goes into every single bite at Mexicali Blue.