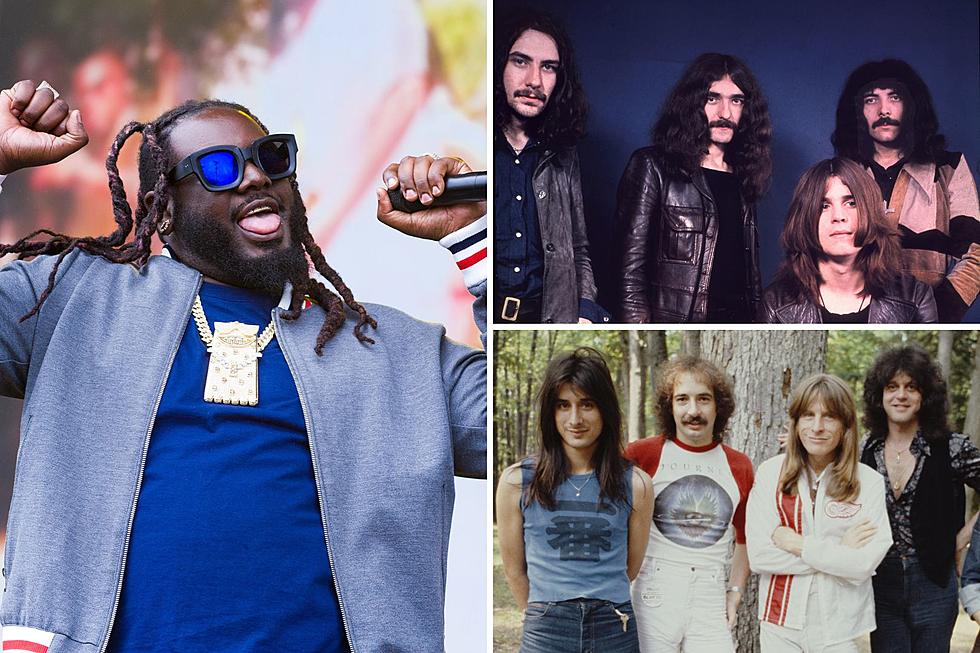 Hip-Hop Star T-Pain Covers Black Sabbath + Journey on His Upcoming Album
Timothy Hiatt / Chris Walter / Michael Putland, Getty Images
Hip-hop artist and entertainer T-Pain sings Black Sabbath and Journey songs — among other non-hip-hop versions — on his upcoming covers album On Top of the Covers, as Billboard reported this week (Feb. 15).
The non-autotuned album from the rapper known for his creative use of Auto-Tune pitch correction follows his appearance on TV singing competition The Masked Singer. In 2019, T-Pain (in costume as "Monster") won the first season of Masked Singer performing songs by Queen, Lenny Kravitz and others. Now, his non-rap performance comes to an album.
See the track listing near the bottom of this post.
"This covers album has been years in the making," T-Pain explains. "I started recording this right after I won The Masked Singer. It got put on hold for a bit but now that I'm independent, I'm able to do whatever I want to do through Nappy Boy Entertainment and this is something I've felt strongly about for a long time."
He adds, "These songs are not what you'd expect when you hear that T-Pain is doing a covers album and that is what I think is cool about it." (via Classic Rock)
Watch T-Pain sing on The Masked Singer below.
T-Pain, On Top of the Covers Track List
1. "A Change Is Gonna Come" (Sam Cooke Cover)
2. "Don't Stop Believin'" (Journey Cover)
3. "Sharing the Night Together" (Dr. Hook Cover)
4. "Stay With Me" (Sam Smith Cover)
5. "Tennessee Whiskey" (Chris Stapleton Cover)
6. "That's Life" (Frank Sinatra Cover)
7. "War Pigs" (Black Sabbath Cover)
T-Pain Sings Queen on The Masked Singer
12 Rappers Inspired by Rock Music