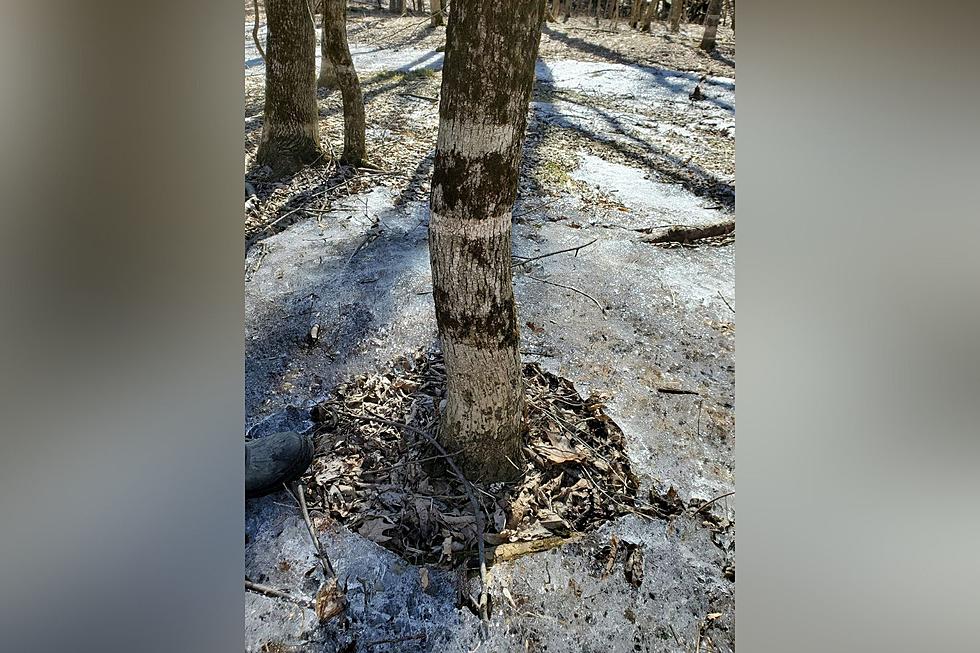 EXPLAINED: Mysterious Tree Rings Discovered in Hudson Valley
Facebook/NYS Department of Environmental Conservation
If you've happened to notice some peculiar phenomenon happening with the trees of the Hudson Valley this month, there's a perfectly good explanation.
Those who've headed outdoors to enjoy some fresh air this winter have reported seeing some peculiar things in the woods. The head-scratching sight has some people baffled about its origin, coming up with their own wild stories. Luckily, the Department of Environmental Education has stepped in to explain why some trees have curious rings on their trunk and the science behind why the snow appears to mysteriously melt around some trees in an unusual pattern.
Why does the snow melt like that?
You may have noticed snow melting quicker in a circular pattern around some tree trunks. According to the DEC, the explanation is actually quite simple.
The thawed area around the base of a tree is commonly seen during spring thaws because the darker tree bark absorbs more heat than the surrounding snow. Heat absorbed by the bark radiates back outward and melts the ice and snow around the trunk.
The DEC added that these melted circles actually provide the perfect conditions for ephemeral flowers that you may be lucky enough to see bloom in the spring. These small flowers only bloom for a short time, so be sure to keep your eyes open for this pretty amazing sight.
What are those creepy-looking rings around the tree trunk?
The DEC also explained the fascinating origin of white rings that can be found around tree trunks during this time of year.
According to environmental experts, the rings are caused by changing water levels that occur during the winter. The dark moss on the tree winds up getting rubbed off by piles of ice and water as the snow rises and melts. The rings are more common in wetlands where the water levels will change quite drastically during the cold months.
Have you noticed these interesting natural phenomena on trees where you live? Did you correctly guess what was causing them? Let us know in the comments on our Facebook page or by dropping us a text on our app.
LOOK: 20 of the strangest natural phenomena in America
From fire rainbows to bioluminescent bays, America is home to some truly bizarre natural phenomena. See
Stacker
's list of 20 of the strangest natural phenomena in the U.S.
RANKED: Here are the most popular national parks
To determine the most popular national parks in the United States, 
Stacker
 compiled data from the 
National Park Service
 on the number of recreational visits each site had in 2020. Keep reading to discover the 50 most popular national parks in the United States, in reverse order from #50 to #1. And be sure to check with individuals parks before you visit to find out about ongoing, pandemic-related safety precautions at 
www.nps.gov/coronavirus
.