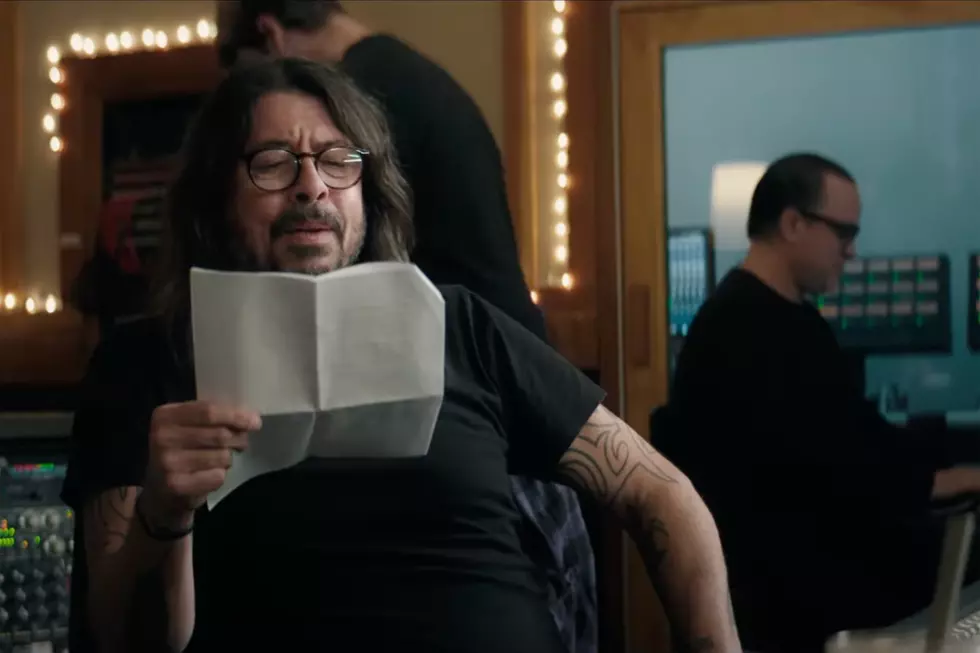 Dave Grohl Tries to Solve a Riddle in New Super Bowl Commercial for Big Whiskey Brand
YouTube: Crown Royal
What do peanut butter, Hawaiian pizza and the egg carton have in common? Dave Grohl is just finding out, in a commercial that's set to air during the Super Bowl. The Foo Fighters frontman has turned pitch man for Crown Royal whiskey, and a pair of teasers for the Super Bowl spot debuted over the weekend.
In one of the spots, Grohl is seen scanning a list on a piece of paper, questioning the entries that include the aforementioned peanut butter, egg carton and Hawaiian pizza as well was the battery, trash bags, the replay and the electric wheelchair. What does it all mean? The caption alongside the Anomaly Agency-created ad reads, "Dave just found out what these objects have in common. Tune in to the big game on 02.12.23 to find out too." The ad is expected to air during the third quarter of the Super Bowl on Feb. 12.
Meanwhile, a second video finds Grohl is a recording studio simply recording the phrase "thank you" with a variety of intonations, once again with a tease for the date of the Super Bowl popping up in the clip.
"Dave is a Crown Royal super fan and the perfect partner to spread a message of gratitude to the audience that is authentic to the brand," said Sophie Kelly, senior VP for whiskeys in North America at Crown Royal's parent company Diageo. "[After] seeing the work come to life, we have some great content we will be sharing over the next couple of weeks, including a decision to up our Super Bowl commitment to running a:60 in-game."
As stated, Grohl is definitely a Crown Royal superfan, even including it as part of the band's tour rider (per The Smoking Gun). He also brought along some Crown Royal during his hilarious appearance eating spicy wings on his 2022 appearance on Hot Ones. What better way to wash down the heat than sharing Pantera's Abbott brothers' favorite drink Black Tooth Grins with the host.
Dave Grohl Tease for Crown Royal Super Bowl Commercial
Dave Grohl Says "Thank You" in Super Bowl Commercial Tease
Top 53 Rockers Who've Been in Multiple Successful Bands