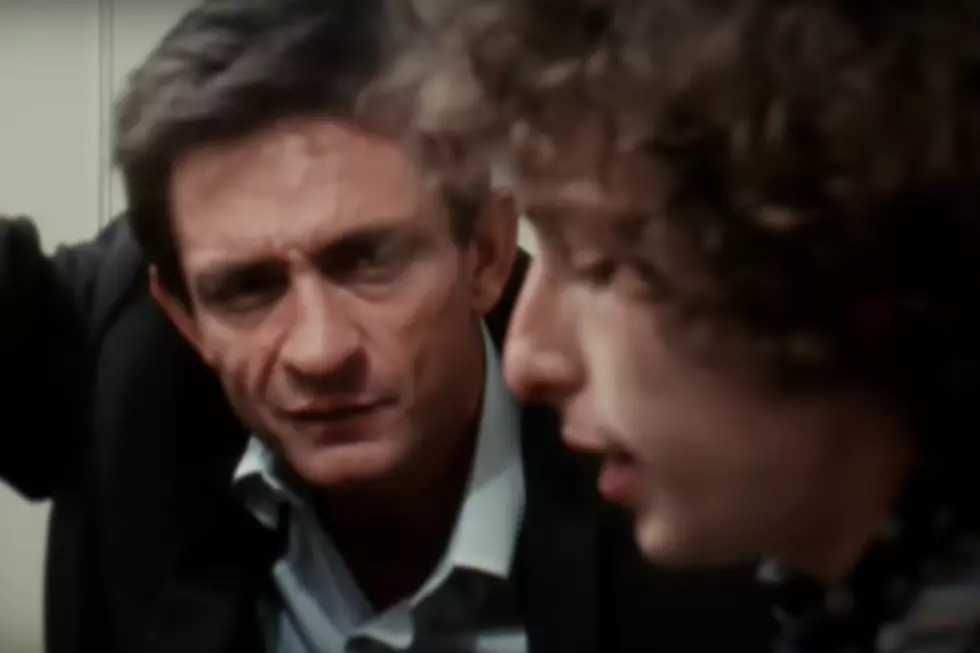 Listen to Bob Dylan Demo 'Wanted Man' With Johnny Cash
YouTube
You can listen to it below.
This first-take recording dates back to a 1969 session, just a week after Dylan gave "Wanted Man" to Cash. In fact, it's so early in the proceedings that Cash still hasn't gotten a full grasp on the song.
At the beginning of the demo, June Carter Cash offers her husband some friendly advice: "Be sure that Bob puts the melody for that song, that 'Wanted Man.' You forgot the melody." Instead, she should have reminded him about the words. Cash and Dylan start out seriously collaborating, but then end up dissolving into giggles when Cash forgets the lyrics.
Cash wasn't finished with "Wanted Man." He opened the 1969 live album At San Quentin with Dylan's song, calling him "the greatest writer of our time." Cash later recorded a studio version of "Wanted Man," which became the title track for a 1994 compilation.
Early rock legend Carl Perkins was also on hand for the oft-bootlegged Columbia Studio A sessions that produced the "Wanted Man" demo. Discs two and three of Travelin' Thru focus on Dylan's work with Cash, and also include an on-stage performance at Nashville's Ryman Auditorium for the premiere episode of The Johnny Cash Show.
Ranking Bob Dylan's 'Bootleg Series' Albums
Bob Dylan Released One of Rock's Most Hated Albums