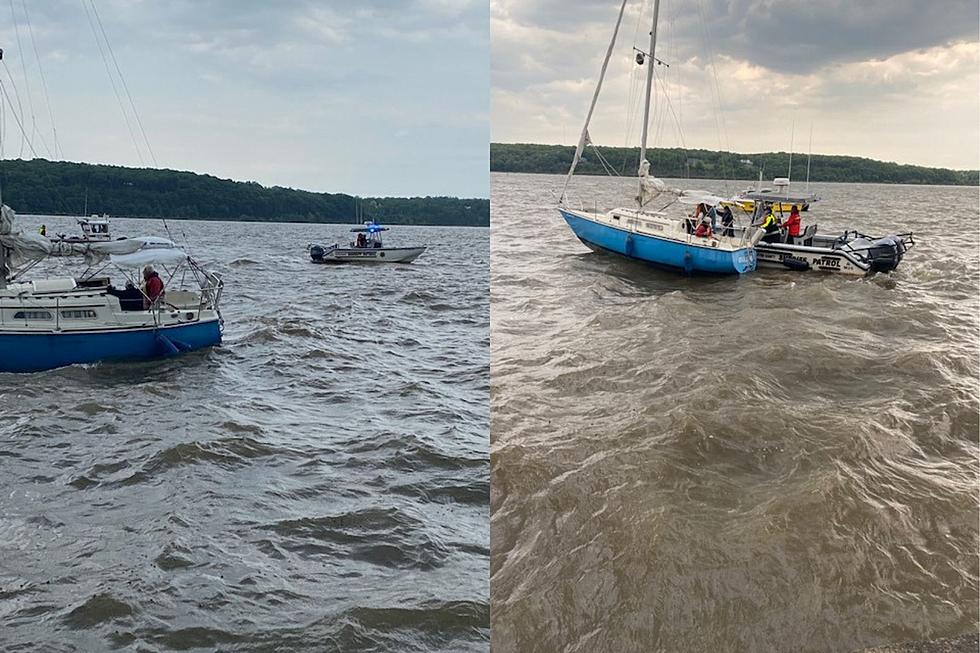 Boat Rescue on New York's Hudson River After Engine Failure
Ulster County Sheriff's Office/Facebook
A "Vessel in Distress" call was received by Ulster County 911 back on Wednesday, May 24th and area first responders jumped into action.
If you haven't noticed over the last few days, the wind has been whipping all across the Hudson Valley, and when it's windy on land it's twice as bad out on water. Just ask the folks that were recently rescued from the Hudson River after the boat they were on experienced distress.
Boat Experiences Engine Issues on Hudson River, Near Kingston, NY
According to the Ulster County's Sherriff's Office at approximately 4:27 P.M. on Wednesday, the Ulster County 911 call center received a call from the operator of a vessel requesting assistance on their boat due to engine failure on the Hudson River. The caller reported that because of rough and choppy conditions on the water, the boat was beginning to pitch which can be extremely dangerous.
Boat Rescued on the Hudson River
911 dispatched the Ulster County Sheriff's Office marine vessel M26 to the area, which was just off the shore of the Hudson River in Port Ewen according to the Sheriff's Department. As deputies made it to the boat they were able to safely rescue the three occupants on board and get them to safety. The Sherriff Office was assisted numerous agencies including Kingston Fire Department, Port Ewen Fire Department, Marine 1, Town of Esopus Volunteer Ambulance Squad, and Mobile Life Support Services.
As news of the quick work and rescue by first responders spread, many folks began leaving comments on the Sherriff's Office Facebook page thanking them for the great work. One comment left said it all
"Amazingly fast response time. We are fortunate to have a well-trained professional marine response team in our county! Good work!"
Tour Bannerman Island This Spring in the Hudson Valley
From May until October, Bannerman Island will host tours and fun events giving Hudson Valley residents and those visiting an experience of a lifetime.
10 Places to Rent a Kayak and Cruise the Hudson River
Looking to cruise the Hudson? Check out these kayak rentals across the Hudson Valley just in time for warmer weather.