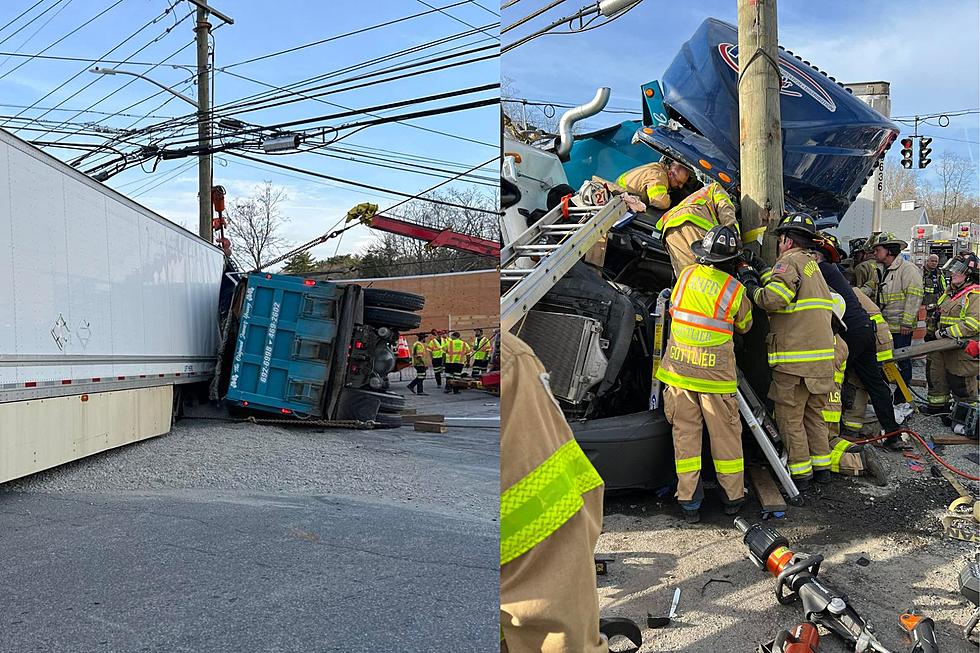 Driver 'Pinned' For Hours In Wurtsboro, New York Truck Accident
Rock Hill FD/Facebook
Two trucks collided Tuesday leaving one driver stuck inside one of the trucks for hours.
It was just after 3 p.m. on Tuesday when the Rock Hill Fire Department was dispatched to help a neighboring department with a truck accident that reportedly had a female driver stuck inside a semi-truck for over three hours.
Wurstboro Truck Accident
According to the Rock Hill Department Facebook page, they were requested to assist the Wurtsboro Fire Department in a motor vehicle accident that involved a dump truck and an 18-wheeler semi-truck in the Village of Wurtsboro. The accident happened at the intersection of Route 209 and Sullivan Street around 3 p.m. when the two trucks collided and then slammed into a telephone pole on the side of the road.
First responders reportedly removed one of the truck drivers shortly after arriving on the scene and provided them with medical attention. It took rescue crews three and a half hours to safely remove the female driver of the semi-truck. Firefighters reported that the driver was severely pined inside and because the trucks slammed into a telephone pole they had to use extra caution to safely remove the driver and avoid the pole from falling on top of them.
After working for hours the driver was safely extracted and then transported to an awaiting medivac and brought to an area trauma center.
Amazing Job Done by All Involved
Fire crews didn't reveal what caused the accident but Rock Hill did share their appreciation for all the departments that assisted Wurstboro with the accident "We are truly fortunate to work alongside so many dedicated and professional volunteers. The combined efforts of all agencies involved resulted in a positive outcome."
Agencies that assisted at the scene include Mamakating EMS, Mobilemedic EMS, NYS Police, Prestige Towing, NYSEG, LifeNet 75, and Hackensack Air 2. They also thanked the New York State Department of Transportation for helping with traffic control at the scene.
9 Hudson Valley Towns That Have the Ugliest Sounding Names
9 Hudson Valley towns that have the ugliest sounding town names.
Worst Hudson Valley Bridges to Drive Across
The five main Hudson river crossings ranked from worst to first with commuter comments.