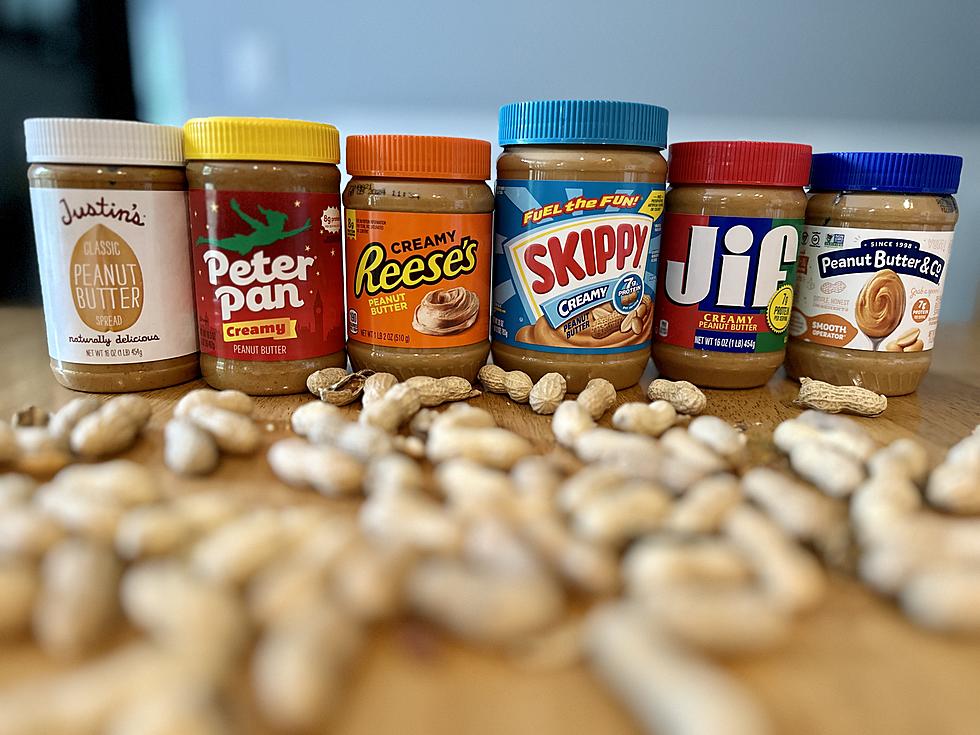 We Tasted All of the Peanut Butter Brands and Ranked the Best
A. Boris
You may have wondered which peanut butter is actually the best. So did we. That's why we bought them all and tasted them side by side to find our favorite.
I'm a peanut butter junkie. It's my hands-down favorite snack. I don't bother spreading it on anything or dipping something into it. For me, a heaping spoonful of peanut butter is all I need to satisfy my neverending craving for that sweet, savory taste.
Most people usually have one peanut butter brand that they've become accustomed to and never stray from. Growing up, we were always a Skippy family, and to this day that's the brand that's always been in our house. But what if there is something even better out there? Could I be wasting my life eating inferior peanut butter when something even more delicious is lurking in the grocery aisle? I had to find out for myself so several weeks ago I began a journey of peanut butter discovery.
I decided to purchase a different peanut butter brand each week and rank them all from worst to first. The experiment was pretty eye-opening and made me appreciate the subtle differences between the brands. It's pretty amazing how products with virtually the exact same ingredients can taste so different.
Let's start with the worst:
Peter Pan Creamy Peanut Butter
I know there are people who grew up with Peter Pan peanut butter who will probably disagree, but it's the absolute worst. Peter Pan has a strange taste that is unlike any of the other brands I tried. It's an earthy, dirty quality that makes it feel like you're licking peanut shells. I'm sure it's ok with jelly on a sandwich, but on its own Peter Pan is not very pleasant and is not something I'd ever buy again.
Justin's Classic Peanut Butter Spread
I must admit that I had high hopes for this brand. I'm a huge fan of Justin's dark chocolate peanut butter cups and was expecting to experience peanut bliss after eating a scoop of their smooth peanut butter. Unfortunately, that wasn't the case. To be fair, Justin's only has two ingredients: dry roasted peanuts and palm oil. Most other brands have added salt and sugar that give it the classic taste we've all come to associate with peanut butter. Justin's was a bit sticky and bland, but did have the most authentic "peanut" flavor. If you're going for health and not taste, this would be a solid choice. But at $6 a jar you can probably get a fresh-ground peanut butter made to order at the health food store for the same price.
Now on to the better brands:
Jif Creamy Peanut Butter
One of the "big two" peanut butter brands, Jif has always been known for impressing choosy moms and being a staple in many of the kitchens at my friends' house growing up. Being from a Skippy family, I was most curious about the taste of Jif. I'll say that Jif isn't terrible, but it has a taste of caramel that lingers in the background making it less enjoyable than the other top brands I tested. I thought I was imagining things, but every time I went back to try it I got that sticky caramel flavor. After looking at the ingredients my instincts were validated. Jif lists molasses as one of its ingredients, something that's not found in most of the other brands. For some, this may be a good thing, but for me it took away from the peanut butter taste.
Peanut Butter & Co. Smooth Operator
Peanut Butter & Co.'s now-closed restaurant in Greenwich Village was always one of my must-visit destinations while on pub crawls back in the early 2000's. One of the first "artisanal" peanut butter brands on the market, Peanut Butter & Co. does not come cheap. At over $7 for just 16 ounces, it's the most expensive jar on the shelf. For paying a premium like that, you'd expect this to be the best peanut butter in the world, and when I took my first bite I was convinced that it was. It's got a rich aroma, a roasted taste and is very thick and creamy. As I ate more and more throughout the week I fell deeply in love with this peanut butter. But then, for the purposes of this experiment, I tasted it alongside all of the others. I can't put my finger on it, but there is something different and slightly unpleasant about this peanut butter that becomes apparent after eating it side by side with the others. It's like a sweet tea or lavender-type taste that takes away from the experience. It's a shame because now I can't untaste it. But on the bright side, not having Peanut Buter & Co. as my favorite brand is going to save me some serious money.
Reese's Peanut Butter
Much like Justin's, I had very high hopes for Reese's brand of peanut butter, but unlike Justin's this one delivered. Now, don't be fooled. This is not just a jarred version of the filling from Reese's famous peanut butter cups (how awesome would that be?). This is a classic peanut butter that is simply branded by Reeses. It's a solid choice and a peanut butter that I would certainly have no problem eating off of a spoon any day. It's got mostly everything you're looking for in taste and mouth feel, but does come off slightly sweeter than most. Reese's lists molasses in the ingredients but, unlike Jif, it's much more balanced and doesn't take away from the peanut flavor. I don't get any of that caramel, just lots of roasted peanuts. The only downside is the color. It's slightly more pale and chalky looking, giving the appearance of being a bit more processed and "fake" than the other brands. However, Reese's more than makes up for it in taste.
The winner:
Skipply Creamy Peanut Butter
I know, I know... You probably think I'm biased because I grew up eating Skippy, but that's not the case. In blind tastings and comparing Skippy side by side with each brand, I objectively picked this classic peanut butter every single time. It's got the exact right amount of sweet and salty and a roasted flavor with the perfect amount of bite without feeling too dry. Even after throwing out all of my preconceived notions of what peanut butter was, I kept coming back to Skippy every single time. While some other brands may have come close, Skippy remains the true king of peanut butter and I'll fight anyone who disagrees with me.
Now we want to know what you think. Have you done a side-by-side comparison with your favorite peanut butter brand? We're sure you've got lots of opinions, so feel free to share them with us on our Facebook page or by sending us a text on our free mobile app.
The Best Chocolate Shops in the Hudson Valley
Whether you're looking for a box of chocolates for Valentine's Day, an anniversary or special holiday celebration, the Hudson Valley has some of the very best handmade chocolates around. Scroll down to check out these incredible chocolate stores in Dutchess, Orange and Ulster Counties.
7 Unique Donut Shops in and Around the Hudson Valley
Looking to appease that sweet tooth craving? You have to check out these 8 specialty donut shops in and around the Hudson Valley.