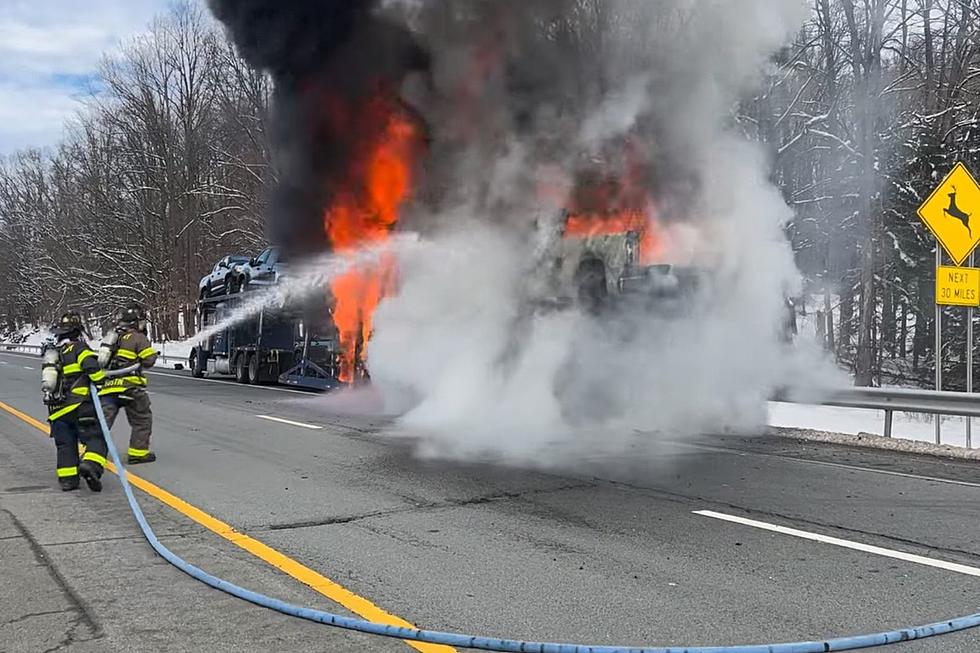 What Happened? Vehicle Carrier Up In Flames on NY Thruway
Woodbury Fire Department via Facebook
The New York State Thruway was closed in Orange County on Wednesday when a massive fire nearly engulfed a vehicle carrier.
At least four vehicles were completely destroyed by the blaze that required response from several different fire departments. While there were fortunately no injuries reported, many people offered theories as to what could have caused the inferno.
Vehicle Carrier Fire on New York State Thruway
"I bet the back breaks on carrier started it... well done first responders", queried one comment on the Woodbury Fire Department's (WFD) Facebook page. Still others had a different thought that relates to new safety regulations recently enacted by many private and public institutions. It even spurred a response from the WFD.
Electric Vehicle Fire Hazard Worries
"Vehicle carrier fire NYS Thruway... The carrier was not transporting any electric vehicles", began the fire department's post. "It seems (by reading the comments on various posts regarding this incident) that everyone thinks every car fire we go to is an [electric vehicle] and we wanted to set the record straight", they continued. While the cause of this fire was not due to a battery, some Hudson Valley institutions are moving ahead with banning all electric vehicles.
Banning Electric Vehicles in New York
The Culinary Institute of America (CIA) in Hyde Park, NY recently surprised students with new regulations prohibiting any vehicle powered by a lithium-ion battery from being on campus. The rule, which left many students without any form of personal transportation, went into effect on February 17th. The school noted the fire risks associated with electric vehicles as the reason for the ban.
While there never seems to be a dull moment in the Hudson Valley, some emergencies are more unique than others. Check out some of the more miraculous local animal rescues (including a HORSE in a POOL) below.
Dog Rescued After Being Trapped in Rocky Crevice at Minnewaska
A 12-year-old dog named Liza was rescued after being trapped in a rocky crevice at Minnewaska for 5 days.
Horse In A New York Backyard Pool?! See The Dramatic Rescue Photos
God Bless our amazing First Responders. They have to see and react to unique situations every day to save not just human lives, but also those of our four-legged friends. This past weekend a horse-faced a life or death situation after getting caught in the cover in someone's backyard pool in Bohemia, New York. Thankfully, the
Bohemia Fire Department
came to the rescue.