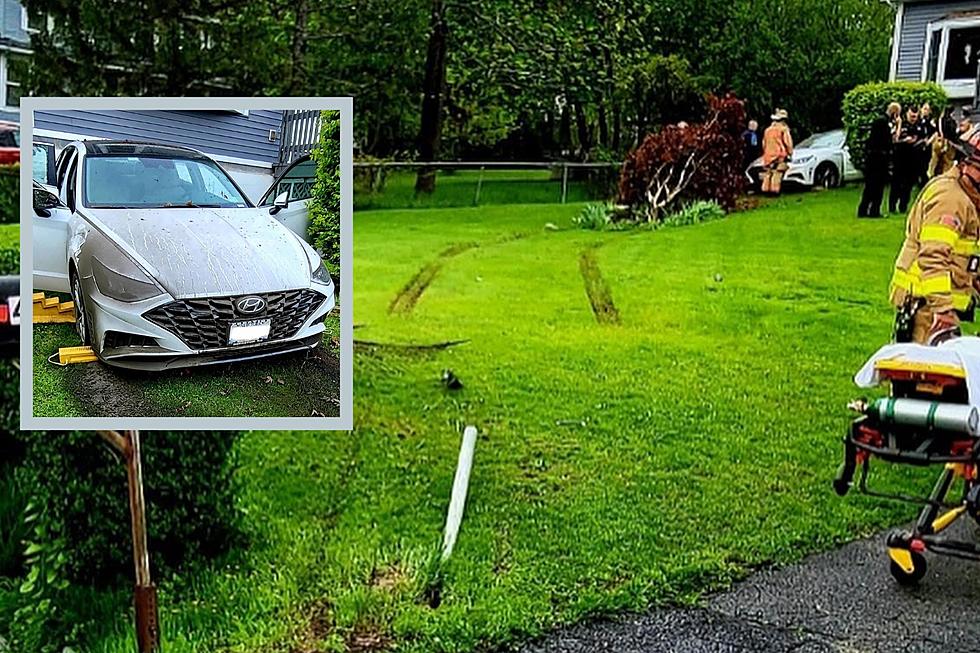 Unconscious Woman Drives Into Dutchess County Home
Fairview Professional Firefighters, IAFF Local 2623
Firefighters responded to a terrifying scene in Dutchess County on Tuesday.
A flurry of emergency personnel responded to a Hudson Valley home during the early hours after a car crashed into a home. Photos show the torn-up lawn where the automobile ripped through the yard on its way to the front of the house. Debris also indicates that the car appears to have plowed over a metal pole and a small tree before crashing into the home.
According to a firefighter who was on the scene, the car was occupied by a woman who was unconscious and had the car in reverse. Hyde Park Firefighter, Sal Alhejazien, commented on Facebook that the car actually traveled backward from the driveway, over the lawn and finally into the residence. Alhejazien says he just happened to be in the neighborhood visiting his mother when the scary incident happened.
The firefighter says he sprung into action, breaking the back window of the vehicle so he could get in and turn it off before any more damage could be done. Alhejazien described the driver as "unconscious with (the) gas pedal to the floor."
By the looks of the lawn under the front tires, it appears that the car was still in reverse with the wheels spinning even after the crash. Alherjazien says he is just thankful that he was there when it happened so he could lend assistance.
Fairview firefighters arrived at the scene along with the Dutchess County Sheriff's Office and Mobile Life. While the location of the home wasn't disclosed, the Fairview Fire District is located on the border of the Town of Poughkeepsie and Hyde Park. No further information about the driver or their condition was released.
12 Of New York State's Most Wanted Criminals- May 2023
Below are individuals wanted by the New York State Department of Corrections and Community Supervision's (DOCCS) Office of Special Investigations who have been designated as its
Most Wanted Fugitives
. They should be considered armed and dangerous. This list is current as of 5/01/2023:
NEVER attempt to apprehend a fugitive yourself. If you have information on the location of any of these fugitives, you can contact OSI 24 hours a day / 7 days a week to report it. All leads and tips are treated as confidential information.
If an immediate response is necessary, such as you see the wanted person at a location, please call "911" and report it to the police.
Nearly 40 Children Have Recently Gone Missing From New York State