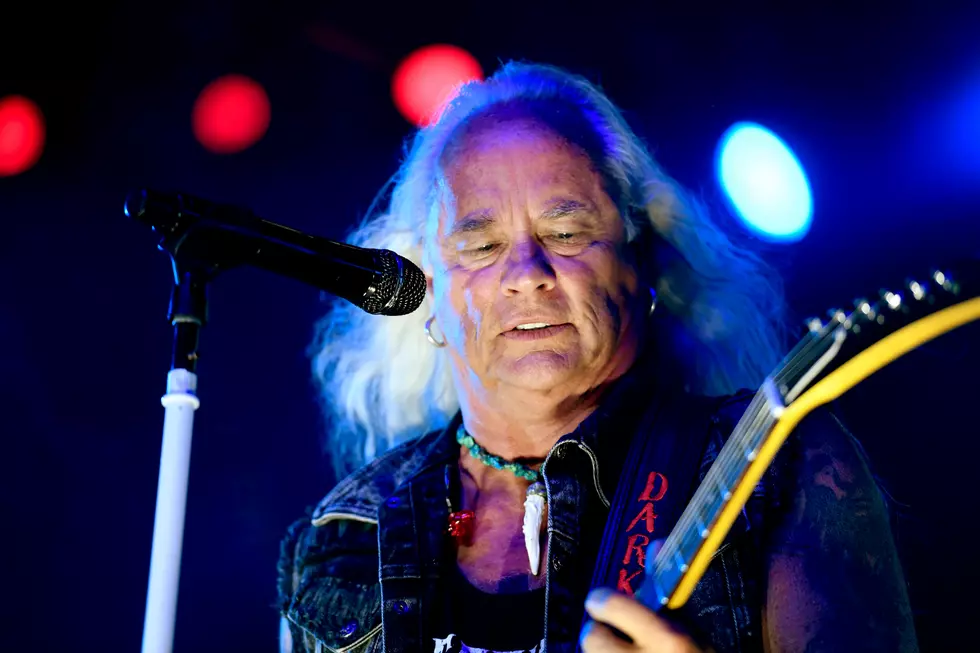 Rickey Medlocke Plans New Music With Lynyrd Skynyrd and Blackfoot: Exclusive Interview
Frazer Harrison, Getty Images
Guitarist Rickey Medlocke is grateful that Lynyrd Skynyrd have played so many special shows, more than 45 years after the arrival of their debut on 1973's Pronounced 'Leh-'nerd 'Skin-'nerd.
"Over the years, we've had some pretty spectacular moments, as far as concerts go," he tells UCR. "Last year, playing before our hometown crowd [in Jacksonville, Fla.] in a stadium full of 57,000 fans was an unbelievable happening."
When Medlocke and the members of Skynyrd took the stage at TIAA Bank Field that night, he admits "it was pretty overwhelming for a while," as he surveyed the number of people in the audience.
Last month the band played the annual Stagecoach Festival and got to see firsthand just how far the legacy of its music stretches at this point. "There were almost 40,000 people in front of the stage," Medlocke marvels. "Every single one of them was all probably of the millennial age. They just killed it. They just loved the music and the band. That was a real thrill for us."
Lynyd Skynyrd's ongoing Last of the Street Survivors farewell tour has shows on deck through the end of September. If and when they do finally say goodbye to the stage, Medlocke notes, the songs themselves will remain.
"Ronnie [Van Zant], Gary [Rossington] and Allen [Collins] created some of the greatest songs that have ever been written," he says. "They'll be here a lot longer after [we're] gone. Right now, if you really stop to think about it, we're into four generations of people that just love this music. For us, that is just unbelievable. When we were standing there at Stagecoach playing, I'm looking out at this audience and I'm going, 'My God.' Some of these people were like 15 or 16 years old and all of the way up. It was just pretty amazing. And for me, it's all about the music. The music has created that. It's iconic and it's been in TV shows, movies, commercials. I mean, what can you say?"
Medlocke has been a member of Lynyrd Skynyrd again for close to 25 years, re-joining the band in 1996. But his roots with the group go all of the way back to the beginning; if things had been different then, he may have never left.
"I was raised with my grandparents, and my grandfather was a bandleader, and he also played on the road with some of the different country music stars at the time," he recalls. "Johnny's parents, Ronnie's parents, Donnie's parents, Mr. and Mrs. Van Zant would come out sometimes, to my daddy's square dances and his show. That's kind of how I got to know the Van Zants. They lived on the west side and we were all kind of intermingled together. That's how I kind of got to know Gary and Allen and [late drummer] Bob [Burns]. But we all played some of the same teen centers together, their band and my band. Jacksonville was a place that was loaded with musicians and you all intermingled together. Everybody [was] doing their own thing and trying their best to make a mark for themselves."
At that time, Medlocke was still trying to settle in and figure out what he was going to play as a musician. It turned out to be guitar, but it was a different instrument at first.
"I had learned in my life at an early age, not only banjo [and] guitar, but I learned how to play drums," he says. "The first time around with the guys, I was a drummer, one of the original drummers for the band. And then when I wanted to go on and do my own thing and stuff like that. They weren't thinking about a third guitar player at the time."
Medlocke recalls some early recordings at Muscle Shoals, where he "played drums and played some acoustic guitar on it, did a lot of background vocals on that record and even sang, I think, about five or six songs as the lead vocalist. It's been a long association for me, and I'm very thankful and I'm very blessed and fortunate that I've been able to be with two great Southern rock bands. A lot of people never get a chance to be with one. So I can look back on it and say, 'Wow, what a ride it's been.'"
Blackfoot, the other band in Medlocke's Southern rock lineage, allowed him to become the driving force and singer. He shared the stage with a bunch of different groups during their peak era, including a number of shows with Kiss.
"It was kind of euphoric in a way," he notes. "It was almost like we were in this dream, because we walked out onstage and everybody in the audience was Kiss looking back at us! Everybody was dressed like them, makeup on themselves like them. It was just bizarre. We started into our show, and it was like we had the whole Kiss crowd, looking like Kiss, jumping up and down and having a great time. We kind of got to be friends with the guys, and every time I'd run across Gene [Simmons], we'd stop, we'd talk and he taught me some stuff when we were on the road business-wise that, later on, I ended up taking his advice and using it. So it was pretty cool to be out with those guys. It was definitely a different experience."
Even as Medlocke remains engaged with Lynyrd Skynyrd activities, he's been revisiting his legacy with Blackfoot by putting together a new version of the band in 2012 that would carry the history of the group forward – without his full-time participation on the road. They made their official debut on album in 2016 with the release of Southern Native.
"They've opened for Skynyrd several times, and I stand there and I'm very proud of the guys," Medlocke says. "They sound great and they're very forceful and they're very heavy. And then there have been a half a dozen times I have actually come out and done shows with them, to where I intermingle in the show, playing certain songs and singing certain songs and then leaving the stage and letting them do their thing. It works out really cool. But what I want them to do is basically take control of it and further the legacy of the music."
Medlocke notes that he has an agreement with the new members: "We'll do this as long as I'm involved as far as producing and maybe some writing, playing on the records. But the biggest thing was producing the band, and that's where we still are. I've already started on their new record, and a lot of the songs that are probably going to be on it are already recorded. Once we do some other stuff and I get the time, I'll finish it off, mix it and we'll see about putting that puppy out."
First, he'll be working on new music with Lynyrd Skynyrd. Medlocke hints that fans might hear a taste of the latest material soon.
"We're going to take it a little at a time." he says. "We're going to get our feet wet in the studio again, after not being in there for many, many years and start working towards a new studio album. It's not in stone, but I think what we'd like to do is do a song at a time and maybe put the song out along with a video so everybody can go on YouTube and check everything out and continue along that way."
 
 
Top 25 Southern Rock Albums