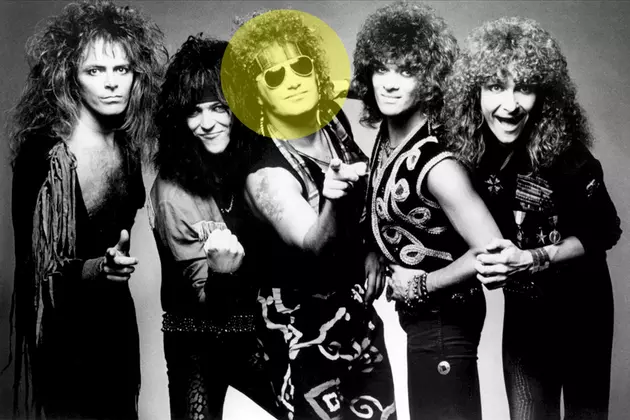 Former Autograph Drummer Keni Richards Dead at 60
RCA Records
Keni Richards, a musician best known for his tenure as the original drummer for Autograph, has died at the age of 60.
Richards, who'd earlier played with Autograph frontman Steve Plunkett in a band called John Doe, proved instrumental in securing the fledgling group its big break. While Autograph were still getting their demo together, Richards — who'd become a jogging buddy of Van Halen singer David Lee Roth's — claimed he received a phone call from Eddie Van Halen offering to make them the "T-shirt band" for Van Halen's upcoming tour.
"I'm like, 'Well, what's a T-shirt band?' and Eddie Van Halen's like, 'It's a band that goes out on the road with us and people boo you cuz they don't like you, and they go buy one of our T-shirts,'" Richards laughed years later in conversation with Legendary Rock Interviews. "So we go out and get a Winnebago and take them up on their offer to open the 1984 tour. Funny thing happens, five months later we're signing a multi-million dollar record deal with RCA after we play the gig at Madison Square Garden."
Autograph's debut release, 1984's Sign in Please, cracked the Top 30 and scored the band its signature hit, "Turn Up the Radio," but subsequent releases failed to capitalize on that momentum; following the disappointing sales of their third album, 1987's Loud and Clear, the group tried adopting a harder-edged sound for a follow-up LP, but disbanded prior to its release.
Watch Autograph's 'Turn Up the Radio' Video
With Autograph sidelined throughout the '90s, Richards pursued a variety of other projects, but a mid-'90s operation to curb chronic back pain led to a serious opiate addiction that landed him in the care of Loveline host and future VH1 star Dr. Drew Pinsky. Richards later pinpointed his rehab stint as the experience that led to him discovering a knack for visual arts, starting his later career in painting — and introducing him to ex-Screaming Trees singer Mark Lanegan, who'd begin a long collaborative relationship with Richards that started with Lanegan's 1998 solo LP Scraps at Midnight.
"So here's this heavy metal guy and this big grunge guy writing poetry and playing piano together," Richards joked. "I've had a really interesting rock 'n' roll life aside from Autograph that most people don't have any idea about. ... I've been to hell on drugs, but I've made a hell of a comeback."
Rocker Deaths: Artists We Lost in 2017