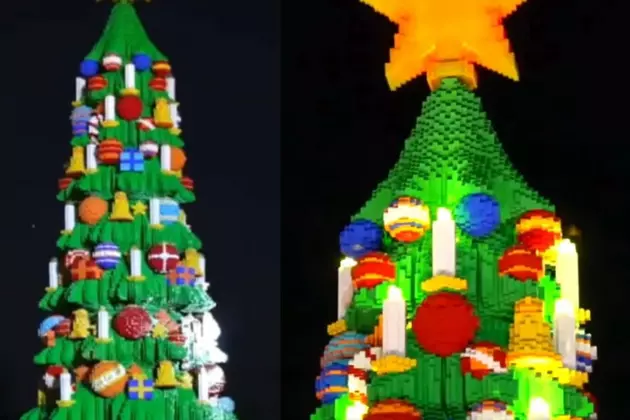 Hudson Valley Town Now Has a 35-Foot LEGO Christmas Tree
LEGOLAND New York
A Christmas tree weighing over 5 tons has been erected in the Hudson Valley and it's now the second most famous tree in New York.
While the rest of the world focuses on the giant tree in Rockefeller Center, residents of the Hudson Valley are in awe over a Christmas tree that's been made entirely of LEGO bricks.
This year's Rockefeller Center tree comes from Broome County, New York. Last week it made the journey from Vestal to Manhattan in anticipation of its unveiling on November 29.
Here in the Hudson Valley, you don't have to wait to see our very own spectacular Christmas tree. A 35-foot monster made entirely of LEGO bricks is already wowing local residents who ask "How did they do that?"
A LEGO Christmas Tree Comes to the Hudson Valley
The tree made its inaugural debut at the LEGOLAND New York Resort in Goshen last week as a part of the park's Holiday Bricktacular Event. According to LEGO master builders, it took over 2,800 hours to build and is made entirely of LEGO Duplo bricks.
The tree is just one of the attractions at LEGOLAND New York during its holiday season. Guests can pose for photos in front of an enormous LEGO wreath and help complete a holiday mosaic that's being created out of 66,000 bricks.
There are also meet and greets with Santa, a dazzling light display, special holiday shows and little touches of holiday spirit sprinkled throughout the park.
The LEGOLAND New York Holiday Bricktacular is open Black Friday and every weekend through Christmas. The park will also be open on Christmas week.
The 20 Most Surprising Things Found at LEGOLAND New York in Goshen
LEGOLAND New York in Goshen is officially opening this summer. Right now
special previews are going on
so that guests can get a sneak peek at what's in store when the park opens its gates. While we won't spoil all of the surprises, here are just some of the incredible little details that await you during your first visit to this incredible theme park.
Gallery Credit: Boris
Photos From Inside the LEGOLAND New York Hotel
Up until now, LEGOLAND New York has mostly only released stock photos of their hotels in other resorts around the world. This is truly your first peek inside the actual hotel opening soon in Goshen, New York.
Gallery Credit: Boris