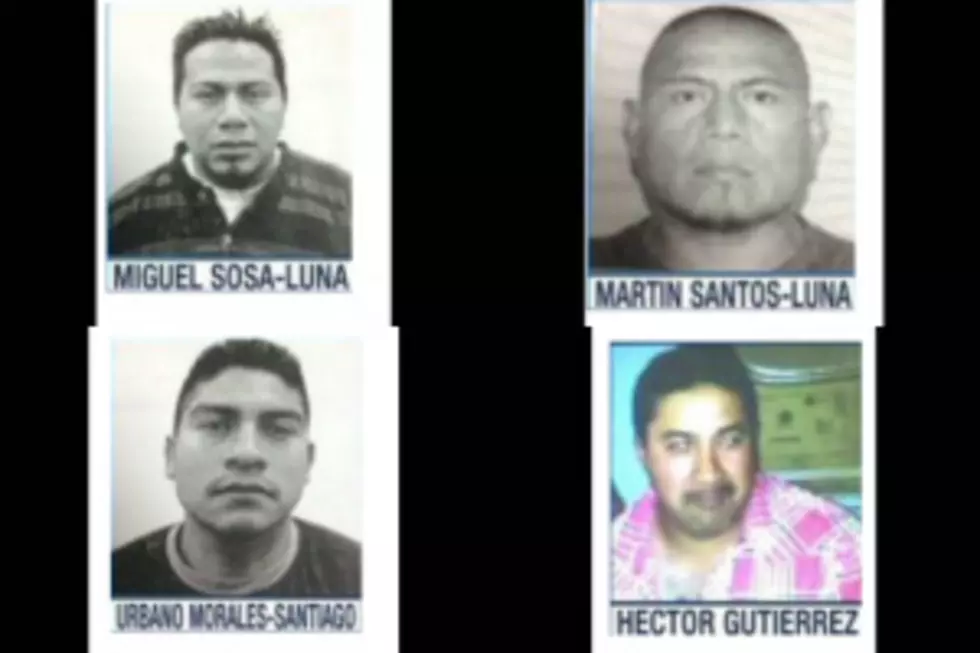 Upstate New York Cop, School Employee Accused Of Quadruple Murder
Chester Police
Things are finally heating up in the quadruple murder case against a former Hudson Valley police officer with ties to Jeffery Epstein.
Jury selection is finally underway in the quadruple murder case against a former Briarcliff Manor police officer
4 Men Go Missing After Visting Chester Diner
Martin Santos-Luna, 41, 25-year-old Miguel Sosa-Luna, Urbano Morales-Santiago, 35, and 32-year-old Hector Gutierrez, all of Middletown, were last seen on April 11, 2016, near the Chester Diner.
In Dec. 2016, their four dead bodies were found on Otisville property owned by Nicholas Tartaglione, officials say.
Tartaglione is a former cop in Pawling, Mount Vernon, Yonkers and Briarcliff Manor.
An investigation led authorities to believe that there could be human remains at Tartaglione's Otisville property. A search warrant led to the discovery of the bodies.
Police described it as a "burial site."
For all the news that the Hudson Valley is sharing make sure to follow Hudson Valley Post on Facebook, download the Hudson Valley Post Mobile App and sign up for the Hudson Valley Post Newsletter.
Tartaglione is accused of hitting Luna repeatedly and killing him by placing a zip tie around Luna's neck, according to the New York Post. The other three men were shot in the head, police say.
Pawling, Mount Vernon, Yonkers and Briarcliff Manor Cop, Hastings-On-Hudson School Employee Charged
As alleged in the indictment filed in White Plains federal court, in April 2016, Tartaglione and Joseph Biggs of Nanuet, a security guard at a school in Hastings-On-Hudson, killed Martin Luna, Urbano Santiago, Miguel Luna, and Hector Gutierrez as part of their cocaine distribution conspiracy.
On April 11, 2016, Tartaglione And Biggs lured Martin Luna to a bar called the Likquid Lounge in Chester, where he was held captive and killed. The other three victims accompanied Martin Luna to the bar, where they were also held captive, shot, and killed, officials say.
Biggs was charged on a 17-count indictment, including four counts of murder, four counts of kidnapping and conspiracy to distribute and possess five kilograms or more of cocaine.
Hudson Valley Cop Accused of Murder Claims to Have Saved Jeffery Epstein
Tartaglione claims to have helped save Jeffery Epstein's life after finding him unconscious from what's believed to be a suicide hanging attempt.
The retired cop shared a cell with convicted sex offender Jeffrey Epstein when he reportedly first tried to kill himself on July 23 at the Metropolitan Correctional Center.
Tartaglione was separated from Epstein before Epstein's suicide.
Read More: New York State Police: Army Sergeant Killed Upstate New York Dad On New Year's Day
Tartaglione faces life in prison if found guilty.
These 10 Cities In New York Have The Highest Divorce Rates
Almost 50 percent of all marriages in the United States will end in divorce or separation. With odds like that, where are the highest divorce rates in New York State?
Nearly 50 Children Have Recently Gone Missing From New York State
Close to 50 children from New York State and the Hudson Valley have recently gone missing. You can help a New York family get reunited with a missing loved one.
Did You Know? Over 100 Fun Facts About the Hudson Valley
Did you know that Lucille Ball made her stage debut in the Hudson Valley? How about Philadelphia Cream Cheese wasn't invented in Philadelphia, but in Orange County? Or that a mansion in Dutchess County inspired the expression "keeping up with the Joneses?" Find out about those and over 100 other fun facts about the Hudson Valley.
KEEP READING: See the richest person in every state