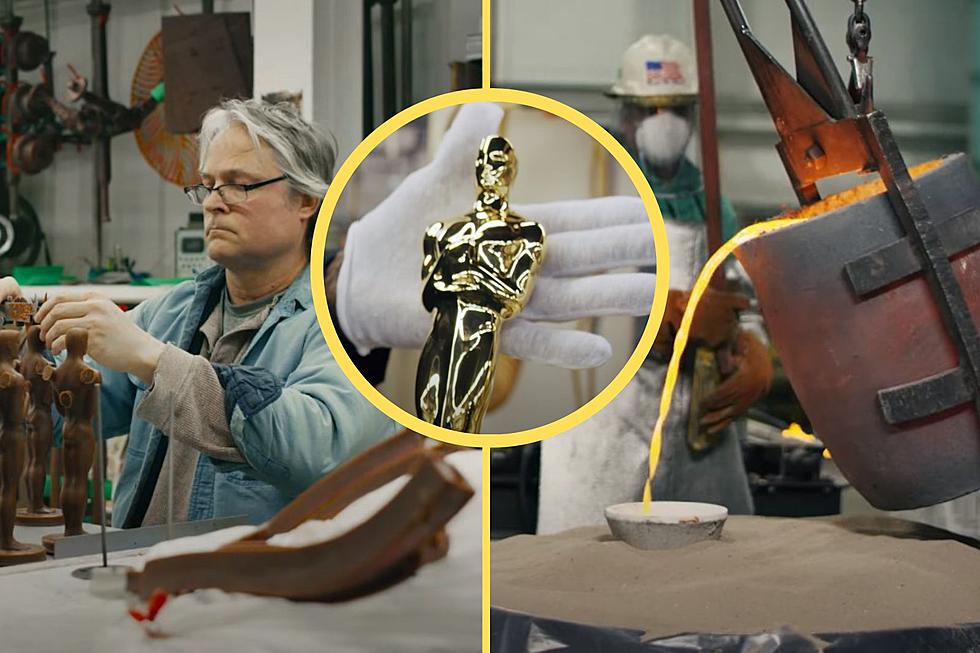 VIDEO: How Oscars Statues are Made Here in the Hudson Valley
Oscars via YouTube
Last night, the 95th Academy Awards were broadcast live from the Dolby Theatre in Los Angeles, but the golden Oscar statues given to all of this year's winners were made right here in the Hudson Valley.
The UAP Polich Tallix foundry in Rock Tavern, NY is the impressive home for some of the most iconic sculptural projects in the world (check out NYC's "Big Button" sculpture below). One of the highlights each year, however, is the creation of the statues so many of our celebrated actors receive each year at the Oscars. Here's how they're made.
Polich Tallix in Rock Tavern, NY Makes the Oscar Statues
"The Oscar statuette - true to its original 1929 design - is the most recognized trophy in the world", reads a post from the Oscars' YouTube channel. "Each January, new ones are cast by Polich Tallix fine art foundry in New York's Hudson Valley. Here's an inside look at the process", they continued.
Oscar Statues Made in the Hudson Valley, NY
In the brief but fascinating video (below), artists can be seen crafting the statues from start to finish. Molds are poured, statues are dipped and polished, and by the end, there's a veritable army of shiny gold dudes lined up and ready for their trip across the country to La La Land. This year, the winner for Best Picture, which of course received a Polich Tallix-made statue, has strong ties to the Hudson Valley.
Vassar College Graduate is Now an Oscar-Winning Producer
Film producer Jon Read was one of the many people who flooded the stage to accept the Best Picture award for Everything Everywhere All at Once. Read not only lives in the Hudson Valley, but graduated from Vassar College. Other films he has worked on locally include The Vigilante starring Olivia Wilde, The Mountain starring Jeff Goldblum, and The Adults starring Michael Cera. Check out more locally-made films and television shows below.
25 Films And TV Shows Filmed In The Hudson Valley Since 2020
Here is a list that's been complied of the 25 films and tv shows that have been filmed in the Hudson Valley since 2020.
10 TV Shows & Films You Didn't Know Were Made in Newburgh, New York