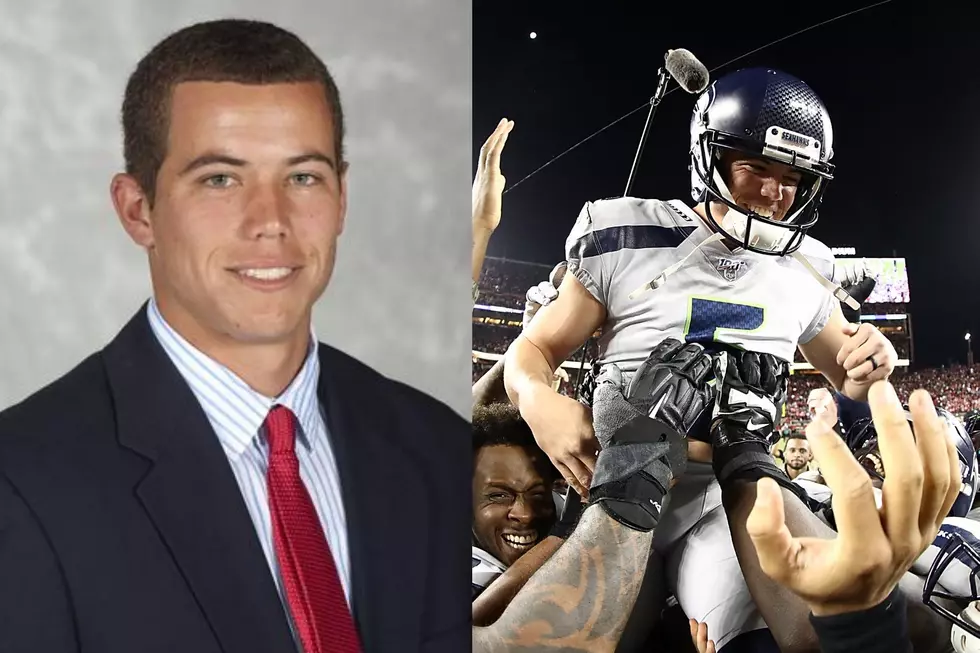 Former Hudson Valley Football Player Signs $22.6M NFL Contract
Getty Images/Marist
A former Hudson Valley football player just signed a multi-million dollar deal that will last through the 2026 NFL season.
Every high school or college football player dreams of making it to the big leagues. The reality is that most, if not all of them, won't ever have the opportunity to play in the big leagues. One Hudson Valley football player, however, has beaten the odds and is now the second-highest-paid kicker in all of the NFL.
Back in 2009 Jason Myers played in his very first college football game. Just three games into his first season, the Marist freshman was named the Red Fox's primary kicker. Myers successfully made eight of the season's 11 field goal attempts including a game-winning field goal against Georgetown from 37 yards out with just one second remaining.
Myers was the team's primary kicker, punter and kickoff specialist. According to Marist College, the Red Fox went "5-for-10 on field-goal attempts (long of 40) and 19-for-22 on extra-point attempts" in his senior year.
After college Myers spent a season playing arena football before being signed by the Jacksonville Jaguars. In 2017 he was released after missing three long field goals, including two 54-yard attempts against the Rams in week six. The kicker spent time playing for the Seahawks and Jets before returning to Seattle in 2019.
Myers continued to improve during his second stint with the Seahawks, eventually becoming one of the best kickers in the NFL. In 2020, the Marist grad set a Seahawks franchise record 61-yard field goal. That same season, Myers kicked 31 consecutive successful field goals, breaking another Seahawks record. The kicker ended the season with a perfect 24 of 24 on-field goal attempts and successfully made 49 out of 53 extra point attempts.
According to ESPN, Myers has now signed a new four-year deal with the Seahawks that will keep him in Seattle through the 2026 season. The contract with incentives maxes out at $22.6 million. The hefty salary makes Myers the second highest-paid kicker in all of the NFL behind the Ravens' Justin Tucker.
You can check out Myers in action during this year's Pro Bowl Games. He's been chosen as the NFC's placekicker. This is actually Myers' second Pro Bowl experience. The kicker was also selected as a 2019 Pro Bowl player during his time with the NY Jets.
Prominent Professional Athletes from The Hudson Valley Region
We've compiled a list of 25 male professional athletes who are from the Hudson Valley.
WOW! Did You Know This? The 20 Most Iconic Athletes Born in Upstate New York
If you think upstate New York isn't a premier sports location, you're wrong, There have been many athletes born in the region -- many of which are legends in their respective sports.