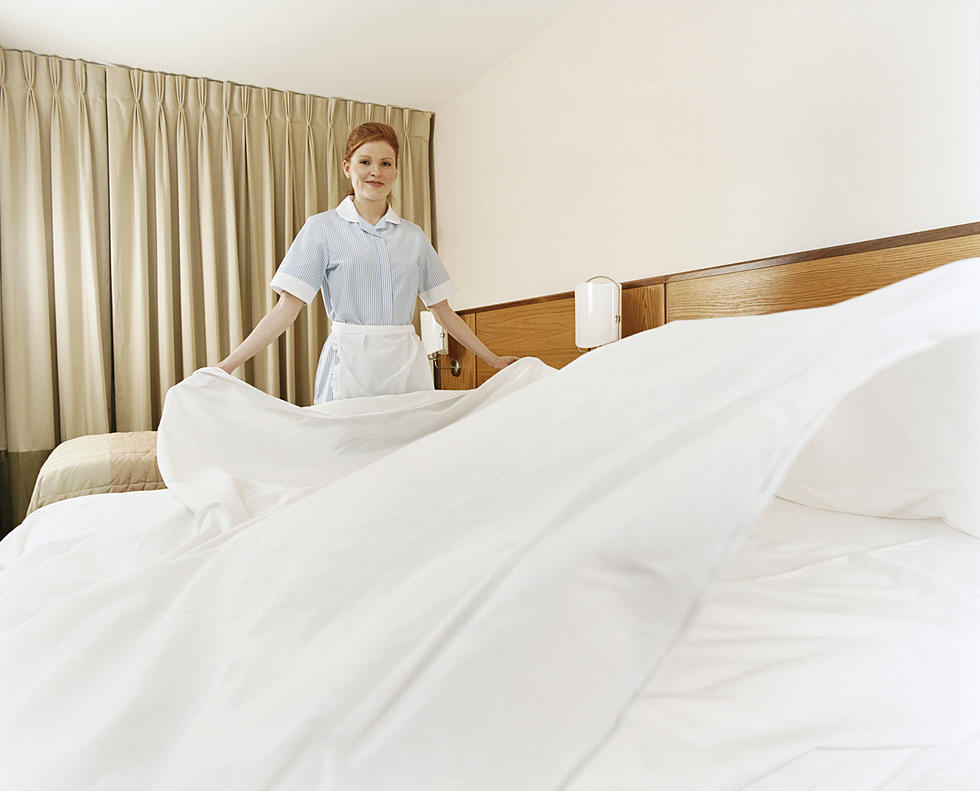 Every New Yorker Knows: 5 Things Every Hotel Wants You to Do
Digital Vision.
Taking a trip soon? Maybe you travel all the time and staying in hotels is pretty much common practice for you. Great. Do you do things that absolutely annoy the hotel staff? You might even be guilt of doing a few things that you think are being super nice or helpful, but you are just annoying the staff.
How many of the following things are you guilty of? Keep reading to find out what the hotel staff really wants (and would appreciate) you to do.
What is the top 5 things that a hotels staff would love it if you did?
I was recently staying at a hotel, and I asked the housekeeper, a few questions, including what are the things that people think they are doing to help you that really don't help you? I was told that things like putting all the used towels together in one spot and all the garbage in a single spot (not in the same spot as the towels) is really helpful, because it means less time searching for these things. That will help them get the room cleaned even a few minutes quicker. 
What other things should a guest do to keep all the staff happy at a hotel?
There are a few things, for instance, if the ice maker is broken or there seems to be something wrong with your room. Let the front desk know about it immediately. The sooner you let them know (and the more polite you let them know) the better odds it will either get fixed or they can move you to another room.
What about hotels with pools? What should people know?
A person at the front desk told me, please don't let your kids go to the pool without you. He was telling me a few stories of the kids being terrors when the parents weren't there, which led to complaints from other hotel guests. He said that while he knows the pool is a great source of revenue for the hotel, he wishes they didn't have one.
What other secret things do hotel staff members want guest to know?
Other things they asked to pass on? If the staff is doing a great job, let them know about it, or remember to use their name when it comes to that post-stay survey you get in the email a few days after you check out. If the staff isn't doing a great job, also bring it to their attention, but not in a screaming, demanding free nights type of way. Lay out your case calmly. Let them know. If they can fix it, they will.
How to stay at a hotel a little later and not pay a fee?
Don't ask for a late check out for free. If you need to stay at the hotel later, and don't want to pay the extra fee, ask if the front desk can keep your bags and then still allow you the use of the patio, the lounge, the cafe, until a little later.
Lastly, remember to tip the housekeeping staff. It can be something as simple as leaving some monies on the counter. You don't even have to leave a note, but a piece of paper with the words 'thank you,' would definitely make someone's day.
Getting ready to take a trip? Make sure you have these with you before you leave home.
How to Travel All Around the World Without Leaving Upstate New York
There is an unusually high number of Upstate New York communities which carry the same name as international cities and countries. Some Upstate towns were named so in honor of that faraway place. Other naming seems rather random at best. So settle in and take a trip to Cuba, Amsterdam, Rome, Cambridge, Mexico, Warsaw and other places without even leaving Upstate New York. Kind of.
We know there are many more than the 18 on this list, so let us hear from you!
Travel Back in Time to Lake George in the 1950s
Lots of these sights should still be very recognizable.