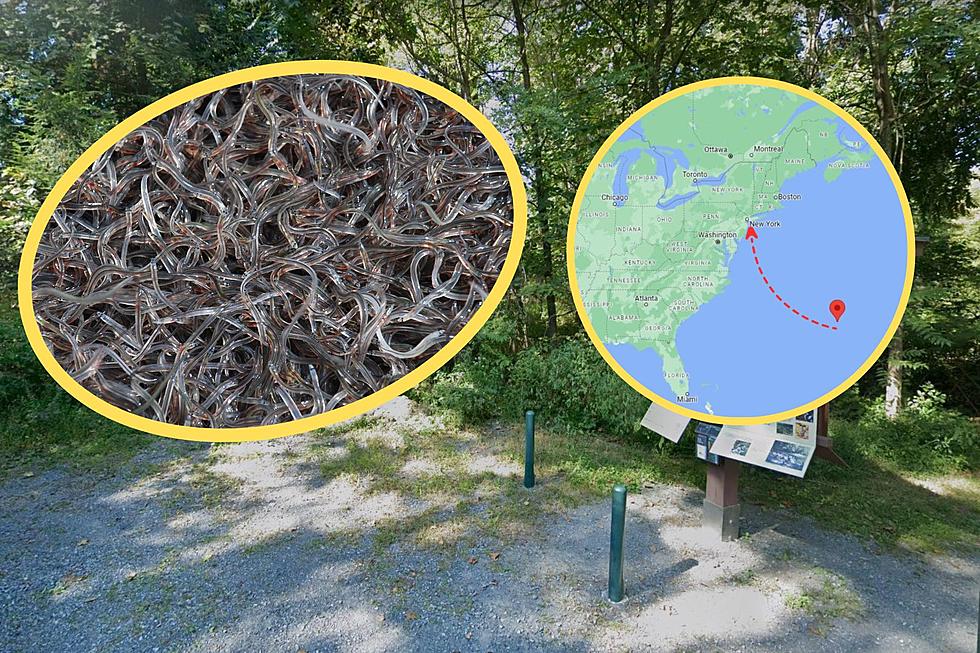 Astonishing Amount of Eels Currently Swimming to Esopus, NY
InesWiehle via Canva/Google
Forget black bears coming out of hibernation to play on trampolines. How can we pay attention to fluffy omnivores bouncing in back yards when there are tens of thousands of eels currently making their way to the Hudson Valley.
Our corner of New York plays a very important part in the life cycle of countless animals. Peregrine falcons nest on our local bridges, and beavers frolic in our ponds. The nearly countless eels, however, have a particularly special story.
Scenic Hudson's Eel Project in Esopus, NY
Scenic Hudson, an organization that describes itself as a "regional and national environmental powerhouse", hosts many environmentally-focused opportunities in the Hudson Valley. In March, they offer the chance to help observe and count the eels that travel through Black Creek Preserve in Esopus, NY. The eels are on an impressive journey that takes them thousands of miles from roughly Bermuda to the Hudson Valley.
Glass Eels in the Hudson Valley, NY
Alongside the New York State Department of Environmental Conservation (NYS DEC), Scenic Hudson helps monitor the movement of glass eels in the Hudson Valley. These tiny eels swim more than 1,000 miles from the Sargasso Sea (below) to live for a decade or more in the fresh waters of Hudson River estuaries before returning to the ocean. Here's how to get involved.
Volunteer Opportunities with Scenic Hudson
Volunteers can help collect, count, and record information on the number of glass eels that swim through Black Creek Preserve. While training for this year's project has already been completed, Hudson Valley residents interested in this or any other Scenic Hudson Project can learn more here.
Want more Hudson Valley nature? Check out the eagles fighting over fish on the Hudson River below, and keep scrolling to see photos of the adorable beaver family we were talking about earlier.
Photos: Massive Eagles Fight Over Fish on the Hudson
Frolicking Beaver Family Swims in the Hudson Valley
Mom, dad, and two adorable baby beavers took some family time out on a Orange County, NY lake