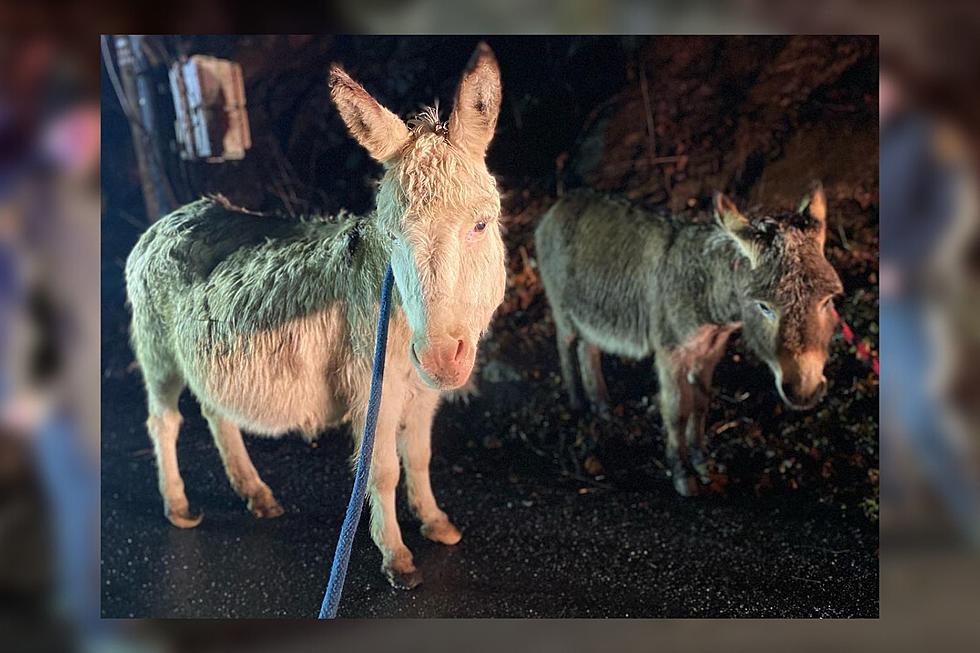 Police in Hudson Valley Rescue Lost Donkeys [PICS]
Bedford Police Department Facebook/Canva
Hee-haw! Police were dispatched over the weekend to reports of some animals roaming the streets, who appeared to be lost. But these weren't missing dogs they were tending to. Officials say they came across two donkeys, and now the search for their owners is on.
Police Find Lost Donkeys in Westchester County 
The Bedford Police Department shared on their Facebook page says that two of their officers were called to an area near Pound Ridge Road over reports of lost animals. In this case, the animals that were lost are two donkeys. Bedford Police say a third officer went door to door looking for their owners, while a civilian offered his truck to help transport the animals to safety.
See Also: Police in Lower Hudson Valley Rescue Dogs, Including One Tied to Tree [PICS]
*** UPDATE: The donkeys have been reunited with their owners, according to officials.***
While police say the search continues for their owners, they have named the donkeys Williams and Leone, after the two officers who found and took care of them.
Police Help Hawk That Crashed Into Window in Lower Hudson Valley
You'd be quite surprised to know how many birds perish every year after flying into windows.
According to Portland Audubon, window strikes are among the top three human-related causes of bird deaths, along with cats and habitat destruction. A 2014 study by the Smithsonian estimated that these collisions likely kill between 365 million and 1 billion birds annually in the United States.
The Town of Greenburgh Police Department said in January 2023 that the hawk went through a window of someone's home. Luckily, police say the hawk was not injured and was able to fly away after being helped outside by officers.
A short video shows an officer approaching the hawk, who appears to be a bit shaken up after the collision. Once the hawk realizes they're not alone, you can see it quickly perk up and spread its wings.
The town of Greenburgh Police even posed for a picture with the hawk.

LOOK: Here are the pets banned in each state
Because the regulation of exotic animals is left to states, some organizations, including The Humane Society of the United States, advocate for federal, standardized legislation that would ban owning large cats, bears, primates, and large poisonous snakes as pets.
Read on to see which pets are banned in your home state, as well as across the nation.
LOOK: 30 fascinating facts about sleep in the animal kingdom