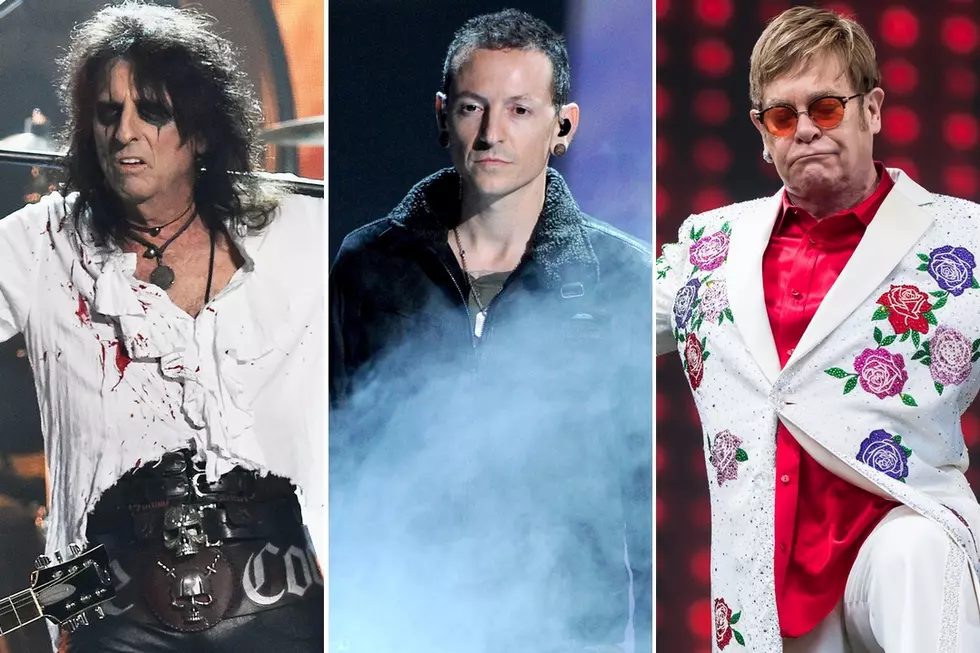 Chris Cornell and Chester Bennington Deaths Shock Alice Cooper, Elton John and Others
Kevork Djansezian / Kevin Winter / Ian Gavan, Getty Images
Members of the rock community continue to speak out regarding the shocking deaths of Soundgarden singer Chris Cornell and Linkin Park frontman Chester Bennington — from a personal perspective as well as a forum for a public discussion of mental health advocacy issues.
Alice Cooper weighed in on both deaths during a recent interview with WAAF DJ Mistress Carrie, expressing stunned disbelief stemming from his impression of each singer — as he put it, they were both among "the most positive people I'd ever met" and "the last people I would ever guess to commit suicide. ... these guys were really positive guys. I know that a lot of the lyrics were dark because of the area the music is in, but knowing these guys, they're nothing like that."
Cooper went through a period when he was uncomfortably close to his own demise — as he told his host, he was "drinking a bottle of whiskey a day" and "throwing up blood in the morning" — and he credited his embrace of the Christian faith as helping him pull back from the abyss. "I haven't had a drink in 37 years, and I've never been happier in my life," said Cooper. "Other people go, 'Well, I'll meditate,' or, 'I'll do yoga,' or I'll do this or that. I don't know. For me, it was turning to my faith and believing it's something bigger than me, and it worked."
Metallica drummer Lars Ulrich offered his own perspective on Bennington's death during the days leading up to the singer's memorial service, praising his vocal ability as "just unbelievable" and describing him on a personal level as "a very kind and very unassuming and very gentle soul, who had a really big heart." And while he insisted he wanted to avoid getting "too cheesy," Ulrich added that the loss served as a poignant reminder not to take anything for granted — something the band has underscored on its latest tour, during which they've dedicated performances of "The Unforgiven" to Bennington and Cornell
"Every time we go out on stage, we try to take it all in," Ulrich told KLOS personality Marci Wiser. "You never know when something can go sideways ... life is beautiful and we've gotta just harness and maximize each moment to its fullest."
Those sentiments were echoed by Elton John during a recent episode of his Beats 1 show (via Blabbermouth), in which John said he'd met both singers and found them to be "lovely guys" whose emotional burdens remain all too familiar to many artists.
"You know, artists are prone to being a little destructive, whether you are an actor or singer or visual artist," said John. "It is so awful for someone to be so depressed that they commit suicide, especially when they have families. I just wanted to pay tribute to them, as there by the grace of God go all of us. Just remember them fondly and the music they left. It is totally different music to the one I create but still wonderful music that has entertained millions, including me."
Elton John Albums Ranked Worst to Best