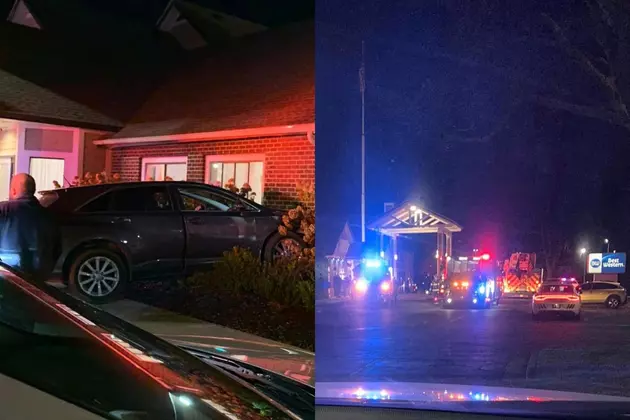 Car Crashes Into Busy Hotel on Route 9 in Fishkill
Jane Ketcham
Paramedics, Fire and Police personnel were seen attending to a scary scene at a Hudson Valley hotel on Monday.
First responders were called to the scene of a vehicle that had crashed into the side of a building in Fishkill, New York. Images of the car were posted to social media by Jane Ketcham who happened upon the crash on Monday.
One photo shows the vehicle smashed against the side of a brick exterior wall at the Best Western Fishkill Inn & Suites on Route 9. It appears that the car jumped the curb, ran over a bush and crashed into the building.
Cause of the Accident Rumored to be Tragic
Eyewitnesses claim that the accident was caused by a medical emergency. Reports say that the driver allegedly experienced a seizure that caused them to lose control of the vehicle.
Another image taken at the scene by Ketcham shows skid marks over a median next to the hotel where the car left a roadway and headed directly towards the hotel.
Another Car Crashes Into a Hudson Valley Business
Sadly, the scene has become common here in the Hudson Valley. Just last week an elderly driver crashed their car through the front door of a deli in Sloatsburg. Other incidents have involved vehicles being driven into pizzerias, wireless phone stores and even destroying a beloved bar.
Police have not released any more information about the incident in Fishkill on Monday evening or the condition of the driver.
Celebrities Who Went Missing and Were Never Found
Discover 13 famous people and celebrities who went missing and were sadly never seen again.
Gallery Credit: Jacklyn Krol
Celebrities Who Died in 2023
Below, see which stars we've sadly had to say goodbye to in 2023.