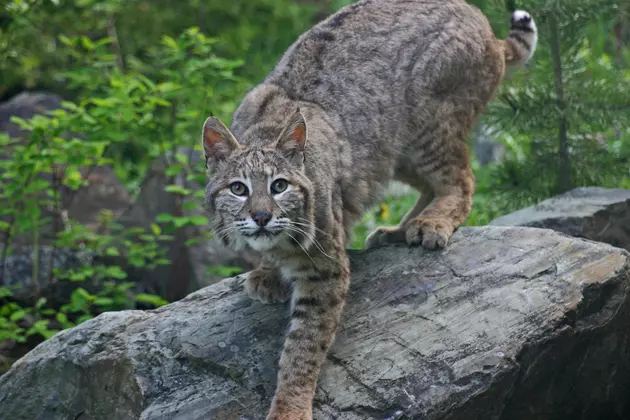 Car Hits Bobcat on Major New York Interstate. Then, It Gets Much Weirder
New York State Police are investigating a bizarre incident that happened on the roads Monday night.
Police say a vehicle struck a bobcat on a main interstate, damaging the windshield and roof of the SUV. But while the individuals in the vehicle were fortunate enough to escape injury that night, police want to know how and why the animal was there in the first place.
This is where this story takes a sick and darker turn, according to the Times Union. 
Car Hits Bobcat on I-88
A spokesperson for the New York State police said that the family where traveling on Interstate 88 at the Schoharie Turnpike Bridge near Duanesburg. The Daily Gazette says the vehicle hit the bobcat Monday around 8 PM. But what makes this case so strange is that this poor animal wasn't trying to cross the road at the time of the crash
WTF???
According to WNYT. the animal appeared to have been dangling from a cord that was hanging off the overpass. And while police feel the bobcat was already dead by the time the car hit it, this raises a lot of unanswered questions how it got there in the first place, and what kind of sick person would do such a thing.
The driver of the vehicle, a state-licensed hunting and fishing guide, told the Times Union he believes that the bobcat was already struck and killed by another vehicle, before being tied to the cord by someone and thrown over the bridge. He noted that there were no trap marks or bullet wounds on the animal
He went on to share his disgust, saying "this is sick stuff, As an outdoorsman, it's not something good for our sport, period. No outdoorsman with an ethical mind is going to do something like this."
Bobcats in New York State 
According to the New York Department of Environmental Conservation, bobcats can be found in about one-quarter of the state, noticeably in the Adirondacks, Catskills, and Taconic regions.
New York's bobcat population is estimated to be around about 5,000, thanks to state restoration efforts in the 70s and 80s. A DEC Wildlife Biologist says that while the animals were once rare and restricted to the mountain areas, their numbers have spread across almost all of the state in the present day.
States with the most registered hunters
Stacker
analyzed data from the U.S. Fish and Wildlife Service to determine which states have the most registered hunters. Read on to see how your state ranks on Stacker's list.
LOOK: 30 fascinating facts about sleep in the animal kingdom