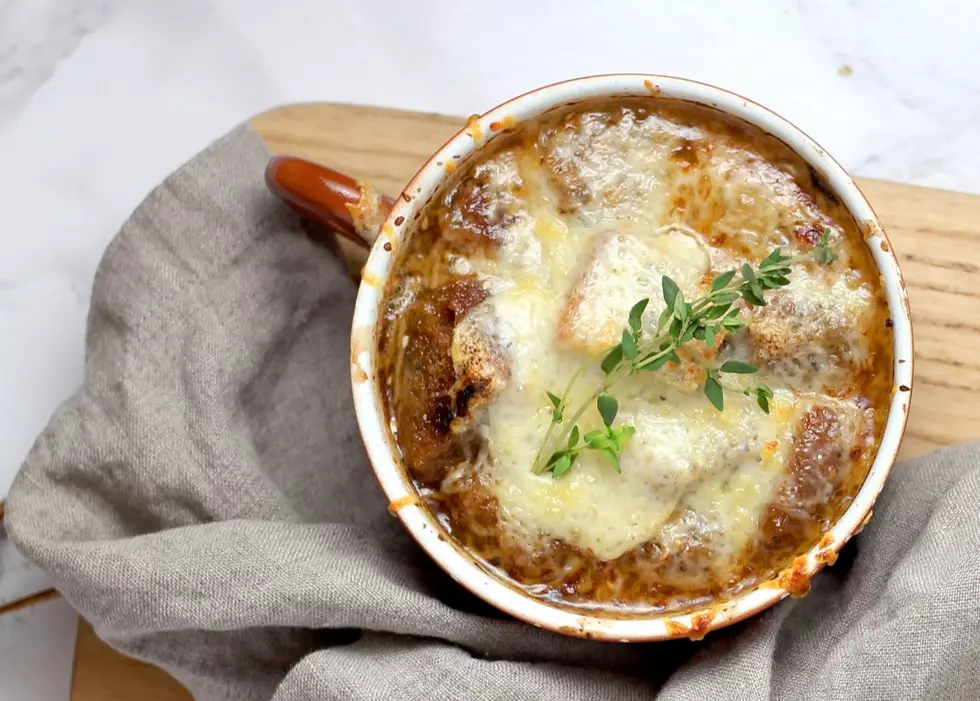 Do These 5 Places Have the Best Onion Soup in the Hudson Valley?
Photo by sheri silver on Unsplash
Over the last year or so, I have started to see more photos of restaurants and home chefs making pots (caldrons) of French Onion Soup. Why? Is it because it uses inexpensive ingredients? Is it because it is satisfying? Or maybe it is because people just need something else to put gobs of melty cheese on top of?
The process of making the soup (beef stock with sherry or cognac, a few pounds of onions, caramelized till golden or dark, then topped with a slice of crouton baguette, topped with cheese (usually gruyere) and then under the broiler) can be one that takes some time, but you want some now. What do you do?
Where can you go in the Hudson Valley to get one of the best French Onion Soups?
I had a chat with a friend of mine, who is one of the original foodies, and she suggested:
Are there other places in the Hudson Valley NY that serve great French Onion Soup?
Here are a few places for you to French Onion Soup in the Hudson Valley NY:
Brassiere 292, 292 Main Street, Poughkeepsie NY. They don't call their version a French Onion, but an Onion Soup Gratinee'. The difference? I think that they use Veal stock instead of beef, but to be honest, not exactly sure what makes an Onion Soup 'French.'
Gigi's Trattoria, Market St, Rhinebeck NY. What got this place on our radar was the photo on their Instagram page. Yes, it does taste as good as it looks.
Cafe Les Baux, 152 Church Street, Millbrook, a casual French restaurant in the Village of Millbrook.
So, have we found the 5 Best Places to Get French Onion Soup in the Mid-Hudson Valley?
Here's our thought process, we need to keep trying them all, until there are none left to try. However, we need your help. Where do you go when you want French Onion soup? Let us know! We would love to check it out and add it to our list. Thanks in advance.
Read More!! "M-M-M-Good, Soup is Ready!" 13 Delicious Places in Upstate NY for a Cup of Great Homemade Soup
Snow is blowing, temps are falling and you are thinking, "Yes, it is soup time!" Every restaurant worth their salt makes a good homemade soup around this time of the year. Upstate winters can be rough, and a hot bowl of soup at the local diner or restaurant sure helps the winter's day move along. Here is a sampler of 13 places that serve a delicious hot cup of homemade soup. Of course the list could be over 100, but we like these places, scattered all across the Upstate region, for their taste, creativity, and downright "m-m-m goodness!"
Mouth Watering Soups to Go From Hudson Valley Restaurant
No one really likes canned soup. Homemade and fresh is so much better but who has the time to make soup? Turns out your favorite restaurant in the Hudson Valley does, so why not have theirs the next time you want soup. You don't have to eat it there you can get soup and a treat to eat with it to go. Next time it's takeout night skip the pizza and Chinese go for a soup and a side.
Hudson Valleys Favorite Soup Is?
Soup suggestions from all across the Hudson Valley.