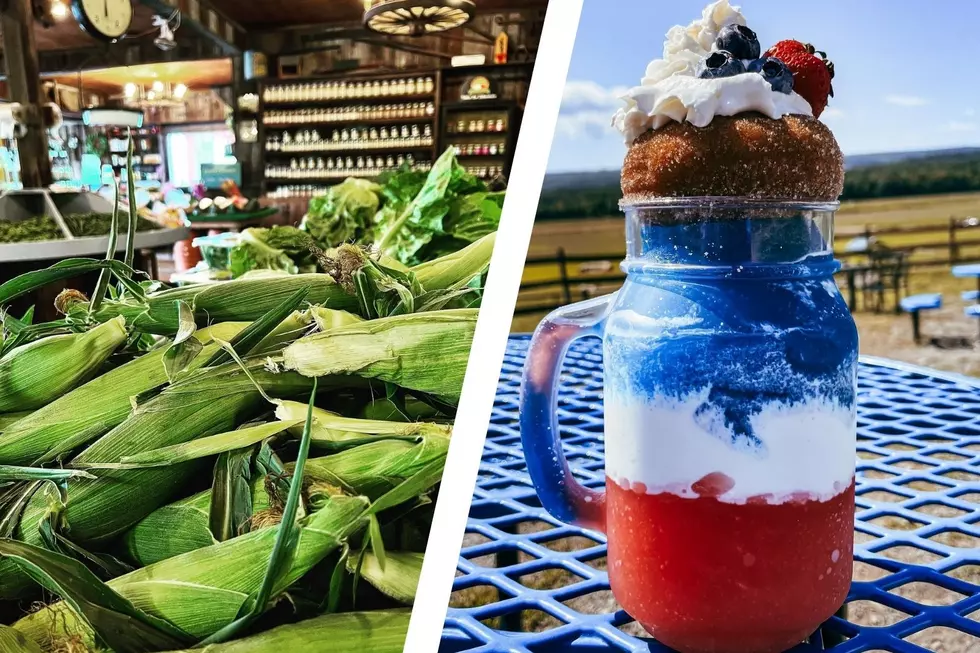 What's Summer Fresh at Farm Markets in New York
PC: Canva / Wallkill View Farm Market Facebook / Kelder's Farm Facebook
July has arrived and our Hudson Valley Farms and Farmer's Markets have started to announce the local sweet corn is ready. There is nothing better at a summer dinner than a fresh ear of corn. At my house, we typically grill the corn with the husks on. We trim the silks and soak the ears in a bit of water then just throw them on the grill.
Depending on how you like your fresh corn you may find that grilling it isn't the way to go however if you have never tried it that way I say try it at least once. Some people loosen the husks and remove the silks before they grill it but you really don't have to. I find as long as your cut the husks off that are loose and trim the silk back to the top of the husk you can put it right on the grill making prep really easy.
How to Cook Fresh Hudson Valley Sweet Corn on the Grill
Of course, when you go to eat it you have to open the husk and remove the silks and that can be a delicate process when the corn is steamy hot. I usually just hold the end with an oven mitt and shuck them all at once them lather on the butter. Bobby Flay actually peels the husks and cleans the silks off before he grills the corn. You can use his process if you are worried about husking the hot corn.
How to Cook Hudson Valley Sweet Corn in an Air Fryer
I also found a great recipe for Hudson Valley summer corn that uses an air fryer. If you have an air fryer you are going to want to try this recipe for Mexican-style street corn that is easy to prep and super easy to cook.
Sweet corn isn't the only thing that is available right now at your favorite Hudson Valley Farm and Farm Market. I have found some other summer goodies you will want to enjoy including blueberries.
Look What You Can Eat From Hudson Valley Farms in the Summer
Hudson Valley NY Farm Fresh Summer Fruits and Veggies
Our Hudson Valley farms have fresh Summer fruits and veggies ready for your next gathering. Fresh sweet corn, ripe plump blueberries, cherries, peaches, and more. Don't wait to stop at one of these Hudson Valley New York farms to get you fresh summer fruits and veggies good on the grill, in salads, and mixed into your cocktails.
It's Sangria Season in the Hudson Valley Too
How to Use Fruits in Sangria and Other Fruity Drinks
Not every fruit is suitable for every drink. Common sense will tell you what may or may not work taste wise but what about when you are just throwing some fruit in to add some fun and flavor. This list of fruit comes with some suggestions. And remember most of this fruit can be found seasonally at a Hudson Valley Farm Market. Shop your local farmer.