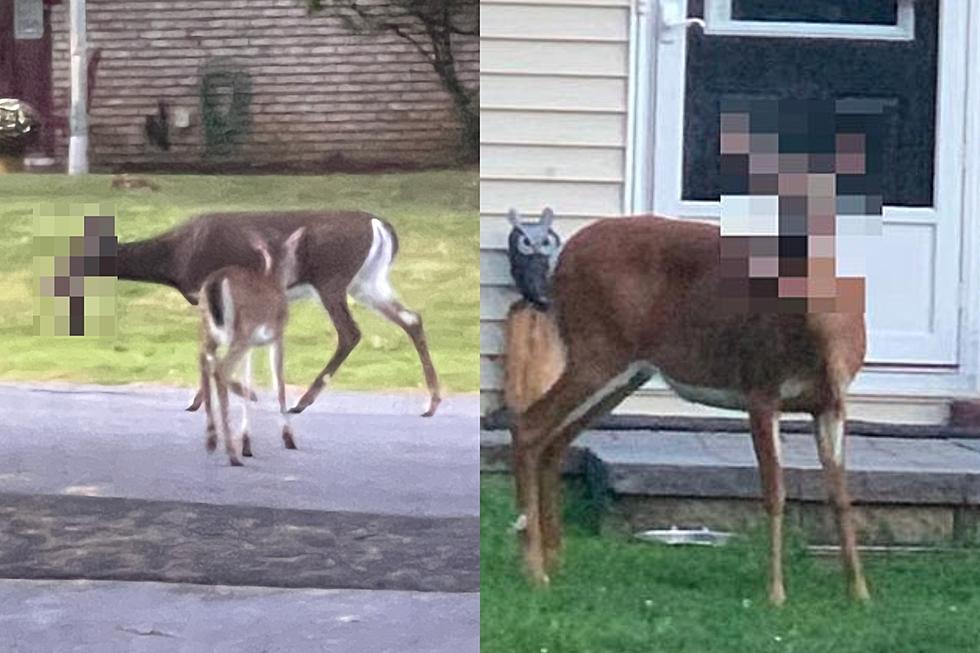 Wappingers 'Zombie Deer' Inspires Neighborhood With Surprise
A. Boris/M. Ponder
A grotesquely disfigured deer that's been described as a "walking nightmare" has surprised and inspired a Hudson Valley neighborhood with a new development.
We told you this summer about the "zombie deer" that's been terrifying the Poughkeepsie and Wappingers Falls area. The deformed deer has been the subject of social media posts and neighborhood conversations from people who've seen it and can't seem to shake the image.
Words can't convey the sight of this deer who has a missing left eye. If that's not bad enough, there's a large growth dangling from the eye that swings back and forth as the deer walks through the neighborhood.
Many feel sorry for the deer, while others say they feel sick whenever they see it. Animal lovers have expressed a desire to help out the poor female deer and feel helpless when she comes to visit.
It turns out that you don't have to feel sorry for this deer at all. Recently, local residents have reported that the "zombie deer" has become a mother.
It turns out that the large growth swinging from the deer's head hasn't stopped this tenacious animal from giving birth. The deer has been seen with a young fawn that now follows her everywhere.
The news has warmed the hearts of many residents who, after seeing the deer for the past few months, have slowly become used to its deformity. Reactions have turned from horror to heartwarming as the deer demonstrates the resilience of nature. Some say they've even found inspiration in this deer's determination to keep living a normal life despite its disadvantages.
Animals in Which Rabies is Most Commonly Found
According to the Centers for Disease Control and Prevention, in North America rabies is most commonly found in bats, skunks, raccoons, foxes, and mongoose. It is also found in cats, cattle, and dogs. The CDC says that rabid bats have been found in every state except for Hawaii. Rabid mongoose have been found in Puerto Rico.
Rabies is easily transmitted from animals to other animals, including human beings. Human cases are rare in the United States, but deadly if not caught in time.
A Look Inside Catskill Animal Sanctuary
Catskill Animal Sanctuary Fundraiser 2022 (Saugerties, NY)