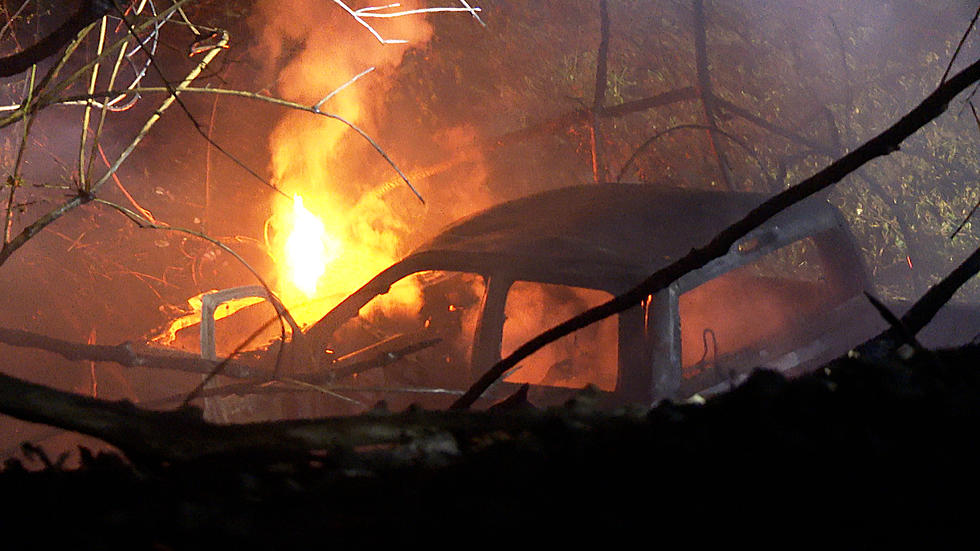 Strange Fire: Vehicle Fire Under Newburgh-Beacon Bridge
Rockland Video
A very strange fire is under investigation after a truck caught fire near the Newburgh-Beacon Bridge. Some assumed the truck fell from the bridge. We have photos and video from the scene.
Police are trying to figure out what happened to cause a truck to catch fire underneath the Newburgh-Beacon Bridge.
Vehicle Fire Under Newburgh-Beacon Bridge
Police and firefighters responded to the City of Newburgh after a truck somehow crashed and then caught fire just below the Newburgh-Beacon Bridge.
Mark Lieb of Rockland Video responded to the scene of the fire late Tuesday night, just before midnight.
For all the news that the Hudson Valley is sharing make sure to follow Hudson Valley Post on Facebook, download the Hudson Valley Post Mobile App and sign up for the Hudson Valley Post Newsletter.
Newburgh-Beacon Bridge Fire Gets Even Stranger
Lieb confirms this story gets even stranger because officers couldn't find anyone inside or near the burning vehicle.
"And what makes this story even stranger is that police say its occupants fled the scene," Lieb added.
Police stopped all train traffic in the area as firefighters put out the blaze.
No injuries were reported. Anyone with information can call police.
Video from the scene, courtesy of Rockland Video, can be seen below.
In lighter Orange County News, a massive world-class dinosaur theme park is being planned for Orange County. See all the details below.
Massive World-Class Dinosaur Theme Park Planned For Hudson Valley
Another Hudson Valley hometown is in the running to be the site of a massive world-class dinosaur theme park.
Where The Hudson Valley Is Gaining, Losing Residents
Most of the Hudson Valley is gaining new residents. How many residents has your county gained or lost?
Nearly 40 Children Have Recently Gone Missing From New York State