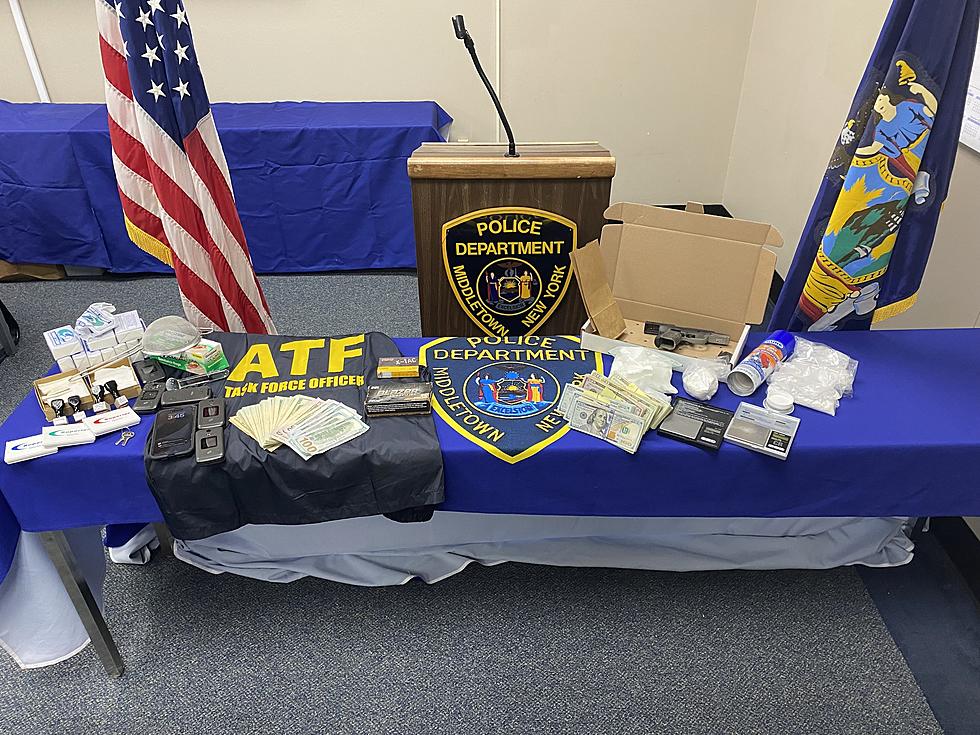 Police: Raids in Middletown, Ellenville Uncover Drug Empire
City of Middletown Police
After searching several residences and storage units, police have arrested a man who they say is at the center of a Hudson Valley drug operation.
A months-long investigation into the illegal trafficking of cocaine and fentanyl in Orange County led several local and federal officers to execute several search warrants in Middletown and Ellenville this week.
According to the City of Middletown Police Department, their Narcotics Unit along with the New York State Police, the Orange County Drug Task Force and the ATF obtained a warrant to search the residence and storage locations of Idris Sutton. The 43-year-old from East Orange, New Jersey served search warrants for a home at 110 Center Street in the Village of Ellenville, a storage unit at 8109 Route 209 in the Village of Ellenville, a hotel room at the La Quinta Inn in the Town of Wallkill, and a storage unit located at 485 East Main Street in the Town of Wallkill.
Police say that during the search of those properties, they uncovered "511.5 grams of cocaine, 17.5 grams of fentanyl, a loaded and defaced 9 mm handgun, several boxes of ammunition, scales, narcotics packaging materials, and a total of $23,251 in United States currency."
Sutton is described by authorities as having an "extensive" criminal history, with eight felony convictions. Middletown Police Chief, Chief John Ewanciw says the department is dedicated to getting these life-threatening drugs off of the streets.
I will continue to direct our personnel to aggressively investigate and arrest any individual who chooses to engage in the illegal narcotics trade in our community, utilizing our own resources, as well as those of our state and federal partners. Too many lives have been lost to drug abuse and addiction, and we must all work together to hold offenders strictly accountable.
City of Middletown residents with information about illegal drugs or weapons are urged to contact are encouraged to contact the narcotics unit at (845) 343-3151 or utilize the anonymous narcotics tipline at (845) 346-4009.
13 Most Violent Streets in Middletown, New York
16 Of New York State's Most Wanted Criminals- March 2023
Below are individuals wanted by the New York State Department of Corrections and Community Supervision's (DOCCS) Office of Special Investigations who have been designated as its
Most Wanted Fugitives
. They should be considered armed and dangerous. This list is current as of 3/01/2023:
NEVER attempt to apprehend a fugitive yourself. If you have information on the location of any of these fugitives, you can contact OSI 24 hours a day / 7 days a week to report it. All leads and tips are treated as confidential information.
If an immediate response is necessary, such as you see the wanted person at a location, please call "911" and report it to the police.