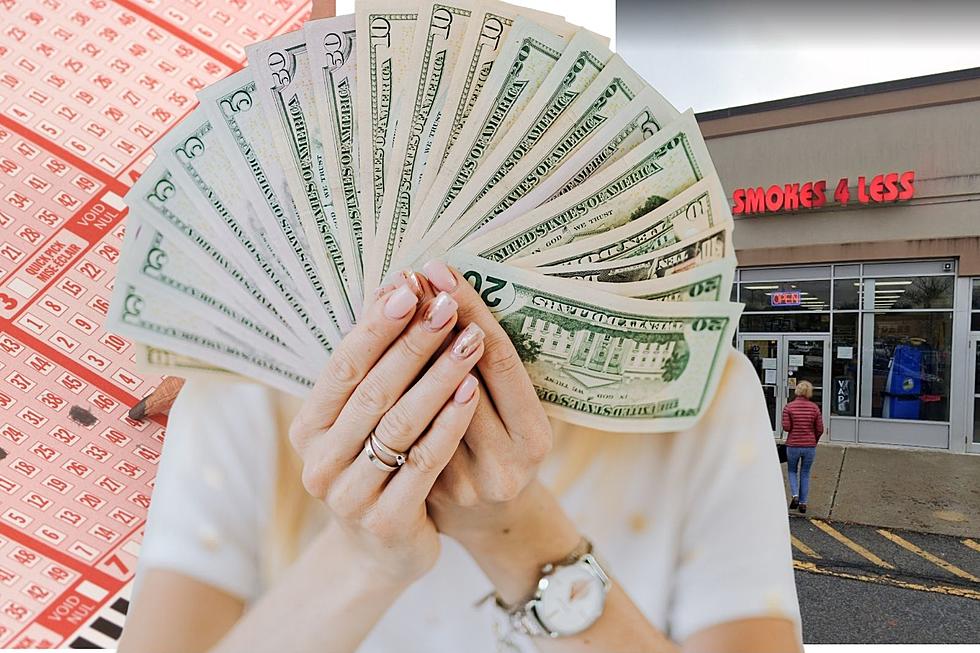 New York State's Luckiest Lotto Store Found In Hudson Valley
Canva/Google Maps
Lady luck continues to strike at one Hudson Valley store. Recently one store has sold many million-dollar winning tickets.
The New York State Lottery's slogan was "Hey, you never know." That's true, but we do know where you should be buying your lotto tickets in the Hudson Valley.
Orange County, New York Store Continues To Produce Million-Dollar Winning Lottery Tickets
In early January, when the Mega Millions jackpot first reached over $1 billion, a $3 million winning ticket was sold in Newburgh, New York.
There was no jackpot winning for that drawing, but a $3 million winning ticket was sold at the Smokes 4 Less in Newburgh. The store is located at 59 North Plank Road.
For all the news that the Hudson Valley is sharing make sure to follow Hudson Valley Post on Facebook, download the Hudson Valley Post Mobile App and sign up for the Hudson Valley Post Newsletter.
Newburgh Store Sells $1 Million Ticket
Then a few days later, on a very unlucky day, the lucky Newburgh store produced another million-dollar winner!
The jackpot for Friday's, Jan. 13, Mega Millions drawing was over $1.3 billion. A jackpot-winning ticket was sold in Maine.
The Newburgh Smoke 4 Less was one of 14 winning tickets sold across the nation worth at least $1 million.
$2 Million Mega Millions Ticket Sold In Newburgh, New York
In September 2022, the same store sold a $2 million winning Mega Millions ticket. The winning ticket was for the Friday, Sept 2., Mega Millions drawing.
Newburgh Store Continues To Sell Million-Dollar Winning Tickets
A second-prize ticket for the Nov. 5 Powerball drawing was sold in the Town of Newburgh.
A second-prize ticket for the Nov. 2  Powerball drawing was also sold in the Town of Newburgh.
Both of those winning tickets were worth $1 million, and both were sold at the Smokes 4 Less located at 59 North Plank Road.
Why Is The Newburgh Store So Lucky?
The store sold five big winning tickets in November 2022, according to CBS. The store has sold at least five lotto tickets worth at least $1 million since August.
"Maybe because it's a new store and new machine spitting out hot numbers, you know?" lottery player Luis Cintron told CBS.
The store manager told CBS people are now coming from other states to the Newburgh store in hope of getting lucky.
New York Lottery Scratch Off Tickets With The Most Number One Jackpots Remaining
Here in New York, the time is now to start searching for some amazing jackpots. There are all sorts of different kinds of Scratch-Off tickets offered by the New York Lottery.
While looking at the latest weekly roundup for grand prizes, we counted 59 different tickets that have their grand prizes still on the market. The report was last updated on January 4th 2023, as we publish this article.
Nearly 50 Children Have Recently Gone Missing From New York State
Close to 50 children from New York State and the Hudson Valley have recently gone missing. You can help a New York family get reunited with a missing loved one.
Resorts World Hudson Valley Opens Doors In Newburgh
The grand opening for Resorts World Hudson Valley, located in the Newburgh Mall on Rt. 300 in Newburgh, took place on Wednesday December 28th at 10:00am.
Did You Know? Over 100 Fun Facts About the Hudson Valley
Did you know that Lucille Ball made her stage debut in the Hudson Valley? How about Philadelphia Cream Cheese wasn't invented in Philadelphia, but in Orange County? Or that a mansion in Dutchess County inspired the expression "keeping up with the Joneses?" Find out about those and over 100 other fun facts about the Hudson Valley.
Gypsy Moth 'Accidentally' Released Causing 'Nightmares' in New York
After 10 to 15 years a gypsy moth that was once "accidentally" released has returned and is causing "nightmares" in New York.