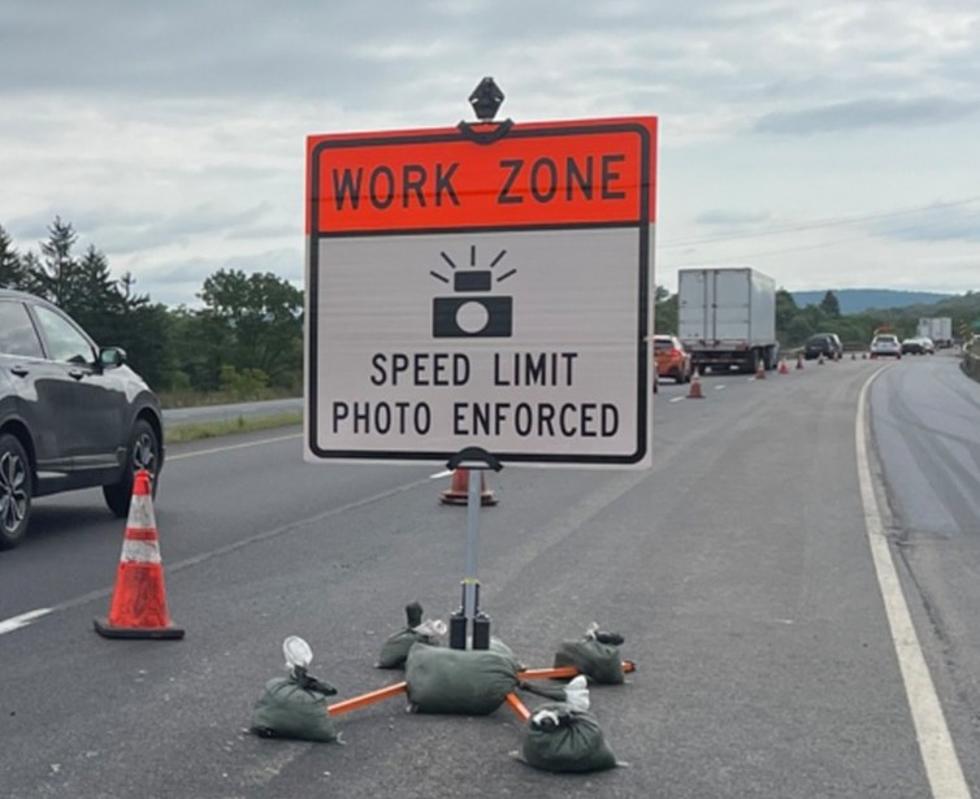 Warning: New York State Now Fining Speeding Drivers Without Cops
NY.Gov
Warning: You could now get a speeding ticket in New York State without ever being pulled over by a police officer.
This week, Gov. Kathy Hochul announced New York State is trying out an Automated Work Zone Speed Monitoring Pilot Program.
What is Automated Work Zone Speed Monitoring Pilot Program In New York State
Officials confirmed that 30-speed violation monitoring systems that rely on RADAR technology will be positioned in active work zones along New York State highways. 10 are on the New York State Thruway and 20 are on New York State DOT-maintained roads.
"As we officially kick off construction season in New York as well as National Work Zone Awareness Week, I thank highway workers across the state who put their lives on the line to maintain and enhance the roads that we all rely on every day," Hochul said. "This new pilot program will be instrumental in encouraging safe driving habits in highway work zones and protecting the lives of those who help maintain a safe and reliable highway system."
Officials did not note where in New York State these are set up, for obvious reasons.
What Does This Mean?
In simpler terms, the Automated Work Zone Speed Monitoring Pilot Program means you can get a speeding ticket without ever getting pulled over.
For the first 30 days of the pilot, speeding motorists will be issued warning notices. The pilot program began on April 17.
For all the news that the Hudson Valley is sharing make sure to follow Hudson Valley Post on Facebook, download the Hudson Valley Post Mobile App and sign up for the Hudson Valley Post Newsletter.
"Under the program, all vehicles detected violating the posted speed limit within a work zone by over an established threshold will be fined," Hochul's office stated in a press release.
License plate images and speed data collected on anyone caught by the RADAR technology will be sent to the New York State Thruway Authority and New York State DOT within a week of the violations.
Fines will then be issued by mail.
Images of the driver or contents of the vehicle will not be documented, officials note.
How Much Will You Be Fined?
Fines through the pilot program are:
$50: First violation
$75: Second violation
$100: Third and subsequent violations within 18 months of the first violation
"Unpaid fines may result in a vehicle registration hold where drivers will not be able to renew their registrations without first paying their fines. Owners may contest a violation within 30 days of when they received notice. As required by law, 60 percent of the funds collected by NYSDOT and the Thruway Authority through the program will supplement work zone safety projects," Hochul's office states.
The Automated Work Zone Speed Monitoring pilot program was established by a bill signed into law by Governor Hochul. It aims to protect highway workers.
The Automated Work Zone Speed Monitoring Pilot Program was announced by Hochul during National Work Zone Awareness Week and Operation Hardhat.
This Is How Many Driver's License Points Speeding Costs In New York
Here's how many points speeding and other tickets will add to your driver's license.
Nearly 40 Children Have Recently Gone Missing From New York State
25 Must Try Hudson Valley Dining Experiences
We compiled a list of 25 great dining experiences that you should try in the Hudson Valley!
Did You Know? Over 100 Fun Facts About the Hudson Valley
Did you know that Lucille Ball made her stage debut in the Hudson Valley? How about Philadelphia Cream Cheese wasn't invented in Philadelphia, but in Orange County? Or that a mansion in Dutchess County inspired the expression "keeping up with the Joneses?" Find out about those and over 100 other fun facts about the Hudson Valley.