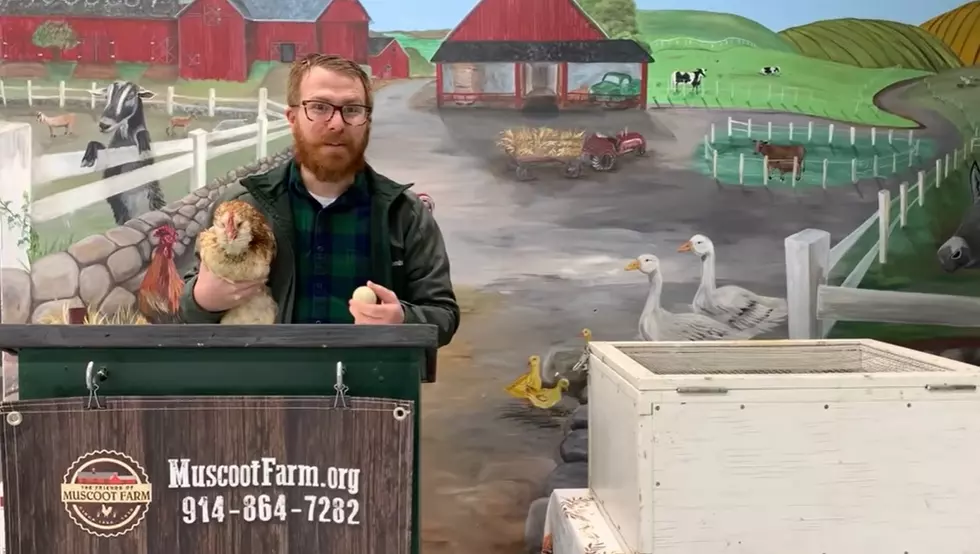 New York State Animals Predict Early Spring For Empire State
Muscoot Farm/FB
A Hudson Valley chicken and Staten Island animal disagree with the famous groundhog.
Thursday, Feb. 2 was Groundhog Day.
Winter Is Coming For New York State
Punxsutawney Phil saw his shadow Thursday morning in Pennsylvania. Tradition says that means there will be six more weeks of winter. However, a chicken from the Lower Hudson Valley thinks spring is right around the corner, I'll explain.
Punxsutawney Phil appears to be right, at least for this weekend, in the Hudson Valley and across New York State.
A dangerous arctic blast is forecast for the area this weekend. Parts of New York State may feel like -45 degrees on Saturday.
Groundhog Day Is Different In Westchester County, New York
A Westchester County farm does Groundhog Day differently. Muscoot Farm's chicken Cluxatawney Henrietta predicts an early spring or longer winter by laying an egg.
Westchester County Executive George Latimer believes this highly anticipated Groundhog Day celebration helps put the Hudson Valley on the map.
On Thursday around 10 a.m., nearly two hours after Punxsutawney Phil predicted six more weeks of winter, Hudson Valley residents flocked to the farm at at 51 Route 100 in Katonah hoping Cluxatawney Henrietta would predict an early spring.
Hudson Valley Chicken Predicts Early Spring
Muscoot Farm's chicken Cluxatawney Henrietta is predicting an early spring!
For all the news that the Hudson Valley is sharing make sure to follow Hudson Valley Post on Facebook, download the Hudson Valley Post Mobile App and sign up for the Hudson Valley Post Newsletter.
On Thursday, Cluxatawney Henrietta laid an egg, which signifies an early start to spring, according to Muscoot Farm.
"It's an EGG-siting morning here at Muscoot Farm!," the farm wrote on Facebook.
Malverne, Staten Island Animals Make Groundhog Predictions
Malverne Mel and Staten Island Chuck both agree with Cluxatawney Henrietta.
Staten Island Chuck stepped out of his home around 7 a.m. on Thursday and stayed outside. If Chuck ran back inside that would have meant six more weeks of winter.
Staten Island officials say Chuck is accurate right 80 percent of the time, more than the average groundhog.
Holstville, New York Groundhog Predicts More Winter.
Holstville Hal, another Long Island groundhog, saw his shadow, which means six more weeks of winter.
The Top 6 Reasons Why New Yorkers Are Moving Out
Why are so many New Yorkers leaving the state? It has been a popular discussion over the last few years, and an issue that was even addressed recently by Governor Hochul as one we the state needs to fix. The pandemic has certainly influenced the ratio of folks leaving New York versus those moving in, but there are a multitude of reasons why New Yorkers move out. Here are the top 6 according to
United Van Lines.
Nearly 50 Children Have Recently Gone Missing From New York State
Close to 50 children from New York State and the Hudson Valley have recently gone missing. You can help a New York family get reunited with a missing loved one.
Resorts World Hudson Valley Opens Doors In Newburgh
The grand opening for Resorts World Hudson Valley, located in the Newburgh Mall on Rt. 300 in Newburgh, took place on Wednesday December 28th at 10:00am.
Did You Know? Over 100 Fun Facts About the Hudson Valley
Did you know that Lucille Ball made her stage debut in the Hudson Valley? How about Philadelphia Cream Cheese wasn't invented in Philadelphia, but in Orange County? Or that a mansion in Dutchess County inspired the expression "keeping up with the Joneses?" Find out about those and over 100 other fun facts about the Hudson Valley.
Gypsy Moth 'Accidentally' Released Causing 'Nightmares' in New York
After 10 to 15 years a gypsy moth that was once "accidentally" released has returned and is causing "nightmares" in New York.