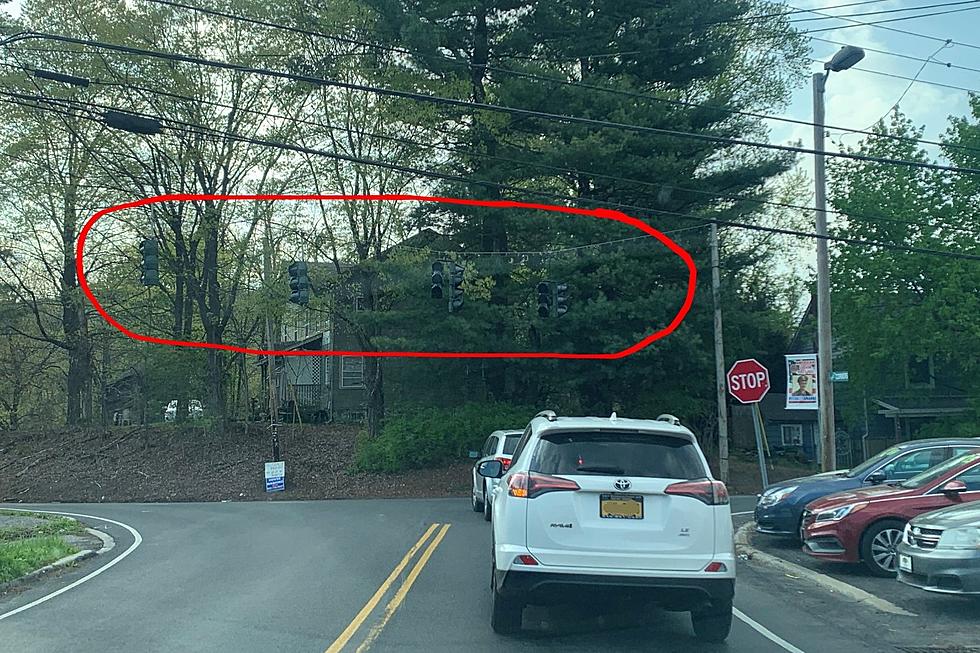 Scary Hudson Valley Intersection May Finally Get New Traffic Light
The temporary traffic light at the intersection of Vineyanrd Avenue and Chapel Hill Road in Highland, NY may become permanent (Google/Canva)
For many Hudson Valley drivers, this is a long time coming. Hopefully a newly-installed temporary traffic light can turn permanent for commuters who need to navigate this dangerous intersection.
New Yorkers (me included) seem to have an opinion about everything. The Poughkeepsie, NY community, for instance, was recently up in arms when a traffic light was removed and replaced with a stop sign near a children's park. Here, the opposite may be true.
Temporary Traffic Light Coming to Dangerous Highland, NY Intersection
The intersection in question is in Highland, NY where 44/55 (Vineyard Ave) meets Chapel Hill Rd. Drivers looking to make a left turn at the stop sign at Chapel Hill Rd. are often stuck waiting for extended periods of time as oncoming 44/55 traffic whizzes by. During peak commute times, the line of cars often extends out of sight of the intersection itself. Thanks to the nearby town of Lloyd, however, a new experiment is in place.
Reason for Temporary Highland, NY Traffic Light
Current construction in the town of Lloyd, NY requires a detour for 44/55, and in anticipation of the additional traffic that will be sent down Chapel Hill Road throughout the summer, a temporary traffic light was installed. David Plavchak, the Supervisor for the town of Lloyd, was part of the effort to override the stop sign and help alleviate the massive Chapel Hill backups. But could the temporary situation turn permanent?
Will Temporary Light Become Permanent?
Construction is planned to continue for several months, Mr. Plavchak shared, and the current timeline includes keeping the traffic light in operation until September. If the town had their way, however, the temporary light would turn permanent. It could be a decision that affects hundreds, if not thousands of drivers.
The town (and many local drivers, myself included) believes that a permanent traffic light at the intersection would not only alleviate backups, but provide greater safety to motorists. A left-hand turn onto a busy route like 44/55 is never an easy maneuver, and curves in the road only make the navigation more difficult. The hope is that by September, there will be enough data to support a permanent conversion.
13 Upstate New York Roadside Oddities You Must Not Miss
We use the term "oddity" loosely here. But these 13 places really, really must be seen by all road warriors passing through Upstate New York. Famous men, graves, businesses, churches, monuments, and more all make a journey around our region so interesting. Keep your eye out for these 13 gems!
10 More Roadside Attractions in Upstate NY
These roadside attractions are sure to give you some entertainment on your commute through the great upstate of NY.