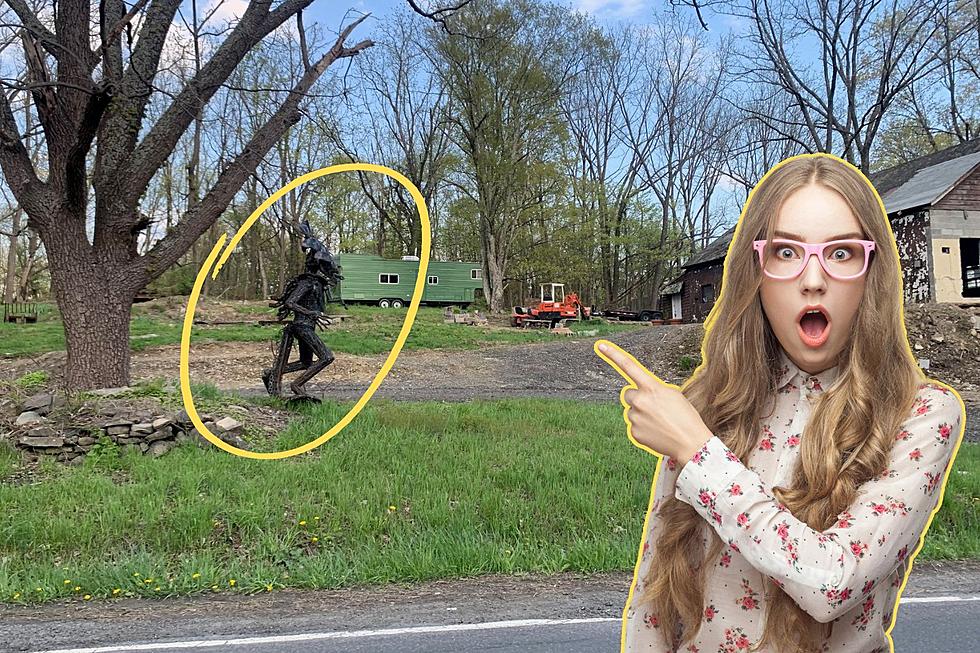 Awesome Mystery Statue Delights Drivers in the Hudson Valley
Canva/Jonah/TSM
"Is that Predator or the clickers from The Last of Us?", asked my friend as we took a turn off of Route 32 in Plattekill, NY. I was already in the middle of my own doubletake... What was that thing? I had to turn around and take a closer look.
There's no shortage of creativity in the Hudson Valley, with artists from Woodstock to Beacon (and everywhere in between) making fantastic creations. The statue we were gawking at seemed to be made out of repurposed metal and was definitely pulled from the brain of a science-fiction or horror fanatic.
Roadside Art in the Hudson Valley, NY
The things you see on the side of Hudson Valley backroads are very often just as fascinating as the beautiful scenery that surrounds them. From mannequins on ladders picking apples with their pumpkin butts sticking out to thoughtful messages about peace (above), the creativity is endless. But what about this massive statue?
Awesome Statue in Plattekill, NY
The first question (what is it?!) might only be able to be answered by the artist themselves, if we can find them. While it does look like the love child of the titular Alien and Predator characters from the famous science-fiction action movies, there are definitely some creative liberties as well. Maybe it's the artist's interpretation of the next generation of invading superspecies?
This also seems to be the work of a relatively new Ulster County resident. The property where the statue resides was listed for sale just two years ago, so whoever bought the land seems to have wasted little time leaving their stamp on it. Hopefully this statue is just the first of many. Check out more awesome roadside oddities below.
13 Upstate New York Roadside Oddities You Must Not Miss
We use the term "oddity" loosely here. But these 13 places really, really must be seen by all road warriors passing through Upstate New York. Famous men, graves, businesses, churches, monuments, and more all make a journey around our region so interesting. Keep your eye out for these 13 gems!
10 More Roadside Attractions in Upstate NY
These roadside attractions are sure to give you some entertainment on your commute through the great upstate of NY.