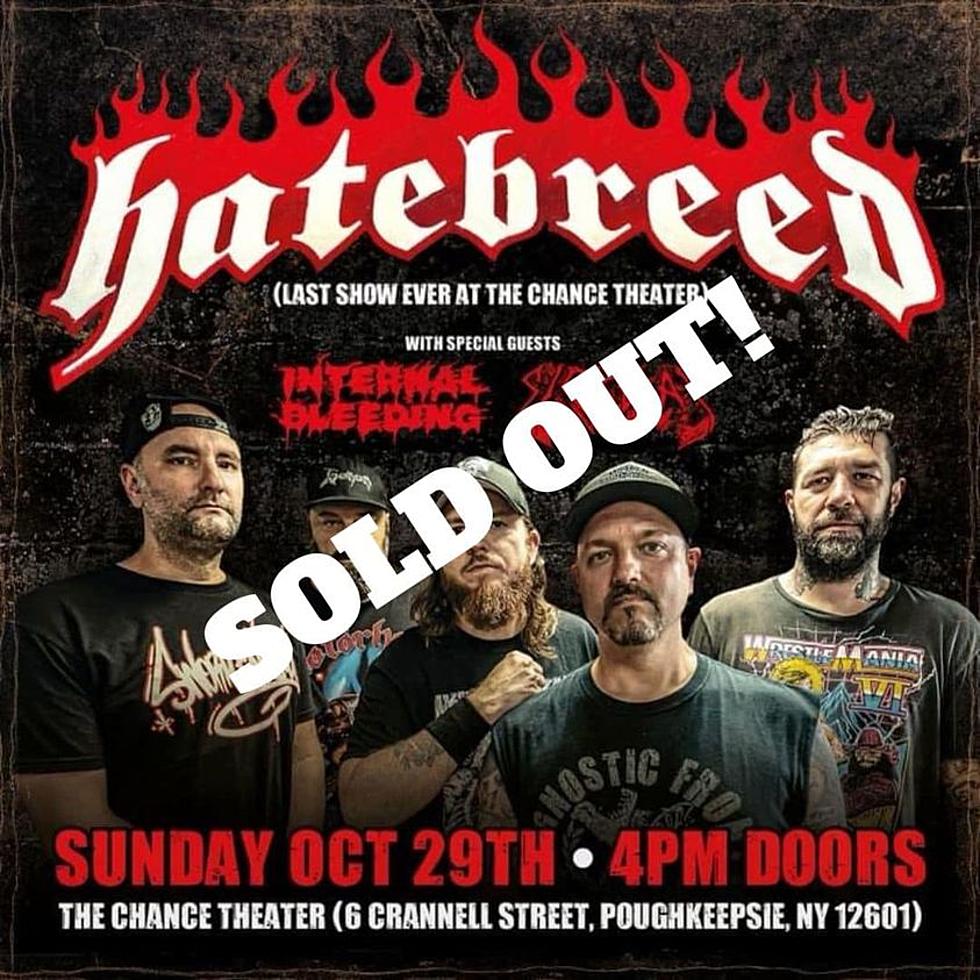 Hatebreed Sells Out Final Chance Show in 3 Hours; 2nd Show Added
The Chance /Facebook
Second Hatebreed show added to The Chance Theater schedule as 'Last Show Ever' sells out in record time.
The Chance will not go quietly! Aftre the initial annuncement that Hatebreed would be playing 'Last Show Ever' at The Chance Theater,  the hardcore rockers will now close out the legendary rock venue's run with two shows, as intial final show sold out in 3 hours they went on sale this past Friday, Sept. 22 at noon. The Chance Theater took ot social media and their official Facebook page to announnce that the Sunday, October 27th show had sold out and thanked everyone who purchased tickets for the "Awesome final show".
About an hour after the sold out Hatebreed show announcement, Nikki Johannessen (Manager of The Chance Theater) took to social media to announce that a second Hatebreed show had been added.
Soooo when a show sells out in 3 hours don't you by law have to add another show? I guess I just wasn't quite done! Second Hatebreed show announced and on sale now! October 26th if you missed out on the Sunday tickets here's your chance. #ticketweb#thechancetheater#onsalenow#hatebreed

 
Not long after, the offical Chance Facebook posted the new show announcement.
Formed out of Bridgeport. CT in 1994, Hatebreed released their debut album Satisfaction is the Death of Desire on Victory Records in 1997. The album lifted them out from the underground scene and thanks to this rise in fame they got a record deal with Universal Records. They released Perseverance in 2002, which hit the Billboard 200. Combining elements of hardcore and heavy metal, the band is often described as a metalcore, hardcore punk, and beatdown hardcore band. The band's last studio album was 2020's Weight of the False Self on Nuclear Blast Records.
Tickets for the new Hatebreed date at at The Chance on Thursday, Oct. 26 are on sale now. Get em before they're gone here.
Check out the 5 Best Shows at The Chance in Poughkeepsie below.
10 of the Best Pizzerias in Poughkeepsie According to Google
February 9th is National Pizza Day! Just in time for the Super Bowl this weekend, here's a list of Poughkeepsie pizzerias that you need to celebrate with.